Umbilical Cutaneous Endometriosis: Case Report
Mário Aurélio Borges Fidelis

Setor de Dermatologia, Hospital Universitário Pedro Ernesto, Rio de Janeiro, Brasil

Chan I. Thien

Setor de Dermatologia, Hospital Universitário Pedro Ernesto, Rio de Janeiro, Brasil

Bianca Gonçalves Varella Benjamim

Setor de Dermatologia, Hospital Universitário Pedro Ernesto, Rio de Janeiro, Brasil

Larissa Saboya Barbosa de Saboya Barbosa de Azevedo

Setor de Dermatologia, Hospital Universitário Pedro Ernesto, Rio de Janeiro, Brasil

Mairan Santos Steffen

Setor de Dermatologia, Hospital Universitário Pedro Ernesto, Rio de Janeiro, Brasil

Arles Martins Brotas

Setor de Dermatologia, Hospital Universitário Pedro Ernesto, Rio de Janeiro, Brasil

Maria de Fátima Guimarães Scotelaro

Setor de Dermatologia, Hospital Universitário Pedro Ernesto, Rio de Janeiro, Brasil
Keywords:
Endometriosis, Skin Diseases, Umbilicus
Abstract
Endometriosis is characterized by the presence of ectopic implantation of endometrial tissue, normally functioning and hormone-sensitive. Extrapelvic involvement can occur in about 12% of women with the condition. Umbilical endometriosis has been reported to account for about 0.4% to 4.0% of all endometriosis and 30% to 40% of cases of cutaneous endometriosis. It is a rare case of a disease that presents important differential diagnosis with other umbilical papular disorders, which may be primary or secondary, neoplasic or inflammatory. This paper reports the case of a patient with no comorbidities, with a diagnosis of umbilical cutaneous endometriosis, based on anamnesis, clinical and histopathological examination, showing a good evolution after complete excision of the lesion. The definitive diagnosis is based on histopathology, but immunohistochemistry may be helpful as well as abdomen ultrasound, computed tomography and magnetic resonance imaging. Surgical management is the preferred treatment.
Downloads
Download data is not yet available.
References
Steck WD, Helwig EB. Cutaneous endometriosis.
JAMA. 1956; 191: 167-70.
Fernández-Aceñero MJ, Córdova S. Cutaneous endometriosis:
review of 15 cases diagnosed at a single
institution. Arch Gynecol Obstet. 2011; 283:1041-4.
Agarwal A, Fong YF. Cutaneous endometriosis. Singapore
Med J. 2008; 49:704-9.
Choi SW, Lee HN, Kang SJ, Kim HO. A case of cutaneous
endometriosis in postmenopausal woman receiving
hormonal replacement. J Am Acad Dermatol.
; 41:327-9.
Loh S-H, Lew B-L, Sim W-Y. Primary cutaneous endometriosis
of umbilicus. Ann Dermatol. 2017; 29:621-
Pramanik SR, Mondal S, Paul S, Joycerani D. Primary
umbilical endometriosis: A rarity. J Hum Reprod Sci.
; 7: 269–71.
Van den Nouland D, Kaur M. Primary umbilical endometriosis:
a case report. Facts Views Vision Obgyn.
; 9:115-9.
Lopes Mattos S, Pereira Christo AG. Primary umbilical
endometriosis. Surg Cosmet Dermatol. 2015; 7(3
Suppl 1):S43-6.
Fernández Vozmediano JM, Armario Hita JC, Cuevas
Santos J. Cutaneous endometriosis. Int J Dermatol.
; 49: 1410-2.
Kaya BA, Emrah C, Cem K, Serel S. Cutaneous endometriosis.
Rev Bras Cir Plást. 2012; 27: 493-5.
Kocher M, Hardie A, Schaefer A, McLaren T, Kovacs
M. Cesarean-section scar endometrioma: a case report
and review of the literature. J Radiol Case Rep.
; 11:16-26.
Tidman MJ, MacDonald DM. Cutaneous endometriosis:
a histopathologic study. J Am Acad Dermatol.
; 18:373-7.
Jaime TJ, Jaime TJ, Ormiga P, Leal F, Nogueira OM,
Rodrigues N. Endometriose umbilical: relato de um
caso e seus achados dermatoscópicos. An Bras Dermatol.
;88:101-4.
Terada S, Miyata Y, Nakazawa H, Higashimori T, Arai
T, Kikuchi Y, et al. Immunohistochemical analysis of an
ectopic endometriosis in the uterine round ligament.
Diagn Pathol. 2006;1:27.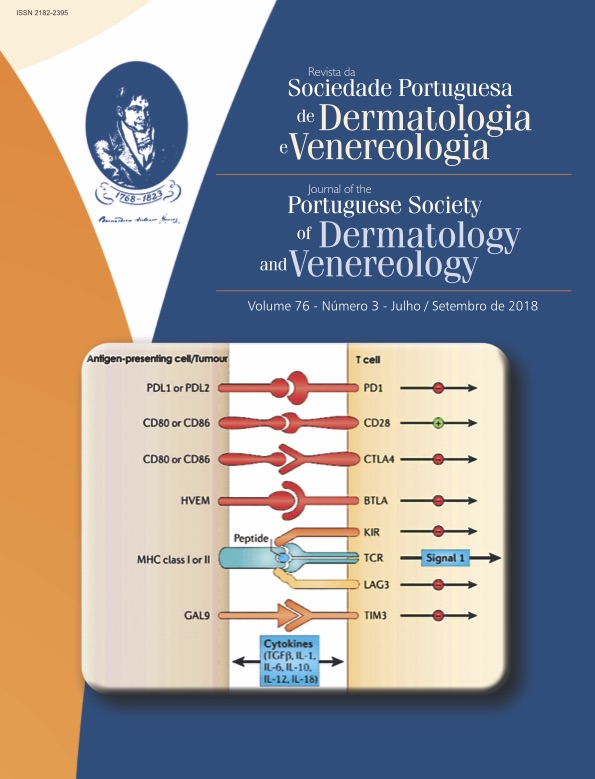 How to Cite
Borges Fidelis, M. A., I. Thien, C., Gonçalves Varella Benjamim, B., Saboya Barbosa de Azevedo, L. S. B. de, Santos Steffen, M., Martins Brotas, A., & Guimarães Scotelaro, M. de F. (2018). Umbilical Cutaneous Endometriosis: Case Report. Journal of the Portuguese Society of Dermatology and Venereology, 76(3), 317-320. https://doi.org/10.29021/spdv.76.3.885
All articles in this journal are Open Access under the Creative Commons Attribution-NonCommercial 4.0 International License (CC BY-NC 4.0).