Facial Lesions in Children: Often a Challenging Diagnosis
Ana Sofia Borges

Department of Dermatology and Venereology, Hospital Santo António dos Capuchos, Centro Hospitalar de Lisboa Central, Lisbon, Portugal

A. Brasileiro

Department of Dermatology and Venereology, Hospital Santo António dos Capuchos, Centro Hospitalar de Lisboa Central, Lisbon, Portugal

E. Matos Pires

Department of Dermatology and Venereology, Hospital Santo António dos Capuchos, Centro Hospitalar de Lisboa Central, Lisbon, Portugal

J. Baptista

Department of Dermatology and Venereology, Hospital Santo António dos Capuchos, Centro Hospitalar de Lisboa Central, Lisbon, Portugal

C. Galhardas

Department of Dermatology and Venereology, Hospital Santo António dos Capuchos, Centro Hospitalar de Lisboa Central, Lisbon, Portugal

M. Apetato

Department of Dermatology and Venereology, Hospital Santo António dos Capuchos, Centro Hospitalar de Lisboa Central, Lisbon, Portugal
Keywords:
Child, Face, Skin, Tinea, Trichophyto
Downloads
Download data is not yet available.
References
Nicola A, Laura A, Natalia A. A 20-year survey of tinea
faciei. Mycoses. 2010; 53:504-8.
Chen KL, Chien MM, Lu CY, Chiu HC. Zoophilic Tinea
Faciei. J Pediatr. 2017; 182:395-395.e1.
Lin RL, Szepietowski JC, Schwartz RA. Tinea faciei, an
often deceptive facial eruption. Int J Dermatol. 2004;
:437-40.
Romano C, Ghilardi A. Eighty-four consecutive cases
of tinea faciei in Siena, a retrospective study (1989-
. Mycoses. 2005; 48:343-6.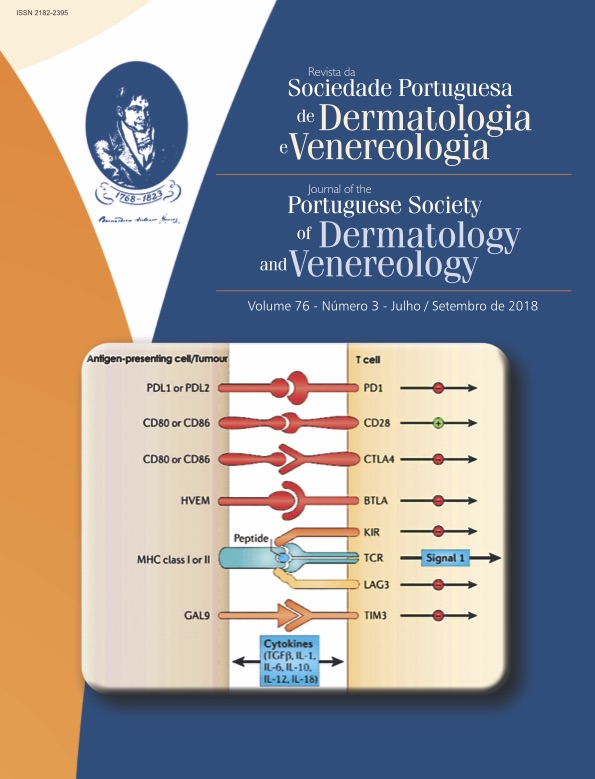 How to Cite
Borges, A. S., Brasileiro, A., Matos Pires, E., Baptista, J., Galhardas, C., & Apetato, M. (2018). Facial Lesions in Children: Often a Challenging Diagnosis. Journal of the Portuguese Society of Dermatology and Venereology, 76(3), 345-346. https://doi.org/10.29021/spdv.76.3.888
All articles in this journal are Open Access under the Creative Commons Attribution-NonCommercial 4.0 International License (CC BY-NC 4.0).