Immediate Test Reactions in Hand Eczema
João Azevedo

Serviço de Imunoalergologia, Centro Hospitalar e Universitário de Coimbra, Coimbra, Portugal

Frederico Regateiro

Serviço de Imunoalergologia, Centro Hospitalar e Universitário de Coimbra, Coimbra, Portugal

Miguel Gouveia

Serviço de Dermatologia, Centro Hospitalar e Universitário de Coimbra, Coimbra, Portugal

Leonor Ramos

Serviço de Dermatologia, Centro Hospitalar e Universitário de Coimbra, Coimbra, Portugal

Margarida Gonçalo

Serviço de Dermatologia, Centro Hospitalar e Universitário de Coimbra, Coimbra, Portugal; Faculdade de Medicina da Universidade de Coimbra, Coimbra, Portugal
Keywords:
Eczema, Hand Dermatoses, Patch Tests, Skin Tests
Abstract
Introduction: Hand eczema is a multifactorial disease that can include manifestations of atopic dermatitis, irritant contact dermatitis, allergic contact dermatitis (mediated mainly by T cells) and/or immediate reactions such as contact urticaria or protein contact dermatitis (mediated or not by IgE). The study aim was the characterization of patients with hand eczema who reported immediate symptoms with the handling of suspected triggers.
Material and Methods: Retrospective analysis of medical records of patients from the Dermatology Department with hand eczema who performed patch tests (baseline and complementary series according to the clinical history) and skin prick test whenever patients presented immediate symptoms with suspected triggers. Skin prick test results were correlated with specific and total IgE.
Results: A total of 52 patients were evaluated (49F/3M), mean age: 33.4 ± 9.9 years, 25 (48.1%) with a personal history of atopy (nine with atopic dermatitis). Besides hand eczema, considered occupational in 33 patients (63.5%), dermatitis also involved the face in six (11.5%). We found positive patch tests in 31 patients (59.6%), mainly to nickel (45.2%). Skin prick test were positive in 28 patients (53.8%), mainly for latex (10, 35.7%) and kiwi (8, 28.6%). There was no statistically significant correlation between positive skin prick test and the presence of atopy or high total serum IgE.
Conclusion: Although the study included a limited number of patients with hand eczema and we only performed skin prick test in those with complaints, we observed immediate reactions in a very significant proportion of patients (53.8%), mainly in the atopic group. Specific IgE was not useful for the diagnosis, compared to the skin prick test. Immediate mechanisms, not directly dependent on T cells, may be significantly involved in the pathogenesis of hand eczema, so immediate tests should be added more often to patch tests in the study of hand eczema.
Downloads
Download data is not yet available.
References
Halling-Overgaard AS, Zachariae C, Thyssen JP. Management of atopic hand dermatitis. Dermatol Clin. 2017;35:365-72.
Esser PR, Martin SF. Pathomechanisms of contact sensitization. Curr Allergy Asthma Rep. 2017;17:83.
Wiszniewska M, Walusiak-Skorupa J. Recent trends in occupational contact dermatitis. Curr Allergy Asthma Rep. 2015;15:43.
Turjanmaa K. Incidence of immediate allergy to latex gloves in hospital personnel. Contact Dermatitis. 1987;17:270-5.
Smedley J, Jury A, Bendall H. Prevalence and risk factors for latex allergy: a cross sectional study in a UK study. Occup Environ Med. 1999;56:833-6.
Filon FL, Bosco A, Fiorito A. Latex symptoms and sensitization in health care workers. Int Arch Occup Environ Health. 2001;74:219-23.
Ibler KS, Jemec GB, Garvey LH, Agner T. Prevalence of delayed-type and immediate-type hypersensitivity in healthcare workers with hand eczema. Contact Dermatitis. 2016;75:223-9.
Hjorth N, Roed-Petersen J. Occupational protein contact dermatitis in food handlers. Contact Dermatitis. 1976;2:28-42.
Bruynzeel-Koomen C, Van Wichen DF, Toonstra J, Berrens L, Bruynzeel PL. The presence of IgE molecules on epidermal Langerhans cells in patients with atopic dermatitis. Arch Dermatol Res. 1986;278:199-205.
Lahti A. Nonimmunologic contact urticaria In: Amin S, Lahti A, Maibach HI, editors. Contact urticaria syndrome. New York: CRC Press; 1997.p.5-10.
Kanerva L, Pajari-Backas M. IgE-mediated RAST negative occupational protein contact dermatitis from taxonomically unrelated fish species. Contact Dermatitis. 1999;41:295-6.
Lukács J, Schliemann S, Elsner P. Occupational contact urticaria caused by food - a systematic clinical review. Contact Dermatitis. 2016;75:195-204.
Hernández-Bel P, Cuadra J, García R, Alegre V. Protein contact dermatitis: review of 27 cases. Actas Dermosifiliogr. 2011;102:336-43.
Sasseville D. Occupational contact dermatitis. Allergy Asthma Clin Immunol. 2008;4:59-65.
Bruze M, Conde-Salazar L, Goossens A, Kanerva L, White IR. Thoughts on sensitizers in a standard patch test series. Contact Dermatitis. 1999;41:241-50.
.Beck MH, Wilkinson SR. Contact dermatitis: Allergic. In: Burns T, Breathnach S, Cox N, Griffiths C, editors. Rook's Textbook of Dermatology. 8th ed. Oxford: Wiley-Blackwell; 2010.p.84-99.
Poole CJM, Nagendran V. Low prevalence of clinical latex allergy in UK health care workers: a cross-sectional study. Occup Med. 2001;51:510-2.
Pridgeon C, Wild G, Ashworth F. Assessment of latex allergy in a healthcare population: are the available tests valid?. Clin Exp Allergy. 2000;30:1444-9.
Amaro C, Goossens A. Immunological occupational contact urticaria and contact dermatitis from proteins: a review. Contact Dermatitis. 2008;58:67-75.
Carøe TK, Niels E, Ebbehøj NE, Agner T. Occupational hand eczema and/or contact urticaria: factors associated with change of profession or not remaining in the workforce. Contact Dermatitis. 2018;78:55-63.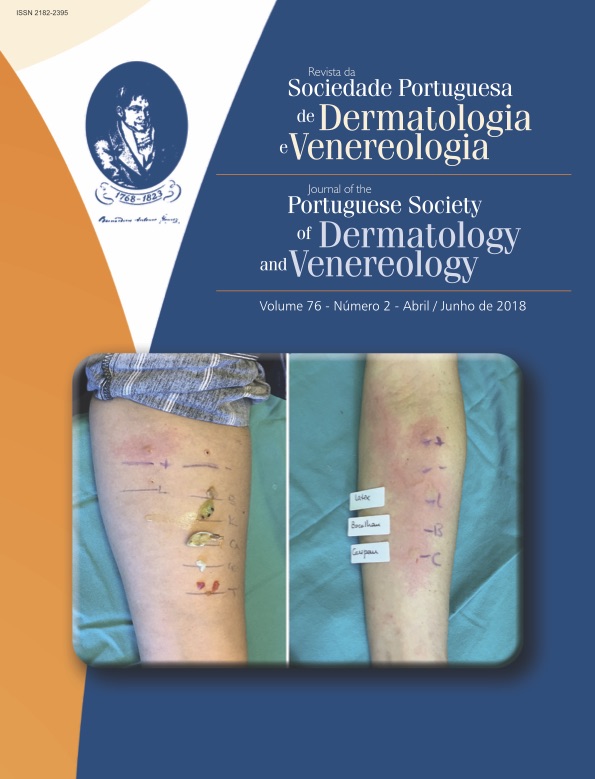 How to Cite
Azevedo, J., Regateiro, F., Gouveia, M., Ramos, L., & Gonçalo, M. (2018). Immediate Test Reactions in Hand Eczema. Journal of the Portuguese Society of Dermatology and Venereology, 76(2), 143-150. https://doi.org/10.29021/spdv.76.2.896
Section
Original Articles
All articles in this journal are Open Access under the Creative Commons Attribution-NonCommercial 4.0 International License (CC BY-NC 4.0).