Facial Hyperpigmentation Induced by Combination Therapy with Olmesartan Medoxomil- -Hydrochlorothiazide
Miguel Costa-Silva

Interno do Internato Complementar de Dermatologia e Venereologia/Resident, Dermatology and Venereology, Centro Hospitalar São João, EPE, Porto, Portugal

Artur César

Especialista de Dermatologia e Venereologia/ Consultant, Dermatology and Venereology, Centro Hospitalar São João, EPE, Porto, Portugal

Nuno P. Gomes

Interno do Internato Complementar de Dermatologia e Venereologia/Resident, Dermatology and Venereology, Centro Hospitalar São João, EPE, Porto, Portugal

Margarida S. Fernandes

Interna do Internato Complementar de Anatomia Patológica/Resident, Anatomic Pathology, Centro Hospitalar São João, EPE, Porto, Portugal

Filomena Azevedo

Diretora do Serviço de Dermatologia e Venereologia/Head of the Dermatology and Venereology Department, Centro Hospitalar São João, EPE, Porto, Portugal
Keywords:
Face, Hydrochlorothiazide, Hyperpigmentation, Photosensitivity Disorders, Olmesartan Medoxomil
Abstract
Photodistributed hyperpigmentation has been associated with several drugs. We describe a 69-year-old woman who developed facial skin hyperpigmentation starting after treatment with a combination of olmesartan medoxomil and hydrochlorothiazide and improving following its withdrawal, suggesting drug-induced dyspigmentation. Olmesartan
medoxomil-hydrochlorothiazide should be added to the list of drugs that can induce photodistributed cutaneous hyperpigmentation.
Downloads
Download data is not yet available.
References
- Garin Shkolnik T, Feuerman H, Didkovsky E, Kaplan I, Bergman R, Pavlovsky L, Hodak E. Blue-gray mucocutaneous discoloration: a new adverse effect of ezogabine. JAMA Dermatol. 2014; 150(9): 984-9.
- Dereure O. Drug-induced skin pigmentation. Epidemiology, diagnosis and
treatment. Am J Clin Dermatol. 2001; 2(4): 253-62.
- Giménez-García R. Hyperpigmentation Induced by Combination Therapy With Telmisartan-Hydrochlorothiazide. J Clin Hypertens (Greenwich). 2016; 18(4): 361-2.
- Granstein RD, Sober AJ. Drug-and heavy metal-induced hyperpigmentation.
J Am Acad Dermatol. 1981;5:1-18.
Lerner EA, Sober AJ. Chemical and pharmacologic agents that cause hyperpigmentation or hypopigmentation of the skin. Dermatol Clin. 1988; 6:327–337.
- Kubo Y, Fukumoto D, Ishigami T, Hida Y, Arase S. Diltiazem-associated photodistributed hyperpigmentation: report of two Japanese cases and published work review. J Dermatol. 2010; 37:807–811.
- Erbagci Z. Amlodipine associated hyperpigmentation. Saudi Med J. 2004;25:103–105.
- Atkin DH, Fitzpatrick RE. Laser treatment of imipramine-induced hyperpigmentation. J Am Acad Dermatol 2000; 43: 77-80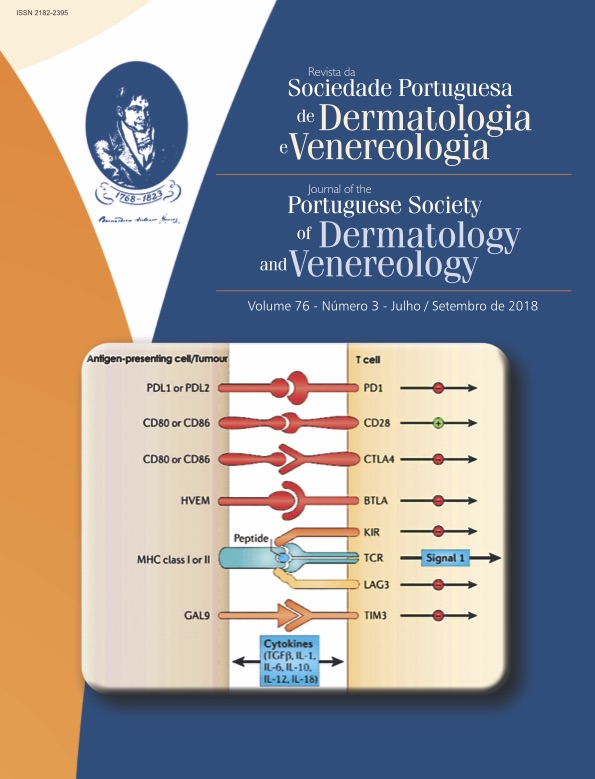 How to Cite
Costa-Silva, M., César, A., P. Gomes, N., S. Fernandes, M., & Azevedo, F. (2018). Facial Hyperpigmentation Induced by Combination Therapy with Olmesartan Medoxomil- -Hydrochlorothiazide. Journal of the Portuguese Society of Dermatology and Venereology, 76(3), 321-323. https://doi.org/10.29021/spdv.76.3.905
Copyright (c) 2018 Journal of the Portuguese Society of Dermatology and Venereology
This work is licensed under a Creative Commons Attribution 4.0 International License.
All articles in this journal are Open Access and meet the requirements of funding bodies or academic institutions. Each article published in the Journal is published under the Creative Commons Attribution-NonCommercial-NoDerivatives 4.0 International License (CC BY-NC-ND 4.0). Articles can be read, downloaded, printed, and shared.
Submission of an article for publication implies the authors' consent to publication under the applicable Creative Commons license and the terms and conditions of the Publisher's Licensing Agreement.
It is the author's responsibility to obtain permission to reproduce illustrations, tables, etc. from other publications.
Upon acceptance of an article, authors will be asked to complete a 'Journal Publishing Agreement'. An e-mail will be sent to the corresponding author confirming receipt of the manuscript together with a 'Journal Publishing Agreement' form or a link to the online version of this agreement.
Author rights: As an author you (or your employer or institution) have certain rights to reuse your work.
The Journal reserves the right to use plagiarism detection software on any submitted material.