Facial Hyperpigmentation Induced by Combination Therapy with Olmesartan Medoxomil- -Hydrochlorothiazide
Miguel Costa-Silva

Interno do Internato Complementar de Dermatologia e Venereologia/Resident, Dermatology and Venereology, Centro Hospitalar São João, EPE, Porto, Portugal

Artur César

Especialista de Dermatologia e Venereologia/ Consultant, Dermatology and Venereology, Centro Hospitalar São João, EPE, Porto, Portugal

Nuno P. Gomes

Interno do Internato Complementar de Dermatologia e Venereologia/Resident, Dermatology and Venereology, Centro Hospitalar São João, EPE, Porto, Portugal

Margarida S. Fernandes

Interna do Internato Complementar de Anatomia Patológica/Resident, Anatomic Pathology, Centro Hospitalar São João, EPE, Porto, Portugal

Filomena Azevedo

Diretora do Serviço de Dermatologia e Venereologia/Head of the Dermatology and Venereology Department, Centro Hospitalar São João, EPE, Porto, Portugal
Keywords:
Face, Hydrochlorothiazide, Hyperpigmentation, Photosensitivity Disorders, Olmesartan Medoxomil
Abstract
Photodistributed hyperpigmentation has been associated with several drugs. We describe a 69-year-old woman who developed facial skin hyperpigmentation starting after treatment with a combination of olmesartan medoxomil and hydrochlorothiazide and improving following its withdrawal, suggesting drug-induced dyspigmentation. Olmesartan
medoxomil-hydrochlorothiazide should be added to the list of drugs that can induce photodistributed cutaneous hyperpigmentation.
Downloads
Download data is not yet available.
References
- Garin Shkolnik T, Feuerman H, Didkovsky E, Kaplan I, Bergman R, Pavlovsky L, Hodak E. Blue-gray mucocutaneous discoloration: a new adverse effect of ezogabine. JAMA Dermatol. 2014; 150(9): 984-9.
- Dereure O. Drug-induced skin pigmentation. Epidemiology, diagnosis and
treatment. Am J Clin Dermatol. 2001; 2(4): 253-62.
- Giménez-García R. Hyperpigmentation Induced by Combination Therapy With Telmisartan-Hydrochlorothiazide. J Clin Hypertens (Greenwich). 2016; 18(4): 361-2.
- Granstein RD, Sober AJ. Drug-and heavy metal-induced hyperpigmentation.
J Am Acad Dermatol. 1981;5:1-18.
Lerner EA, Sober AJ. Chemical and pharmacologic agents that cause hyperpigmentation or hypopigmentation of the skin. Dermatol Clin. 1988; 6:327–337.
- Kubo Y, Fukumoto D, Ishigami T, Hida Y, Arase S. Diltiazem-associated photodistributed hyperpigmentation: report of two Japanese cases and published work review. J Dermatol. 2010; 37:807–811.
- Erbagci Z. Amlodipine associated hyperpigmentation. Saudi Med J. 2004;25:103–105.
- Atkin DH, Fitzpatrick RE. Laser treatment of imipramine-induced hyperpigmentation. J Am Acad Dermatol 2000; 43: 77-80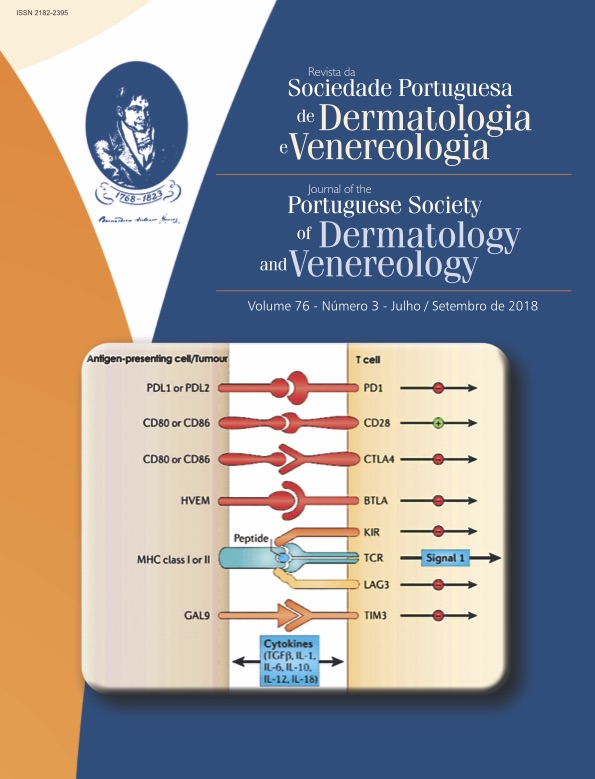 How to Cite
Costa-Silva, M., César, A., P. Gomes, N., S. Fernandes, M., & Azevedo, F. (2018). Facial Hyperpigmentation Induced by Combination Therapy with Olmesartan Medoxomil- -Hydrochlorothiazide. Journal of the Portuguese Society of Dermatology and Venereology, 76(3), 321-323. https://doi.org/10.29021/spdv.76.3.905
All articles in this journal are Open Access under the Creative Commons Attribution-NonCommercial 4.0 International License (CC BY-NC 4.0).