Following Blaschko Lines
Margarida Moura Valejo Coelho

Médica interna de formação específica de Dermatovenereologia; Serviço de Dermatovenereologia, Centro Hospitalar de Lisboa Central, Lisboa, Portugal

Filipa Furtado

Médica interna de formação específica de Pediatria Médica; Área da Mulher, Criança e Adolescente, Centro Hospitalar de Lisboa Central, Lisboa, Portugal

Ana Isabel Cordeiro

Assistente hospitalar de Pediatria Médica; Área da Mulher, Criança e Adolescente, Centro Hospitalar de Lisboa Central, Lisboa, Portugal

Maria João Paiva Lopes

Assistente hospitalar graduada de Dermatovenereologia; Serviço de Dermatovenereologia, Centro Hospitalar de Lisboa Central, Lisboa, Portugal
Keywords:
Child, Incontinentia Pigmenti, Skin
Abstract
.
Downloads
Download data is not yet available.
References
Moss C, Browne F. Mosaicism and Linear Lesions. In: Bolognia JL, Schaffer JV, Cerroni L, eds: Dermatology, Fourth Edition, Vol.1. Philadelphia: Elsevier; 2018:1011–1012.
Minic S, Trpinac D, Obradovic M. Incontinencia pigmenti diagnostic criteria update. Clin Genet. 2014;85(6):536–542.
Gianfaldoni S, Tcherney G, Wollina U, Lotti T. Incontinentia Pigmenti: A Case Report of a Complex Systemic Disease. Open Access Maced J Med Sci. 2017;5(4):501–505.
Pereira MA, Mesquita LA, Budel AR, Cabral CS, Feltrim Ade S. X-linked incontinentia pigmenti or Bloch-Sulzberger syndrome: a case report. An Bras Dermatol. 2010;85(3):372–375.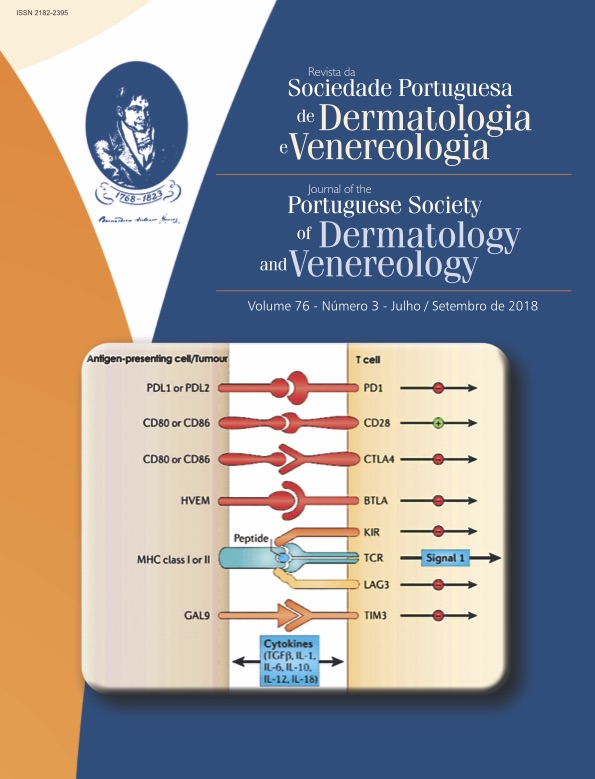 How to Cite
Moura Valejo Coelho, M., Furtado, F., Cordeiro, A. I., & Paiva Lopes, M. J. (2018). Following Blaschko Lines. Journal of the Portuguese Society of Dermatology and Venereology, 76(3), 341-343. https://doi.org/10.29021/spdv.76.3.906
All articles in this journal are Open Access under the Creative Commons Attribution-NonCommercial 4.0 International License (CC BY-NC 4.0).