Following Blaschko Lines
Margarida Moura Valejo Coelho

Médica interna de formação específica de Dermatovenereologia; Serviço de Dermatovenereologia, Centro Hospitalar de Lisboa Central, Lisboa, Portugal

Filipa Furtado

Médica interna de formação específica de Pediatria Médica; Área da Mulher, Criança e Adolescente, Centro Hospitalar de Lisboa Central, Lisboa, Portugal

Ana Isabel Cordeiro

Assistente hospitalar de Pediatria Médica; Área da Mulher, Criança e Adolescente, Centro Hospitalar de Lisboa Central, Lisboa, Portugal

Maria João Paiva Lopes

Assistente hospitalar graduada de Dermatovenereologia; Serviço de Dermatovenereologia, Centro Hospitalar de Lisboa Central, Lisboa, Portugal
Keywords:
Child, Incontinentia Pigmenti, Skin
Abstract
.
Downloads
Download data is not yet available.
References
Moss C, Browne F. Mosaicism and Linear Lesions. In: Bolognia JL, Schaffer JV, Cerroni L, eds: Dermatology, Fourth Edition, Vol.1. Philadelphia: Elsevier; 2018:1011–1012.
Minic S, Trpinac D, Obradovic M. Incontinencia pigmenti diagnostic criteria update. Clin Genet. 2014;85(6):536–542.
Gianfaldoni S, Tcherney G, Wollina U, Lotti T. Incontinentia Pigmenti: A Case Report of a Complex Systemic Disease. Open Access Maced J Med Sci. 2017;5(4):501–505.
Pereira MA, Mesquita LA, Budel AR, Cabral CS, Feltrim Ade S. X-linked incontinentia pigmenti or Bloch-Sulzberger syndrome: a case report. An Bras Dermatol. 2010;85(3):372–375.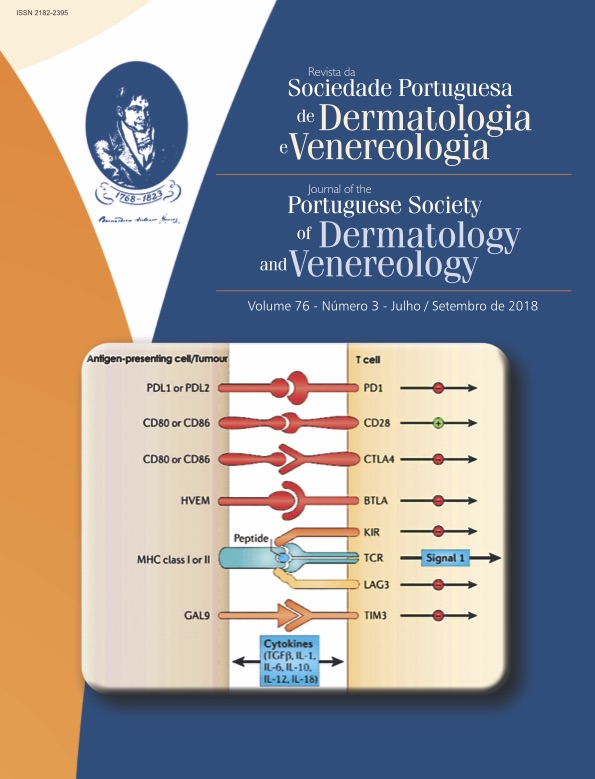 How to Cite
Moura Valejo Coelho, M., Furtado, F., Cordeiro, A. I., & Paiva Lopes, M. J. (2018). Following Blaschko Lines. Journal of the Portuguese Society of Dermatology and Venereology, 76(3), 341-343. https://doi.org/10.29021/spdv.76.3.906
Copyright (c) 2018 Journal of the Portuguese Society of Dermatology and Venereology
This work is licensed under a Creative Commons Attribution 4.0 International License.
All articles in this journal are Open Access and meet the requirements of funding bodies or academic institutions. Each article published in the Journal is published under the Creative Commons Attribution-NonCommercial-NoDerivatives 4.0 International License (CC BY-NC-ND 4.0). Articles can be read, downloaded, printed, and shared.
Submission of an article for publication implies the authors' consent to publication under the applicable Creative Commons license and the terms and conditions of the Publisher's Licensing Agreement.
It is the author's responsibility to obtain permission to reproduce illustrations, tables, etc. from other publications.
Upon acceptance of an article, authors will be asked to complete a 'Journal Publishing Agreement'. An e-mail will be sent to the corresponding author confirming receipt of the manuscript together with a 'Journal Publishing Agreement' form or a link to the online version of this agreement.
Author rights: As an author you (or your employer or institution) have certain rights to reuse your work.
The Journal reserves the right to use plagiarism detection software on any submitted material.