Reconstruction of a Complex Defect of the Medial Canthal Area
João Goulão

Assistente Hospitalar de Dermatovenereologia/Consultant of Dermatology; Serviço de Dermatovenereologia, Hospital Garcia de Orta, Almada, Portugal

João Alves

Assistente Hospitalar de Dermatovenereologia/Consultant of Dermatology; Serviço de Dermatovenereologia, Hospital Garcia de Orta, Almada, Portugal

Ana Marta António

Interna do Internato de Formação Específica em Dermatovenereologia/Resident of Dermatology; Serviço de Dermatovenereologia, Hospital Garcia de Orta, Almada, Portugal
Keywords:
Carcinoma, Basal Cell, Eyelid Neoplasms, Reconstructive Surgical Procedures, Skin Neoplasms, Surgical Flaps
Abstract
Basal cell carcinoma is the most common skin malignancy of the periorbital region. The authors present a clinical case of a large tumor of the medial canthus which excision results in an extensive periorbital defect. Herein, the authors report a "step-by-step" reconstruction by separated aesthetic units using a simple combination of standard flaps, achieving an excellent final result.
Downloads
Download data is not yet available.
References
Yingyun Shi, Renbing Jia, Xiangun Fan. Ocular basal cell carcinoma: a brief literature review of clinical diagnosis and treatment. Onco Targets Ther. 2017;
:2483-89.
Özkaya Mutlu Ö, Egemen O, Dilber A, Üsçetin I. Aesthetic unit-based reconstruction of periorbital defects. J Craniofac Surg. 2016; 27:429-32.
Teixeira V, Ramos L, Serra D, Vieira R, Figueiredo A. Métodos reconstrutivos da pálpebra inferior – Aplicação na prática dermatológica. Rev Soc Port Dermatol
Venereol. 2013; 71:159-69.
Stigall LE, Bramlette TB, Zitelli JA, Brodland DG. The paramidline forehead flap: a clinical and microanatomic study. J Craniofac Surg. 2014; 25:2070-3.
Jellinek NJ, Nguyen TH, Albertini JG. Paramedian forehead flap: advances, procedural nuances, and variations in technique. Dermatol Surg. 2014; 40:30-42.
Yordanov YP, Shef A. Lower eyelid reconstruction after ablation of skin malignancies: how far can we get in single-stage procedure? J Craniofac Surg. 2017; 28:e477-e479.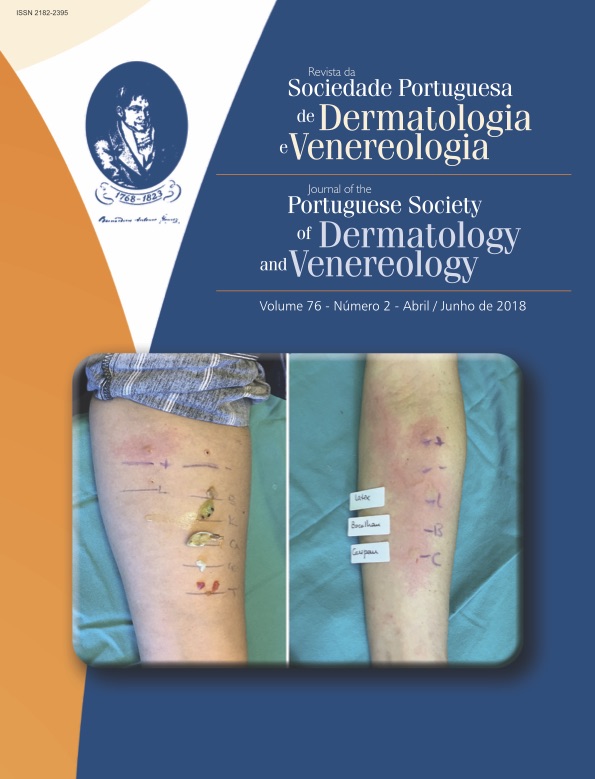 How to Cite
Goulão, J., Alves, J., & António, A. M. (2018). Reconstruction of a Complex Defect of the Medial Canthal Area. Journal of the Portuguese Society of Dermatology and Venereology, 76(2), 201-204. https://doi.org/10.29021/spdv.76.2.915
Copyright (c) 2018 Journal of the Portuguese Society of Dermatology and Venereology
This work is licensed under a Creative Commons Attribution 4.0 International License.
All articles in this journal are Open Access and meet the requirements of funding bodies or academic institutions. Each article published in the Journal is published under the Creative Commons Attribution-NonCommercial-NoDerivatives 4.0 International License (CC BY-NC-ND 4.0). Articles can be read, downloaded, printed, and shared.
Submission of an article for publication implies the authors' consent to publication under the applicable Creative Commons license and the terms and conditions of the Publisher's Licensing Agreement.
It is the author's responsibility to obtain permission to reproduce illustrations, tables, etc. from other publications.
Upon acceptance of an article, authors will be asked to complete a 'Journal Publishing Agreement'. An e-mail will be sent to the corresponding author confirming receipt of the manuscript together with a 'Journal Publishing Agreement' form or a link to the online version of this agreement.
Author rights: As an author you (or your employer or institution) have certain rights to reuse your work.
The Journal reserves the right to use plagiarism detection software on any submitted material.