Acne Vulgaris in Adults
Inês Vieira da Costa

Aluna do 6ºano do Mestrado Integrado em Medicina, Instituto De Ciências Biomédicas Abel Salazar, Universidade do Porto, Porto, Portugal

Glória Maria Cardoso da Cunha Velho

Assistente Graduada de Dermatologia e Venereologia, Professora Auxiliar Convidada de Dermatologia da Disciplina de Clínica Médica do Mestrado Integrado em Medicina no Instituto Ciências Biomédicas Abel Salazar/Centro Hospitalar do Porto, Porto, Portugal
Keywords:
Acne Vulgaris/epidemiology, Acne Vulgaris/etiology, Acne Vulgaris/physiopathology, Acne Vulgaris/therapy, Adulto
Abstract
Introduction: Acne vulgaris is a chronic inflammatory disease of the pilosebaceous unit, of multifactorial etiology. It is one of the most common dermatological diseases. It affects more than 85% of teenagers, especially of the male gender. Despite being infrequent in adulthood, recent epidemiological data show a growing prevalence, around 40%, mainly in the female gender, with a negative impact on quality of life. Acne in adulthood or late acne is present after the age of 25 and is classified as late onset acne or persistent acne. The persistent type, which is the most common, represents 70% - 80% of all cases, and is characterised by the persistence of the teenage acne, while late onset acne is defined by the onset after the age of 25, with a prevalence of about 20% to 30%.
Objective: To review current scientific literature, especially focused on the pathophysiology of late acne, triggering and aggravating factors, as well as particularities of the therapeutic approach.
Methodology: The MEDLINE-PubMed database was used to select original and review articles published between 2001 and 2017.
Discussion: Acne can be a clinical sign of systemic disease, mainly with endocrinological abnormalities, as polycystic ovary syndrome, adrenal hyperplasia and virilising tumours. It is important to consider these etiologies into account, especially in women and in the presence of other signs of hyperandrogenism. Several studies point to other triggering or aggravating factors, namely genetic factors, stress, smoking, exposure to ultraviolet radiation, obesity, hyperglycaemic diet, drugs, cosmetics and colonisation by resistant strains of Propionibacterium acnes.
Conclusion: In most cases, adult acne affects the face, has mild to moderate clinical severity and is associated with normal hormonal levels. The exclusive location on the lower third of the face is most often associated with other signs of hyperandrogenism and endocrinological disease, as well as with a predominance of inflammatory lesions. Late acne is described as potentially refractory to the conventional therapy and is very relapsing. Thus, it is a therapeutic challenge, which requires an individualized approach.
Downloads
Download data is not yet available.
References
Preneau S, Dreno B. Female acne – a different subtype
of teenager acne? J Eur Acad Dermatol
Venereol. 2012;26:277-82. doi: 10.1111/j.1468-
-3083.2011.04214.x.
Poli F, Dreno B, Verschoore M. An epidemiological study
of acne in female adults: results of a survey conducted in
France. J Eur Acad Dermatol Venereol. 2001;15:541-5.
James WD. Acne. N Engl J Med. 2005;352:1463-72.
doi: 10.1056/NEJMcp033487.
Capitanio B, Sinagra JL, Bordignon V, Cordiali Fei P, Picardo
M, Zouboulis CC. Underestimated clinical features of
postadolescent acne. J Am Acad Dermatol. 2010;63:782-
doi: 10.1016/j.jaad.2009.11.021.
Dréno B, Thiboutot D, Layton AM, Berson D, Perez M,
Kang S. Large-scale international study enhances understanding
of an emerging acne population: adult females. J
Eur Acad Dermatol Venereol. 2015;29:1096-1106. doi:
1111/jdv.12757.
Jansen T, Janßen OE, Plewig G. Acne tarda. Akne im
erwachsenenalter. Hautarzt. 2013;64:241-51. doi:
1007/s00105-012-2458-0.
Dréno B, Layton A, Zouboulis CC, López-Estebaranz JL,
Zalewska-Janowska A, Bagatin E, et al. Adult female
acne: a new paradigm. J Eur Acad Dermatol Venereol.
;27:1063-70. doi: 10.1111/jdv.12061.
Rivera R, Guerra A. Management of acne in women over
years of age. Actas Dermosifiliogr. 2009;100:33-7.
Teixeira V, Vieira R, Figueiredo A. Impacto psicossocial da
acne. Rev Soc Port Dermatol Venereol. 2012;70:291-6.
Tanghetti EA, Kawata AK, Daniels SR, Yeomans K, Burk
CT, Callender VD. Understanding the burden of adult
female acne. J Clin Aesthet Dermatol. 2014;7:22-30.
Khunger N, Kumar C. A clinic-epidemiological study
of adult acne: Is it different from adolescent acne? Indian
J Dermatol Venereol Leprol. 2012;78:335-41. doi:
4103/0378-6323.95450.
Kokandi A. Evaluation of acne quality of life and clinical
severity in acne female adults. Dermatol Res Pract.
;2010:1-3. doi: 10.1155/2010/410809.
Perkins AC, Maglione J, Hillebrand GG, Miyamoto K,
Kimball AB. Acne vulgaris in women: prevalence across
the life span. J Womens Health. 2012;21:223-30. doi:
1089/jwh.2010.2722.
Da Cunha MG, Fonseca FL, Machado CD. Androgenic
hormone profile of adult women with acne. Dermatology.
;226:167-71. doi: 10.1159/000347196
Collier CN, Harper JC, Cafardi JA, Cantrell WC, Wang
W, Foster KW, et al. The prevalence of acne in adults 20
years and older. J Am Acad Dermatol. 2008;58:56-9.
doi: 10.1016/j.jaad.2007.06.045
Di Landro A, Cazzaniga S, Cusano F, Bonci A, Carla C,
Musumeci ML, et al. Adult female acne and associated
risk factors: Results of a multicenter case-control study
in Italy. J Am Acad Dermatol. 2016;75:1134-41. doi:
1016/j.jaad.2016.06.060.
Schmitt JV, Masuda PY, Miot HA. Padrões clinicos de acne
em mulheres de diferentes faixas etarias. An Bras Dermatol.
;84:349–354.
McCarty M. Evaluation and management of refratory
acne vulgaris in adolescent and adult men. Dermatol
Clin. 2016;34:203-6. doi: 10.1016/j.det.2015.11.007.
Rosenfield RL. Clinical practice. Hirsutism. N England J
Med. 2005;353:2578-88.
Danby FW. New, relevant information and innovative interventions
in the management of acne. G Ital Dermatol
Venereol. 2011;146:197–210.
Kim GK, Del Rosso JQ. Oral spironolactone in post-teenage
female patients with acne vulgaris: Practical considerations
for the clinician based on current data and
clinical experience. J Clin Aesthet Dermatol. 2012;5:37-
Ghosh S, Chaudhuri S, Jain VK, Aggarwal K. Profiling and
hormonal therapy for acne in women. Indian J Dermatol.
;59:107-15. doi: 10.4103/0019-5154.127667.
Harper JC. Evaluating hyperandrogenism: a challenge in
acne management. J Drugs Dermatol. 2008;7:527-30.
Gowri BV, Chandravathi PL, Sindhu PS, Naidu KS. Correlation
of skin changes with hormonal changes in polycystic
ovarian syndrome: A cross-sectional study clinical study.
Indian J Dermatol. 2015;60:419. doi: 10.4103/0019-
160505.
Schmidt TH, Khanijow K, Cedars MI, Huddleston H, Pasch
L, Wang ET, et al. Cutaneous findings and systemic associations
in women with polycystic ovary syndrome. JAMA
Dermatol. 2016;152:391-8. doi: 10.1001/jamadermatol.
4498.
Uysal G, Sahin Y, Unluhizarci K, Ferahbas A, Uludag
SZ, Aygen E, et al. Is acne a sign of androgen excess
disorder or not? Eur J Obstet Gynecol Reprod Biol.
;211:21-5. doi: 10.1016/j.ejogrb.2017.01.054.
Seirafi H, Farnaghi F, Vasheghani-Farahani A, Alirezaie
NS, Esfahanian F, Firooz A, et al. Assessment
of androgens in women with adult-onset acne. Int J
Dermatol. 2007;46:1188-91. doi: 10.1111/j.1365-
-4632.2007.03411.x
Ianosi S, Ianosi G, Neagoe D, Ionescu O, Zlatian O, Docea
AO, et al. Age-dependent endocrine disorders involved in
the pathogenesis of refractory acne in women. Mol Med
Rep. 2016;14:5501-6. doi: 10.3892/mmr.2016.5924.
Geller L, Rosen J, Frankel A, Goldenberg G. Perimenstrual
flare of adult acne. J Clin Aesthet Dermatol. 2014;7:30-
Yang YS, Lim HK, Hong KK, Shin MK, Lee JW, Lee SW, et
al. Cigarette smoke-induced interleukin-1 alpha may be
involved in the pathogenesis of adult acne. Ann Dermatol.
;26:11-6. doi: 10.5021/ad.2014.26.1.11.
Da Silva JP, Velho GM. Influência do índice de massa corporal
e da dieta na fisiopatologia da acne vulgaris. Rev
Soc Port Dermatol Venereol. 2017;75:241-9.
Melnik BC. Linking diet to acne metabolomics, inflammation,
and comedogenesis: an update. Clin Cosmet
Investig Dermatol. 2015;8:371–88. doi: 10.2147/CCID.
S69135.
Adalatkhah H, Pourfarzi F, Sadeghi-Bazargani H. Flutamide
versus a cyproterone acetate-ethinyl estradiol combination
in moderate acne: a pilot randomized clinical
trial. Clin Cosmet Investig Dermatol. 2011;4:117-21.
doi: 10.2147/CCID.S20543.
Kaur S, Verma P, Sangwan A, Dayal S, Jain VK. Etiopathogenesis
and therapeutic approach to adult onset acne.
Indian J Dermatol. 2016;61:403-7. doi: 10.4103/0019-
185703.
Dessinioti C, Antoniou C, Katsambas A. Acneiform eruptions.
Clin Dermatol. 2014;32:24-34. doi: 10.1016/j.
clindermatol.2013.05.023.
Knaggs HE, Wood EJ, Rizer RL, Mills OH. Post-adolescent
acne. Int J Cosmet Sci. 2004;26:129-38. doi:
1111/j.1467-2494.2004.00210.x.
Adityan B, Kumari R, Thappa DM. Scoring systems
in acne vulgaris. Indian J Dermatol Venereol Leprol.
;75:323-6. doi: 10.4103/0378-6323.51258.
Choi CW, Lee DH, Kim HS, Kim BY, Park KC, Youn
SW. The clinical features of late onset acne compared
with early onset acne in women. J Eur Acad Dermatol
Venereol. 2011;25:454-61. doi: 10.1111/j.1468-
-3083.2010.03813.x.
Kamangar F, Shinkai K. Acne in the adult female patient:
a pratical approach. Int J Dermatol. 2012;51:1162-74.
doi: 10.1111/j.1365-4632.2012.05519.x.
Ozdemir S, Ozdemir M, Görkemli H, Kiyici A, Bodur S.
Specific dermatologic features of the polycystic ovary
syndrome and its association with biochemical markers
of the metabolic syndrome and hyperandrogenism.
Acta Obstet Gynecol Scand. 2010;89:199-204. doi:
3109/00016340903353284.
Kubba R, Bajaj AK, Thappa DM, Sharma R, Vedamurthy
M, Dhar S, et al. Acne in India: guidelines for
management-IAA consensus document. Indian J Dermatol
Venereol Leprol. 2009;75:1-62.
Zouboulis CC. Acne as a chronic systemic disease. Clin
Dermatol. 2014;32:389-96. doi: 10.1016/j.clindermatol.
11.005.
Rotterdam ESHRE/ASRM-Sponsored PCOS Consensus
Workshop Group.. Revised 2003 consensus on diagnostic
criteria and long-term health risks related to polycystic
ovary syndrome (PCOS). Hum Reprod. 2004;19:41-7.
Nast A, Dréno B, Bettoli V, Bukvic Mokos Z, Degitz K,
Dressler C, et al. European evidence-based (S3) guideline
for the treatment of acne - update 2016 - short version.
J Eur Acad Dermatol Venereol. 2016;30:1261-8.
doi: 10.1111/jdv.13776.
Savage LJ, Layton AM. Treating acne vulgaris: systemic,
local and combination therapy. Expert Rev Clin Pharmacol.
;3:563-80. doi: 10.1586/ecp.10.27.
Thiboutot D, Gollnick H, Bettoli V, Dréno B, Kang S, Leyden
JJ, et al. New insights into the management of acne:
an update from the global alliance to improve outcomes
in acne group. J Am Acad Dermatol. 2009;60:S1-50.
doi: 10.1016/j.jaad.2009.01.019.
Layton A. The use of isotretinoin in acne. Dermatoendocrinol.
;1:162-169.
Rademaker M, Wishart JM, Birchall NM. Isotretinoin 5
mg daily for low-grade adult acne vulgaris-a placebo-
-controlled, randomized double-blind study. J Eur Acad
Dermatol Venereol. 2014;28:747-54. doi: 10.1111/
jdv.12170.
Ebede TL, Arch EL, Berson D. Hormonal treatment of acne
in women. J Clin Aesthet Dermatol. 2009;2:16-22. doi:
2147/CCID.S114830.
Katsambas AD, Dessinioti C. Hormonal therapy for acne:
why not as first line therapy? Facts and controversies. Clin
Dermatol. 2010;28:17-23. doi: 10.1016/j.clindermatol.
03.006.
Husein-ElAhmed H. Management of acne vulgaris with
hormonal therapies in adult female patients. Dermatol
Ther. 2015;28:166-72. doi: 10.1111/dth.12231
Koltun W, Lucky AW, Thiboutot D, Niknian M, Sampson-
-Landers C, Korner P, et al. Efficacy and safety of 3 mg
drospirenone/20 mcg ethinylestradiol oral contraceptive
administered in 24/4 regimen in the treatment of acne
vulgaris: a randomized, double-blind, placebo-controlled
trial. Contraception. 2008;77:249-56. doi: 10.1016/j.
contraception.2007.11.003.
Krunic A, Ciurea A, Scheman A. Efficacy and tolerance of
acne treatment using both spironolactone and a combined
contraceptive containing drospirenone. J Am Acad Dermatol.
;58:60-2.doi: 10.1016/j.jaad.2007.09.024
Fernandes CE, Rennó Jr J, Nahas EA, Melo NR, Ferreira
JA, Machado RB, et al. Síndrome de insuficiência androgénica
- critérios diagnósticos e terapêuticos. Rev Psiquiatr
Clín. 2006;33:152-61.
Kronenberg HM, Melmed S, Polonsky KS, Larsen PR. Williams
Textbook of Endocrinology. 11th ed. Philadelphia
Elsevier; 2008.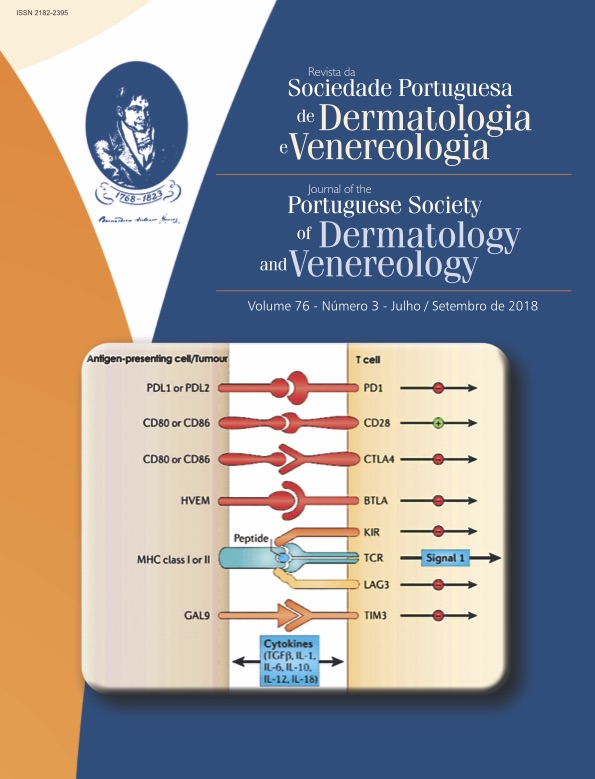 How to Cite
Vieira da Costa, I., & Cardoso da Cunha Velho, G. M. (2018). Acne Vulgaris in Adults. Journal of the Portuguese Society of Dermatology and Venereology, 76(3), 299-312. https://doi.org/10.29021/spdv.76.3.953
All articles in this journal are Open Access under the Creative Commons Attribution-NonCommercial 4.0 International License (CC BY-NC 4.0).