An Exuberant Case of Lymphedema in Young Adults with Morbid Obesity
S. Lopes

Serviço de Dermatologia, Centro Hospitalar São João EPE, Porto, Portugal

http://orcid.org/0000-0003-2263-3709

C. Lisboa

Serviço de Dermatologia, Centro Hospitalar São João EPE, Porto, Portugal; Departamento de Microbiologia, Faculdade de Medicina da Universidade do Porto, Portugal; CINTESIS - Centro de Investigação em Tecnologias e Serviços de Saúde, Porto, Portugal

J. Magalhães

Serviço de Anatomia Patológica, Centro Hospitalar São João EPE, Porto, Portugal

Filomena Azevedo

Serviço de Dermatologia, Centro Hospitalar São João EPE, Porto, Portugal
Keywords:
Lymphedema, Obesity, Morbid, Young Adult
Abstract
.
Downloads
Download data is not yet available.
References
Akturk HK, Gbadamosi-Akindele M. Elephantiasis
nostras verrucosa. BMJ Case Rep. 2014;2014: pii:
bcr2013200363. doi: 10.1136/bcr-2013-200363.
Judge N, Kilic A. Elephantiasis Nostras Verrucosa. Excision
with full-thickness skin grafting of the penis, scrotum,
and perineal area. J Dermatol Case Rep. 2016;
:32-4.
Zouboulis CC, Biczo S, Gollnick H, Reupke HJ, Rinck G,
Szabo M, et al. Elephantiasis nostras verrucosa: beneficial
effect of oral etretinate therapy. Br J Dermatol. 1992;
:411-6.
Kar Keong N, Siing Ngi AT, Muniandy P, Voon Fei W. Elephantiasis
nostras verrucosa: a rare complication of lower
limb lymphoedema. BMJ Case Rep. 2017; 2017:pii: bcr-
-221492. doi: 10.1136/bcr-2017-221492.
Pitcher AA, Pagan CA, Small K, Otterburn DM. Excision
of Elephantiasis Nostras Verrucosa Lesions in a Patient
With Hereditary Lymphedema: Case Report and Review
of the Literature. J Foot Ankle Surg. 2015; 54:747-50.
doi: 10.1053/j.jfas.2014.08.010.
Sisto K, Khachemoune A. Elephantiasis nostras verrucosa:
a review. Am J Clin Dermatol. 2008; 9:141-6.
Polat M, Sereflican B. A case of elephantiasis nostras
verrucosa treated by acitretin. J Drugs Dermatol. 2012;
:402-5.
Iwao F, Sato-Matsumura KC, Sawamura D, Shimizu H.
Elephantiasis nostras verrucosa successfully treated by
surgical debridement. Dermatol Surg. 2004; 30:939-41.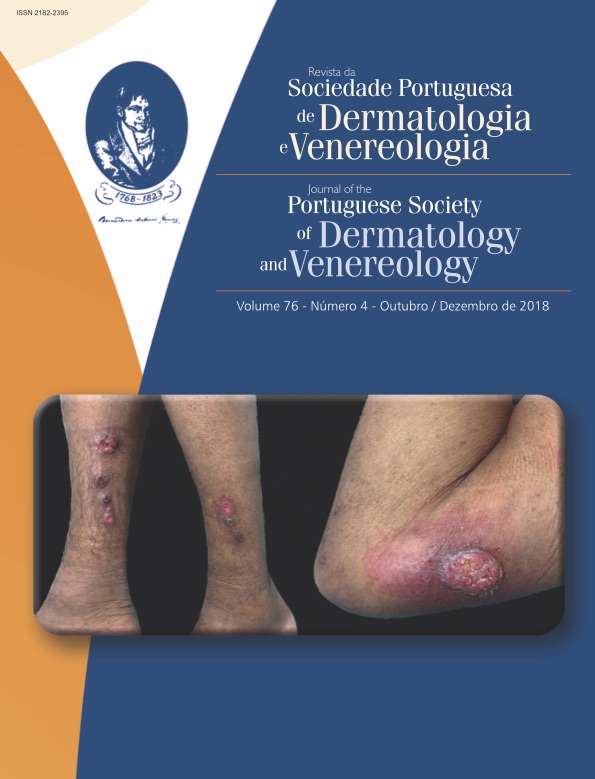 How to Cite
Lopes, S., Lisboa, C., Magalhães, J., & Azevedo, F. (2018). An Exuberant Case of Lymphedema in Young Adults with Morbid Obesity. Journal of the Portuguese Society of Dermatology and Venereology, 76(4), 451-453. https://doi.org/10.29021/spdv.76.4.967
All articles in this journal are Open Access under the Creative Commons Attribution-NonCommercial 4.0 International License (CC BY-NC 4.0).