Terapêutica Sistémica no Melanoma Avançado Systemic Therapy in Advanced Melanoma
Cecília Moura

Assistente Hospitalar Sénior - Serviço de Dermatologia - Instituto Português de Oncologia de Francisco Gentil Lisboa, Portugal
Abstract
.
Downloads
Download data is not yet available.
References
Seite S, Del Marmol V, Moyal D, Friedman AJ. Public primary and secondary skin cancer prevention,perceptions and knowledge: An international cross-sectional survey. J Eur Acad Dermatol Venereol. 2017;31:815–20. doi.org/10.1111/jdv.14104.
Whiteman DC, Green AC, Olsen CM. The growing burden of invasive melanoma: Projections of incidence rates and numbers of new cases in six susceptible populations through 2031. J Investig Dermatol. 2016; 136:1161–71. doi.org/10.1016/j.jid.2016.01.035.
Mariotto AB, Yabroff KR, Shad Y, Feuer EJ, Brown ML. Projections of the cost of cancer care in the United States: 2010–2020. J Natl Cancer Inst. 2011; 103:117–28. doi.org/10.1093/jnci/djq495.
Ward WH, Farma JM, editors. Cutaneous Melanoma: Etiology and Therapy [Internet]. Brisbane: Codon Publications; 2017. [accessed 2018 May 21]. doi.org/10.15586/codon.cutaneousmelanoma.2017.
Pires EM, Moura C. Systemic therapies for advanced melanoma: the immune checkpoint inhibitors. Rev Soc Port Dermatol Venereol. 2018: 76: doi.org/10.29021/spdv.76.3.970.
Boada A, Carrera C, Segura S, Collgros H, Pasquali P, Bodet D, et al. Cutaneous toxicities of new treatments for melanoma. Clin Transl Oncol. 2018 (in press). doi. org/10.1007/s12094-018-1891-7.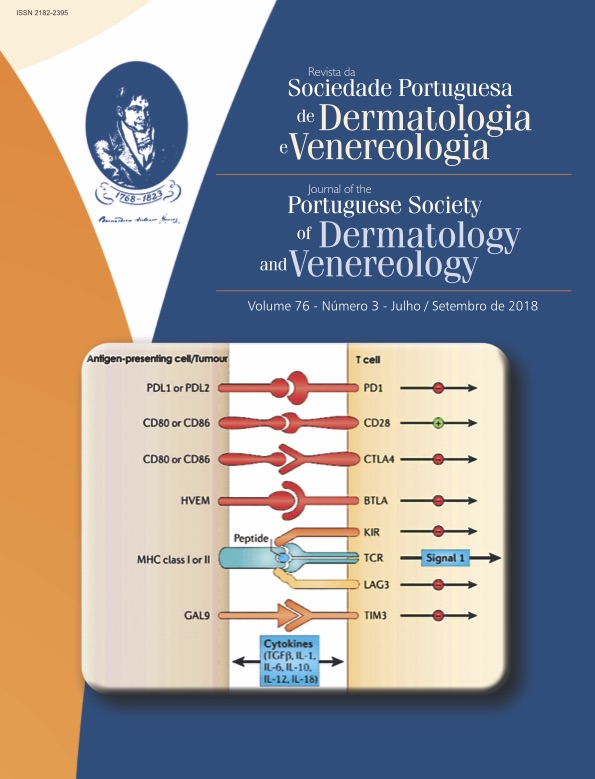 How to Cite
Moura, C. (2018). Terapêutica Sistémica no Melanoma Avançado Systemic Therapy in Advanced Melanoma. Journal of the Portuguese Society of Dermatology and Venereology, 76(3), 235-236. https://doi.org/10.29021/spdv.76.3.971
All articles in this journal are Open Access under the Creative Commons Attribution-NonCommercial 4.0 International License (CC BY-NC 4.0).