Acute Genital Ulcer in a Young Girl
Margarida Rato

Serviço de Dermatologia do Hospital de Santarém, Santarém, Portugal

Ana Sofia Borges

Serviço de Dermatologia do Hospital de Santo António dos Capuchos, Centro Hospitalar de Lisboa Central, Lisboa, Portugal

Ana Rodrigues

Serviço de Dermatologia do Hospital de Santo António dos Capuchos, Centro Hospitalar de Lisboa Central, Lisboa, Portugal

Cândida Fernandes

Serviço de Dermatologia do Hospital de Santo António dos Capuchos, Centro Hospitalar de Lisboa Central, Lisboa, Portugal
Keywords:
Genital Diseases, Female, Ulcer/diagnosis, Vulvar Diseases
Abstract
.
Downloads
Download data is not yet available.
References
Vieira-Baptista P, Lima-Silva J, Beires J, Martinez-de-Oliveira J. Lipschütz ulcers: should we rethink this? An analysis of 33 cases. Eur J Obstet Gynecol Reprod Biol. 2016 198:149-52. doi: 10.1016/j.ejogrb.2015.07.016.
Mourinha V, Costa S, Urzal C, Guerreiro F. Lipschütz ulcers: uncommon diagnosis of vulvar ulcerations. BMJ Case Rep. 2016. pii: bcr2015214338. doi: 10.1136/bcr-2015-214338.
Kinyó Á, Nagy N, Oláh J, Kemény L, Bata-Csörgö Z. Ulcus vulvae acutum Lipschütz in two young female patients. Eur J Dermatol. 201424:361-4. doi: 10.1684/ejd.2014.2311.
Delgado-García S, Palacios-Marqués A, Martínez-Escoriza JC, Martín-Bayón TA. Acute genital ulcers. BMJ Case Rep. 2014. pii: bcr2013202504. doi: 10.1136/bcr-2013-202504.
Brinca A, Canelas MM, Carvalho MJ, Vieira R, Figueiredo A. Lipschütz ulcer (ulcus vulvae acutum): a rare cause of genital lesion. An Bras Dermatol. 2012;87:622-4.
García JG, Pavón BM, Martín LM, Martínez BF, Norniella CM, Caro FÁ. Lipschütz ulcer: A cause of misdiagnosis when suspecting child abuse. Am J Emerg Med. 2016;34:1326.e1-2. doi: 10.1016/j.ajem.2015.12.027.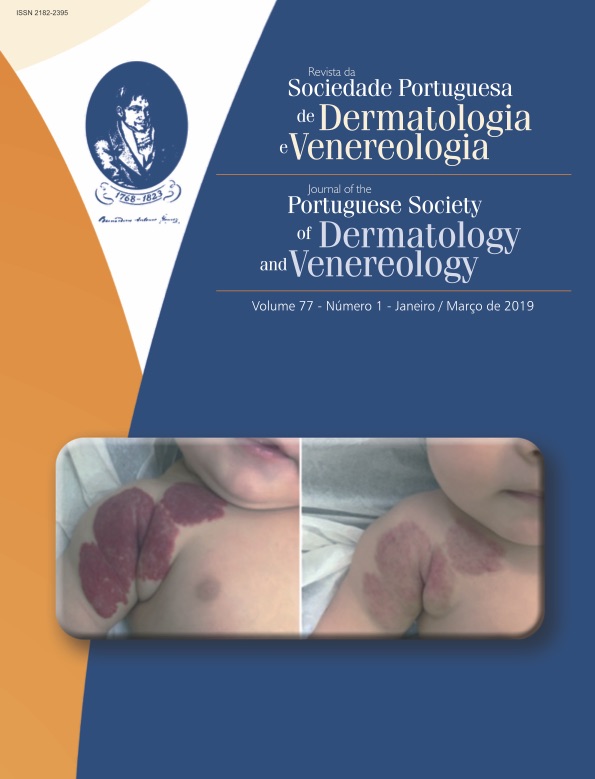 How to Cite
Rato, M., Borges, A. S., Rodrigues, A., & Fernandes, C. (2019). Acute Genital Ulcer in a Young Girl. Journal of the Portuguese Society of Dermatology and Venereology, 77(1), 88-89. https://doi.org/10.29021/spdv.77.1.976
All articles in this journal are Open Access under the Creative Commons Attribution-NonCommercial 4.0 International License (CC BY-NC 4.0).