Harlequin Ichthyosis: Case Report
Patrícia A. Couto

Hospital Universitário Getúlio Vargas, Manaus, Brazil

http://orcid.org/0000-0001-5870-4105

Marcela C. Pastore

Hospital Universitário Getúlio Vargas, Manaus, Brazil

Jessica C. N. Araújo

Hospital Universitário Getúlio Vargas, Manaus, Brazil

Cecilya M. Mota

Hospital Universitário Getúlio Vargas, Manaus, Brazil

Caroline A. R. Chirano

1Hospital Universitário Getúlio Vargas, Manaus, Brazil

Valeria K. A. Ferreira

Hospital Universitário Getúlio Vargas, Manaus, Brazil

Sidharta Q. Gadelha

Athoderma Clinic, Manaus, Brazil

Elaine D. Melo

Fundação de Dermatologia Tropical e Venereologia Alfredo da Matta, Manaus, Brazil

Patricia C. B. de Melo

Hospital Universitário Getúlio Vargas, Manaus, Brazil

Luciana M. Santos

1Hospital Universitário Getúlio Vargas, Manaus, Brazil
Keywords:
ATP-Binding Cassette Transporters, Ichthyosis, Lamellar, Infant, Newborn
Abstract
Harlequin ichthyosis is a rare autosomal recessive congenital disease in which neonates present generalized hyperkeratotic plaques and deep fissures, ectropion, eclabium, malformation of the auricular pavilion and typical facies. Although several complications related to the skin restriction may occur, support in intensive care and early introduction of systemic retinoids, such as acitretin, have significantly contributed to patients' survival and improved prognosis. The purpose of this report is to present a rare case of harlequin ichthyosis and to discuss strategies for early diagnosis and first supportive care.
Downloads
Download data is not yet available.
References
Mitchell A. Pet, Deepti Gupta e Raymond W. Tse , Harlequin Ichthyosis: A Surgical Perspective. Pediatric Dermatology Vol. 33 No. 5, e327–e332, 2016.
- Ahmed H, O'Toole EA. Recent Advances in the Genetics and Management of Harlequin Ichthyosis. Pediatric Dermatology Vol. 31 No. 5, 2014.
- Sadashiva Ukkali, Veena Patil, Emad A. Rajgoli, Jafar Moideen Kutty, Mohammed Zeeshan Desai. Harlequin Ichthyosis: A Case Report. Journal of Evolution of Medical and Dental Sciences 2015; Vol. 4, Issue 91, November 12; Page: 15700-15701.
Prendiville J. Harlequin ichthyosis [Internet]. [Updated 2008 Oct 21]. Available from: http://emedicine.medscape.com/article/ 1111503- overview.
W. Jian et al. Prenatal diagnose of a fetus with Harlequin ichthyosis in a Chinese family. Taiwanese Journal of Obstetrics & Gynecology 57 (2018) 452-455.
Glick JB, Craiglow BG, Choate KA, et al. Improved Management of Harlequin Ichthyosis With Advances in Neonatal Intensive Care. Pediatrics. 2017;139(1):e20161003
Rajpopat S, Moss C, Mellerio J, et al. Harlequin ichthyosis: a review of clinical and molecular fi ndings in 45 cases. Arch Dermatol. 2011;147(6):681–686.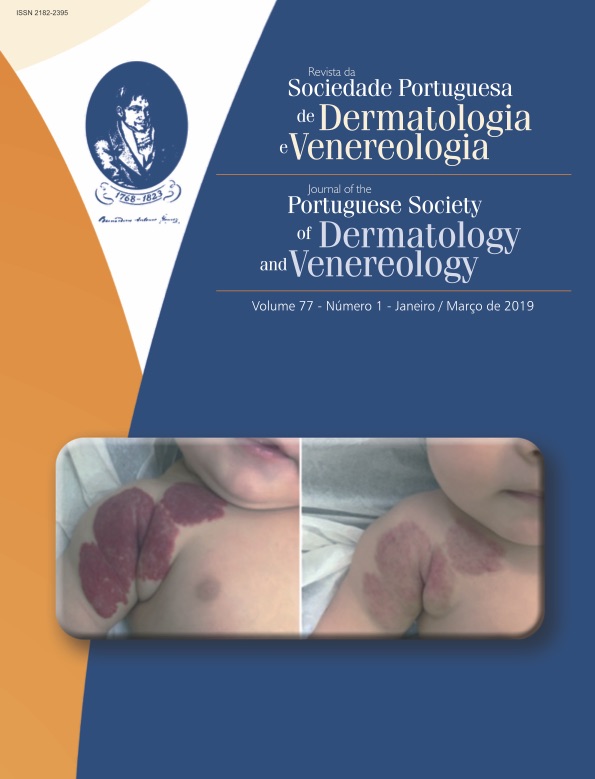 How to Cite
Couto, P. A., Pastore, M. C., Araújo, J. C. N., Mota, C. M., Chirano, C. A. R., Ferreira, V. K. A., Gadelha, S. Q., Melo, E. D., de Melo, P. C. B., & Santos, L. M. (2019). Harlequin Ichthyosis: Case Report. Journal of the Portuguese Society of Dermatology and Venereology, 77(1), 55-58. https://doi.org/10.29021/spdv.77.1.984
All articles in this journal are Open Access under the Creative Commons Attribution-NonCommercial 4.0 International License (CC BY-NC 4.0).