TRIANGULAR SKIN GRAFT OF THE NOSE BY ANATOMICAL CONTIGUITY
David Pacheco

Clínica Universitária Dermatológica do Hospital de Santa Maria, Centro Hospitalar Lisboa Norte, Portugal

Carlos Garcia

Clínica Universitária Dermatológica do Hospital de Santa Maria, Centro Hospitalar Lisboa Norte, Portugal

Ana Rita Travassos

Clínica Universitária Dermatológica do Hospital de Santa Maria, Centro Hospitalar Lisboa Norte, Portugal

Paulo Filipe

Clínica Universitária Dermatológica do Hospital de Santa Maria, Centro Hospitalar Lisboa Norte, Portugal

Manuel Sacramento Marques

Clínica Universitária Dermatológica do Hospital de Santa Maria, Centro Hospitalar Lisboa Norte, Portugal
Abstract
Reconstruction of large nasal defects, represents a challenge for Dermatologic Surgeon. We present a 87-year-old patient, with a large dimension squamous cell carcinoma, 3x2cm in the dorsum and the root of the nose. The surgical defect had a triangular shape. The realization of a flap conditioned a great movement of tissue and time- -consuming surgery. Due to the patient co-morbidities, was performed a total skin graft, with the skin of the glabella. The glabella is a good resource to perform grafts in this area, with good cosmetic quality, minimizing technical difficulties and complications of more invasive procedures.
KEYWORDS – Nose; Reconstructive surgical procedures; Skin transplantation; Surgical flaps.

Downloads
Download data is not yet available.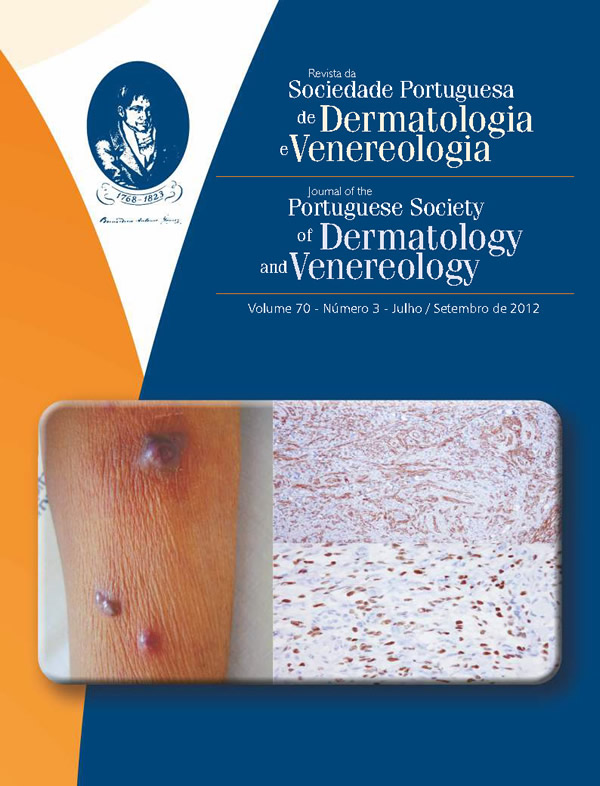 How to Cite
Pacheco, D., Garcia, C., Travassos, A. R., Filipe, P., & Marques, M. S. (2013). TRIANGULAR SKIN GRAFT OF THE NOSE BY ANATOMICAL CONTIGUITY. Journal of the Portuguese Society of Dermatology and Venereology, 70(3), 341. https://doi.org/10.29021/spdv.70.3.10
Section
Surgical Dermatology
All articles in this journal are Open Access under the Creative Commons Attribution-NonCommercial 4.0 International License (CC BY-NC 4.0).