RELAXING INCISIONS FOR SURGICAL RECONSTRUCTION OF LARGE SCALP DEFECTS
David Pacheco

Clínica Universitária Dermatológica do Hospital de Santa Maria, Centro Hospitalar Lisboa Norte, Portugal

Ana Rita Travassos

Clínica Universitária Dermatológica do Hospital de Santa Maria, Centro Hospitalar Lisboa Norte, Portugal

Ana Fraga

Clínica Universitária Dermatológica do Hospital de Santa Maria, Centro Hospitalar Lisboa Norte, Portugal

Marisa André

Serviço de Dermatologia, Hospital CUF Descobertas, Lisboa, Portugal

Rui Oliveira Soares

Serviço de Dermatologia, Hospital CUF Descobertas, Lisboa, Portugal

Manuel Sacramento Marques

Clínica Universitária Dermatológica do Hospital de Santa Maria, Centro Hospitalar Lisboa Norte, Portugal
Abstract
91- year-old, Caucasian male patient, with a 35x40mm tumor, located in the right parietal region. Due to de dimension of the defects, primary closure was not able to accomplish, parallel relaxing incisions to the surgical defect was an option for reconstruction. Relaxing incisions to correct large defects of the scalp was proposed as an alternative and effective technique that avoids the execution of complex flaps and skin grafts procedures and has an acceptable cosmetic result.
KEYWORDS – Reconstructive surgical procedures; Scalp; Surgical flaps.

Downloads
Download data is not yet available.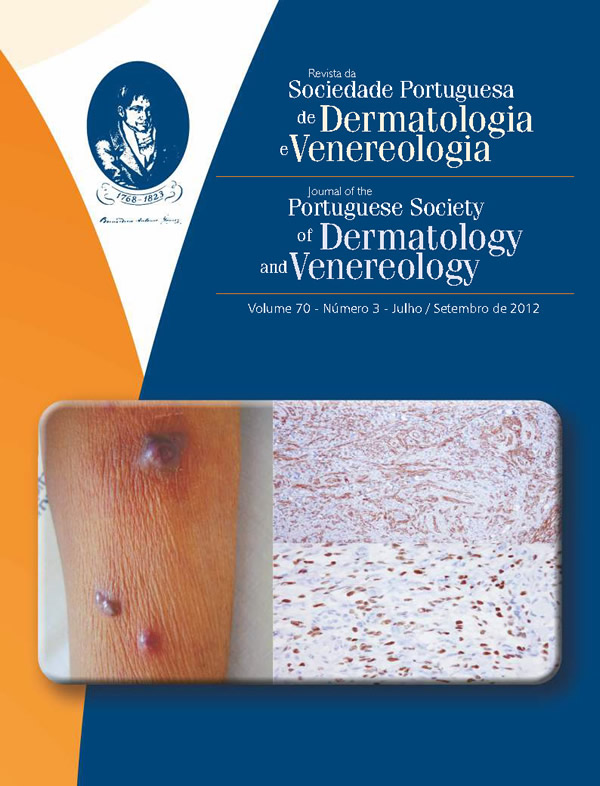 How to Cite
Pacheco, D., Travassos, A. R., Fraga, A., André, M., Soares, R. O., & Marques, M. S. (2013). RELAXING INCISIONS FOR SURGICAL RECONSTRUCTION OF LARGE SCALP DEFECTS. Journal of the Portuguese Society of Dermatology and Venereology, 70(3). https://doi.org/10.29021/spdv.70.3.8
Section
Surgical Dermatology
All articles in this journal are Open Access under the Creative Commons Attribution-NonCommercial 4.0 International License (CC BY-NC 4.0).