Phacomatosis Pigmentokeratotica: A Case Report
Aline Guimarães Grana

Médica Residente/Resident, Dermatology, Serviço de Dermatologia do Hospital Universitário Getúlio Vargas, Universidade Federal do Amazonas , Manaus, Brasil

Caroline Chirano

Médica Residente/Resident, Dermatology, Serviço de Dermatologia do Hospital Universitário Getúlio Vargas, Universidade Federal do Amazonas , Manaus, Brasil

Louise Makarem Oliveira

Acadêmica da Universidade Federal do Amazonas, Manaus, Brasil

Júlia Fernandes

Médica Especialista em Endocrinologia e Metabologia, Manaus, Brasil

Luciana Santos

Médica Especialista em Dermatologia. Preceptora e Chefe da Residência de Dermatologia do Serviço de Dermatologia do Hospital Universitário Getúlio Vargas, Universidade Federal do Amazonas, Manaus, Brasil
Keywords:
Mutation, Nevus, Pigmented, Skin Neoplasms/genetics
Abstract
Phacomatosis pigmentokeratotica is a rare variant of the epidermal nevus syndrome, characterized by the association of a nevus sebaceous with nevus spilus and extracutaneous manifestations, which often involve the central nervous system, the skeleton or the kidneys. We report a patient who presented a congenital extensive nevus sebaceous in the head following the Blaschko lines, multiple speckled lentiginous nevus in the right hemibody, and skeleton abnormalities due to hypophosphatemic rickets. We emphasize the importance of understanding the epidermal nevus syndrome and its different clinical presentations, namely its extracutaneous manifestations, and we call the attention to cutaneous signs related to osteometabolic disorders.
Downloads
Download data is not yet available.
References
Loh S, Lew B, Sim W. A case of phacomatosis pigmentokeratotica associated with multiple basal cell carcinomas. Am J Dermatopathol. 2018; 40:131-5. doi: 10.1097/DAD.0000000000001012.
Ayala D, Ramón M, Martín J, Jordá E. Atypical phacomatosis pigmentokeratotica as the expression of a mosaic RASopathy with the BRAF-Glu586Lys mutation. Actas Dermo-Sifiliogr. 2016; 107:344-6. doi: 10.1016/j.ad.2015.07.017.
Martin R, Arefi M, Splitt M, Redford L, Moss C, Rajan N. Phacomatosis pigmentokeratotica and precocious puberty associated with HRAS mutation. Br J Dermatol. 2017;178:289-91. doi: 10.1016/j.ad.2015.07.017.
Pereira FB, Cuzzi T. Carcinoma basocelular, estruturas crisálides, oncogenes e nevo sebáceo: algumas considerações. Surg Cosmet Dermatol. 2012; 4:97-9.
Jennings L, Cummins R, Murphy G, Gulmann C, O'Kane M. HRAS mutation in phacomatosis pigmentokeratotica without extracutaneous disease. Clin Exp Dermatol. 2017; 42:791-2.
Om A, Cathey S, Gathings R, Hudspeth M, Lee J, Marzolf S et al. Phacomatosis pigmentokeratotica: a mosaic rasopathy with malignant potential. Pediatr Dermatol. 2017;34:352-5. doi: 10.1111/pde.13119.
Borghi M, Kochi C, Longui C, Coates V. Raquitismo Hipofosfatemico Associado A Sindrome Do Nevo Epidermico Com Fgf-23 Normal. 10 Congresso Brasileiro Pediátrico de Endocrinologia e Metabologia [Internet]. Brasília; 2013]. [consultado Jan 2018] Disponível em: http://
anais.sbp.com.br/trabalhos-de-congressos-da-sbp/10-congresso-brasileiro-peditrico-e-endocrinologia-e-metabologia/0134-raquitismo-hipofosfatemico-associado-a-sindrome-do.pdf
Martinez-Menchon T, Mahiques Santos L, Vilata Corell J, Febrer Bosch I, Fortea Baixauli J. Phacomatosis pigmentokeratotica: a 20-year follow-up with malignant degeneration of both nevus components. Pediatr Dermatol. 2005;22:44-7. doi: 10.1111/j.1525-1470.2005.22110.x.
Bruno CB, Cordeiro FN, Soares FE, Takano GH, Mendes LS. Aspectos dermatoscópicos do siringocistoadenoma papilífero associado a nevo sebáceo. An Bras Dermatol. 2011; 86:1213-6.
Carey D, Drezner M, Hamdan J, Mange M, Ahmad M, Mubarak S, et al. Hypophosphatemic rickets/osteomalacia in linear sebaceous nevus syndrome: A variant of tumor-induced osteomalacia. J Pediatr. 1986; 109:994-1000.
Aschinberg L, Solomon L, Zeis P, Justice P, Rosenthal I. Vitamin D-resistant rickets associated withepidermal nevus syndrome: Demonstration of a phosphaturic substance in the dermal lesions. J Pediatr. 1977;91:56-60.
Mesquita Barros J. O osso como órgão endócrino [Dissertação de Mestrado]. Porto: Universidade do Porto; 2011.
Shimada T, Hasegawa H, Yamazaki Y, Muto T, Hino R, Takeuchi Y, et al. FGF-23 is a potent regulator of vitamin d metabolism and phosphate homeostasis. J Bone Miner Res. 2003;19:429-35.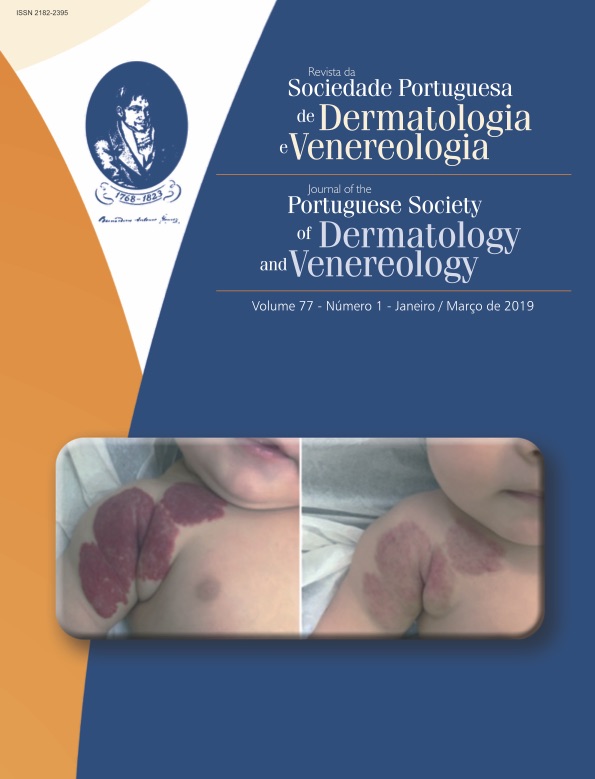 How to Cite
Grana, A. G., Chirano, C., Oliveira, L. M., Fernandes, J., & Santos, L. (2019). Phacomatosis Pigmentokeratotica: A Case Report. Journal of the Portuguese Society of Dermatology and Venereology, 77(1), 59-62. https://doi.org/10.29021/spdv.77.1.1005
All articles in this journal are Open Access under the Creative Commons Attribution-NonCommercial 4.0 International License (CC BY-NC 4.0).