Congenital Ichthyoses: 11 Cases from the Pediatric Dermatology Multidisciplinary Consultation of the Centro Hospitalar e Universitário de Lisboa Central
Ana Sofia Borges

Serviço de Dermatovenereologia, Hospital Santo António dos Capuchos, Centro Hospitalar e Universitário de Lisboa Central, Lisboa, Portugal

A. Cordeiro

Serviço de Pediatria, Hospital D. Estefânia, Centro Hospitalar e Universitário de Lisboa Central, Lisboa, Portugal

Ana Brasileiro

Serviço de Dermatovenereologia, Hospital Santo António dos Capuchos, Centro Hospitalar e Universitário de Lisboa Central, Lisboa, Portugal

Maria João Paiva Lopes

Serviço de Dermatovenereologia, Hospital Santo António dos Capuchos, Centro Hospitalar e Universitário de Lisboa Central, Lisboa, Portugal
Keywords:
Ichthyosiform Erythroderma, Congenital, Ichthyosis, Lamellar, Skin Diseases, Genetic, Steryl-Sulfatase
Abstract
Introduction: Congenital ichthyoses are a heterogeneous group of hereditary genetic disorders that occur due to a defective keratinization and consequent disruption of the skin barrier function. Although rare, they are presented as a diagnostic and therapeutic challenge. This study aimed to characterize clinically and genotypically the cases of non-syndromic congenital ichthyoses and to evaluate possible genotype-phenotype relation based on the most recent data in the literature.
Methods: We performed a retrospective study in which all cases with clinical diagnosis and genetic confirmation of non-syndromic congenital ichthyoses were included in the Pediatric Dermatology Multidisciplinary Consultation of Hospital D. Estefânia of the Centro Hospitalar e Universitário de Lisboa Central.
Results: A total of 11 patients aged between 20 months and 16 years were analyzed. Four had the X-linked recessive form with a mutation in the steroid-sulphatase gene, three of which typically manifested by the appearance at birth of generalized gray polygonal desquamation and one with milder manifestations of xerosis and eczema. The remaining seven patients had an autosomal recessive form, four of them mutated in the TGM1 gene, two in ALOX12B and one in CYP4F22. Regarding the evolution and prognosis, the same mutated gene was responsible for a broad spectrum of clinical manifestations, emphasizing the difficulty in establishing a genotype-phenotype relationship for these patients.
Conclusion: Advances in genetics have been fundamental for better compression of the pathophysiology and clinical evolution of congenital ichthyoses. However, given the broad phenotypic spectrum associated with a mutation in the same gene, the establishment of a genotype-phenotype relationship, that would allow a correct prognosis, is not always possible. Although rare, the authors emphasize the importance of further studies in order to improve the quality of life of patients with these genodermatoses.
Downloads
Download data is not yet available.
References
Oji V, Tadini G, Akiyama M, Blanchet Bardon C, Bodemer C, Bourrat E, et al. Revised nomenclature and classification of inherited ichthyoses: results of the First Ichthyosis Consensus Conference in Sorèze 2009. J Am Acad Dermatol. 2010; 63:607-41. doi: 10.1016/j.jaad.2009.11.020.
Rice RH, Durbin-Johnson BP, Mann SM, Salemi M, Urayama S, Rocke DM,et al. Corneocyte proteomics: Applications to skin biology and dermatology. Exp Dermatol. 2018; 27:931-8. doi: 10.1111/exd.13756.
Zaki T, Choate K. Recent advances in understanding inherited disorders of keratinization. F1000Res.
;7. pii: F1000 Faculty Rev-919. doi: 10.12688/f1000research.14514.1
Schmuth M, Gruber R, Elias PM, Williams ML. Ichthyosis update: towards a function-driven model of pathogenesis of the disorders of cornification and the role of corneocyte proteins in these disorders. Adv Dermatol. 2007; 23:231-56.
Traupe H, Fischer J, Oji V. Nonsyndromic types of ichthyoses - an update. J Dtsch Dermatol Ges. 2014;12:109-21. doi: 10.1111/ddg.12229
Takeichi T, Akiyama M. Inherited ichthyosis: Non-syndromic forms. J Dermatol. 2016; 43:242-51.
Hand JL, Runke CK, Hodge JC. The phenotype spectrum of X-linked ichthyosis identified by chromosomal microarray. J Am Acad Dermatol. 2015 72:617-27. doi: 10.1016/j.jaad.2014.12.020.
Kent L, Emerton J, Bhadravathi V, Weisblatt E, Pasco G, Willatt LR, et al. X-linked ichthyosis (steroid sulfatase deficiency) is associated with increased risk of attention deficit hyperactivity disorder, autism and social communication deficits. J Med Genet. 2008; 45:519-24. doi: 10.1136/jmg.2008.057729.
Prado R, Ellis LZ, Gamble R, Funk T, Arbuckle HA, Bruckner AL. Collodion baby: an update with a focus on practical management. J Am Acad Dermatol. 2012; 67:1362-74. doi: 10.1016/j.jaad.2012.05.036.
Esposito G, De Falco F, Neri I, Graziano C, Toschi B, Auricchio L, et al. Different TGM1 mutation spectra in Italian and Portuguese patients with autosomal recessive congenital ichthyosis: evidence of founder effects in Portugal. Br J Dermatol. 2013; 168:1364-7. doi: 10.1111/bjd.12179.
Vahlquist A, Bygum A, Ganemo A, Virtanen M, HellströmPigg M, Strauss G, et al. Genotypic and clinical spectrum of self-improving collodion ichthyosis: ALOX12B, ALOXE3, and TGM1 mutations in Scandinavian patients. J Invest Dermatol. 2010; 130:438-43. doi: 10.1038/jid.2009.346.
Ohno Y, Nakamichi S, Ohkuni A, Kamiyama N, Naoe A, Tsujimura H, et al. Essential role of the cytochrome P450 CYP4F22 in the production of acylceramide, the key lipid for skin permeability barrier formation. Proc Natl Acad Sci U S A. 2015; 112:7707-12. doi: 10.1073/pnas.1503491112.
Hotz A, Bourrat E, Küsel J, Oji V, Alter S, Hake L, et al. Mutation update for CYP4F22 variants associated with autosomal recessive congenital ichthyosis. Hum Mutat.
;39:1305-13. doi: 10.1002/humu.23594.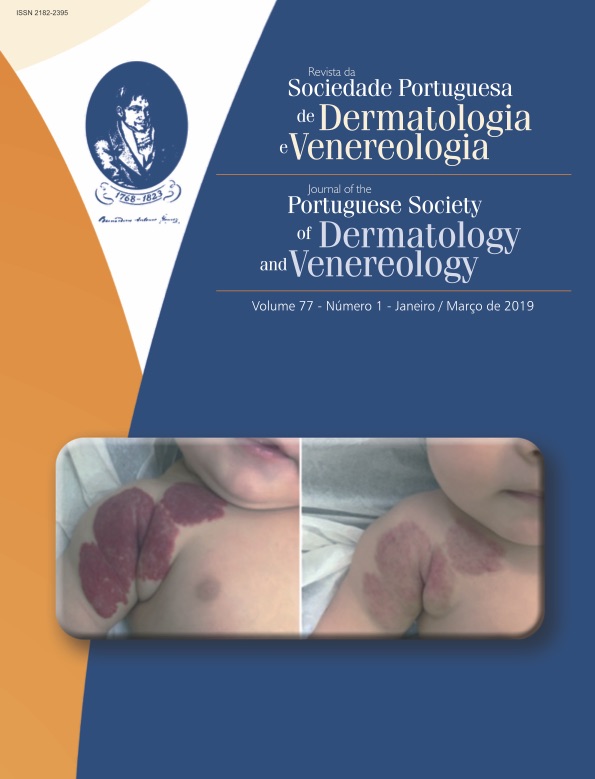 How to Cite
Borges, A. S., Cordeiro, A., Brasileiro, A., & Paiva Lopes, M. J. (2019). Congenital Ichthyoses: 11 Cases from the Pediatric Dermatology Multidisciplinary Consultation of the Centro Hospitalar e Universitário de Lisboa Central. Journal of the Portuguese Society of Dermatology and Venereology, 77(1), 25-32. https://doi.org/10.29021/spdv.77.1.1013
Section
Original Articles
All articles in this journal are Open Access under the Creative Commons Attribution-NonCommercial 4.0 International License (CC BY-NC 4.0).