Topical Immunomodulation with Diphenlycyclopropenone for Alopecia Areata
Ana Sofia Borges

Dermatology and Venerology Department, Hospital Santo António dos Capuchos, Centro Hospitalar e Universitário de Lisboa Central, Lisboa, Portugal

Ana Brasileiro

Dermatology and Venerology Department, Hospital Santo António dos Capuchos, Centro Hospitalar e Universitário de Lisboa Central, Lisboa, Portugal

Rita Ramos Pinheiro

Dermatology and Venerology Department, Hospital Santo António dos Capuchos, Centro Hospitalar e Universitário de Lisboa Central, Lisboa, Portugal

André Lencastre

Dermatology and Venerology Department, Hospital Santo António dos Capuchos, Centro Hospitalar e Universitário de Lisboa Central, Lisboa, Portugal
Keywords:
Alopecia Areata/therapy, Cyclopropanes, Dermatologic Agents, Immunotherapy
Abstract
Introduction: Topical immunotherapy with diphenylcyclopropenone is a treatment option for patients with refractory or extensive alopecia areata. The aim of this study was to evaluate the clinical efficacy and tolerability of diphenylcyclopropenone therapy, in patients with alopecia areata, and identify possible prognostic factors that predict response to treatment.
Methods: We conducted a retrospective study that included all patients diagnosed with alopecia areata and treated with diphenylcyclopropenone at our Department.
Results: Twenty one patients were included for analysis (15 females and 6 males). Overall, nine patients (42.9%) had some hair regrowth with diphenylcyclopropenone therapy. Of these, five (55.6%) achieved pigmented terminal hair regrowth but with persistent patches of alopecia. Only one patient achieved > 90% of hair regrowth. Older age at onset, broader extent of alopecia at baseline and presence of nail dystrophy were all negative prognostic factors (p < 0.05). Atopy and thyroid dysfunction were not statistically significant as predictors of poor treatment outcome. Adverse effects were documented in 15 patients, most of them were mild and did not lead to treatment interruption.
Conclusion: Diphenylcyclopropenone therapy is a viable treatment option in patients with extensive alopecia areata, although the response is partial in the majority of the cases. Limitations of this study include its retrospective nature and the limited number of patients.
Downloads
Download data is not yet available.
References
Garg S, Messenger AG. Alopecia areata: evidence-based treatments. Semin Cutan Med Surg. 2009 Mar; 28(1):15-8.
Bertolini M, Gilhar A, Paus R. Alopecia areata as a model for T cell-dependent autoimmune diseases. Exp Dermatol. 2012 Jun; 21(6):477-9.
Messenger AG, McKillop J, Farrant P, McDonagh AJ, Sladden M. British Association of Dermatologists' guidelines for the management of alopecia areata 2012. Br J Dermatol. 2012 May;166(5):916-26.
Gilhar A, Etzioni A, Paus R. Alopecia areata. N Engl J Med. 2012 Apr 19;366(16):1515-25.
Van der Steen PH, van Baar HM, Happle R, Boezeman JB, Perret CM. Prognostic factors in the treatment of alopecia areata with diphenylcyclopropenone. J Am Acad Dermatol. 1991 Feb;24(2 Pt 1):227-30.
Weise K, Kretzschmar L, John SM, Hamm H. Topical immunotherapy in alopecia areata: anamnestic and clinical criteria of prognostic significance. Dermatology. 1996;192(2):129-33.
Wiseman MC, Shapiro J, MacDonald N, Lui H. Predictive model for immunotherapy of alopecia areata with diphencyprone. Arch Dermatol. 2001 Aug;137(8):1063-8.
Ohlmeier MC, Traupe H, Luger TA, Böhm M. Topical immunotherapy with diphenylcyclopropenone of patients with alopecia areata--a large retrospective study on 142 patients with a self-controlled design. J Eur Acad Dermatol Venereol. 2012 Apr;26(4):503-7.
Chiang KS, Mesinkovska NA, Piliang MP, Bergfeld WF. Clinical Efficacy of Diphenylcyclopropenone in Alopecia Areata: Retrospective Data Analysis of 50 Patients. J Investig Dermatol Symp Proc. 2015 Nov;17(2):50-5.
Lamb RC, Young D, Holmes S. Retrospective review of diphencyprone in the treatment of alopecia areata. Clin Exp Dermatol. 2016 Jun;41(4):352-8.
El Khoury J, Abd-el-Baki J, Succariah F, Abbas O, Kibbi AG, Kurban M. Topical immunomodulation with diphenylcyclopropenone for alopecia areata: the Lebanese experience. Int J Dermatol. 2013 Dec;52(12):1551-6.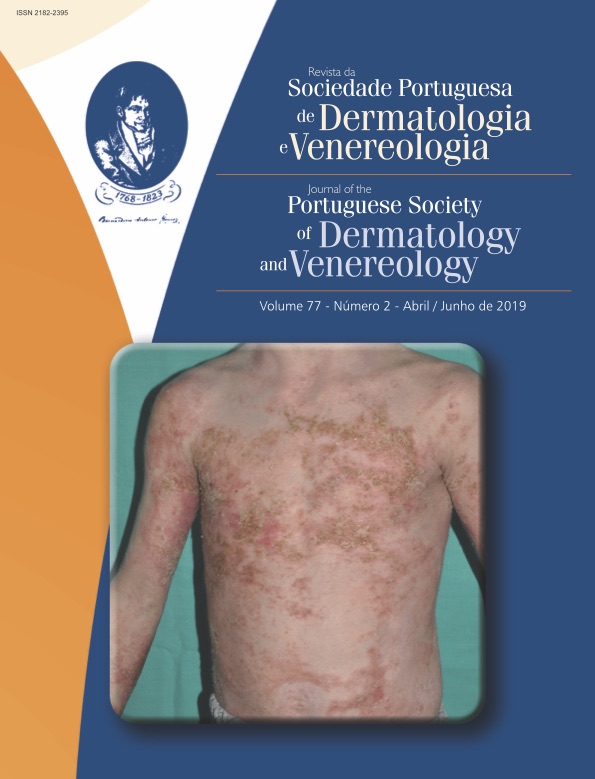 How to Cite
Borges, A. S., Brasileiro, A., Ramos Pinheiro, R., & Lencastre, A. (2019). Topical Immunomodulation with Diphenlycyclopropenone for Alopecia Areata. Journal of the Portuguese Society of Dermatology and Venereology, 77(2), 139-142. https://doi.org/10.29021/spdv.77.2.1074
Section
Original Articles
Copyright (c) 2019 Journal of the Portuguese Society of Dermatology and Venereology
This work is licensed under a Creative Commons Attribution 4.0 International License.
All articles in this journal are Open Access and meet the requirements of funding bodies or academic institutions. Each article published in the Journal is published under the Creative Commons Attribution-NonCommercial-NoDerivatives 4.0 International License (CC BY-NC-ND 4.0). Articles can be read, downloaded, printed, and shared.
Submission of an article for publication implies the authors' consent to publication under the applicable Creative Commons license and the terms and conditions of the Publisher's Licensing Agreement.
It is the author's responsibility to obtain permission to reproduce illustrations, tables, etc. from other publications.
Upon acceptance of an article, authors will be asked to complete a 'Journal Publishing Agreement'. An e-mail will be sent to the corresponding author confirming receipt of the manuscript together with a 'Journal Publishing Agreement' form or a link to the online version of this agreement.
Author rights: As an author you (or your employer or institution) have certain rights to reuse your work.
The Journal reserves the right to use plagiarism detection software on any submitted material.