Sclerotherapy in the Treatment of Familial Disseminated Cutaneous Glomuvenous Malformations: Case Report
Francisco Gil

Serviço de Dermatologia, Hospital de Santarém EPE, Santarém, Portugal

Santiago Ortiz

Serviço de Anatomia Patológica, Hospital de Santarém EPE, Santarém, Portugal

João Aranha

Serviço de Dermatologia, Hospital de Santarém EPE, Santarém, Portugal
Keywords:
Glomus Tumor/genetics, Glomus Tumor/therapy, Sclerotherapy, Skin Neoplasms
Abstract
Glomuvenous malformations usually present as soft bluish-purple dermal or subcutaneous papules, nodules or plaques, and can occur as sporadic or inherited lesions. We present the case of a 41-year-old female, referred for evaluation of disseminated bluish lesions developing since puberty. Histopathology was consistent with the diagnosis of glomuvenous malformations. The history of a sister with similar lesions justified a genetic study of the glomulin gene that revealed a pathogenic mutational variant allowing the
diagnosis of familial disseminated cutaneous glomuvenous malformations. Whereas surgical management is often used for symptomatic solitary lesions of glomuvenous malformations, other treatment modalities have been reported for treatment of multiple lesions, with variable results. The patient underwent sclerotherapy with polidocanol and there were significant symptomatic and cosmetic improvements after six sessions, with no adverse effects and no recurrence after 6 months.
Downloads
Download data is not yet available.
References
Abbas A, Braswell M, Bernieh A, Brodell RT. Glomuvenous malformations in a young man. Dermatol Online J. 2018;24: 13030/qt2w54142d.
Boon LM, Mulliken JB, Enjolras O, Vikkula M. Glomuvenous malformation (glomangioma) and venous malformation: distinct clinicopathologic and genetic entities. Arch Dermatol. 2004;140:971–6.
Taaffe A, Barker D, Wyatt EH, Bury HP. Glomus tumours: A clinico-pathological survey. Clin Exp Dermatol. 1980;5:219–25.
Brouillard P, Boon LM, Mulliken JB, Enjolras O, Ghassibé M, Warman ML, et al. Mutations in a novel factor, glomulin, are responsible for glomuvenous malformations (glomangiomas). Am J Hum Genet. 2002;70:866–74. doi: 10.1086/339492.
Jha A, Khunger N, Malarvizhi K, Ramesh V, Singh A. Familial disseminated cutaneous glomuvenous malformation: treatment with polidocanol sclerotherapy. J Cutan Aesthet Surg. 2016;9:266–9. doi: 10.4103/0974-2077.197083.
Brouillard P, Ghassibé M, Penington A, Boon LM, Dompmartin A, Temple IK, et al. Four common glomulin mutations cause two thirds of glomuvenous malformations ("familial glomangiomas"): evidence for a founder effect. J Med Genet. 2005;42:e13. doi: 10.1136/jmg.2004.024174.
Blume-Peytavi U, Adler YD, Geilen CC, Ahmad W, Christiano A, Goerdt S, et al. Multiple familial cutaneous glomangioma: a pedigree of 4 generations and critical analysis of histologic and genetic differences of glomus tumors. J Am Acad Dermatol. 2000;42:633-9.
Brauer JA, Anolik R, Tzu J, Meehan S, Lieber CD, Geronemus RG. Glomuvenous malformations (familial generalized multiple glomangiomas). Dermatol Online J. 2011;17(10):9.
Yang JS, Suh KS, Ko JW, Kim ST. Congenital multiple plaque-like glomangiomyoma. Am J Dermatopathol. 1999;21:454-7.
Folpe AL, Fanburg-Smith JC, Miettinen M, Weiss SW. Atypical and malignant glomus tumors: Analysis of 52 cases, with a proposal for the reclassification of glomus tumors. Am J Surg Pathol. 2001;25:1–12.
Jabir S, Frew Q, Petkar M, Dziewulski P. Multiple glomuvenous malformations presenting in a child: follow-up over a period of 8 years. BMJ Case Rep. 2013:bcr-2013-200114. doi: 10.1136/bcr-2013-200114.
Henning JS, Kovich OI, Schaffer JV. Glomuvenous malformations. Dermatol Online J. 2007;13:17.
Parsi K, Kossard S. Multiple hereditary glomangiomas: Successful treatment with sclerotherapy. Australas J Dermatol. 2002;43:43-7.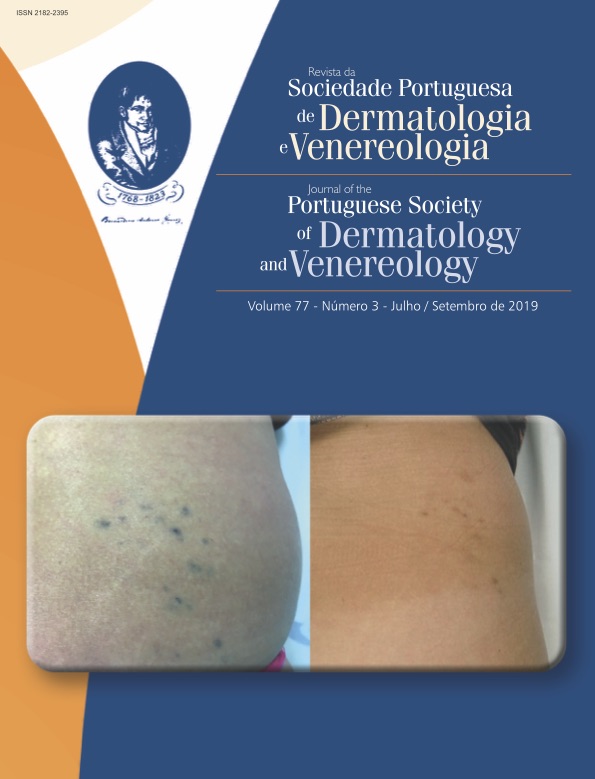 How to Cite
Gil, F., Ortiz, S., & Aranha, J. (2019). Sclerotherapy in the Treatment of Familial Disseminated Cutaneous Glomuvenous Malformations: Case Report. Journal of the Portuguese Society of Dermatology and Venereology, 77(3), 249-252. https://doi.org/10.29021/spdv.77.3.1087
All articles in this journal are Open Access under the Creative Commons Attribution-NonCommercial 4.0 International License (CC BY-NC 4.0).