Inoculation Eschars and Fever: A Case of African Tick Bite Fever
R. Bouceiro-Mendes

Centro Hospitalar Universitário Lisboa Norte, Hospital de Santa Maria, Serviço de Dermatologia, Lisboa, Portugal

M. Mendonça-Sanches

Centro Hospitalar Universitário Lisboa Norte, Hospital de Santa Maria, Serviço de Dermatologia, Lisboa, Portugal

L. Soares-de-Almeida

Centro Hospitalar Universitário Lisboa Norte, Hospital de Santa Maria, Serviço de Dermatologia, Lisboa, Portugal; Instituto de Medicina Molecular, Faculdade de Medicina de Lisboa, Universidade de Lisboa, Lisboa, Portugal

I. Correia-Fonseca

Centro Hospitalar Universitário Lisboa Norte, Hospital de Santa Maria, Serviço de Dermatologia, Lisboa, Portugal
Keywords:
Rickettsia Infections, South Africa, Tick-Borne Diseases, Travel
Abstract
African tick bite fever is caused by the intracellular bacteria Rickettsia africae. This bacterium is transmitted through the bite of the Amblyomma tick, which carries a high rate of R. africae infection. African tick bite fever is the second most frequent cause of fever in travelers returning from sub-Saharan Africa.
We present the case of a 58-year-old man, returning from South Africa, with a three-day history of fever, generalized headache and cervical myalgia. On physical examination multiple inoculation eschars and tender inguinal lymph nodes were documented.
Histological examination of a skin lesion was compatible with spotted fever and the diagnosis of R. africae infection was confirmed through polymerase chain reaction analysis.
The global increase in international tourism, particularly to remote areas, predisposes to tick bites. In febrile tourists returning from endemic areas and after a thorough clinical examination, the diagnosis of African tick bite fever should be born in mind.
Downloads
Download data is not yet available.
References
Jensenius M, Fournier P-E, Kelly P, Myrvang B, Raoult D. African tick bite fever. Lancet Infect Dis. 2003;3:557-64.
Albízuri Prado F, Sánchez A, Feito M, Mayor A, Rodriguez A, de Lucas R. Fever and multiple eschars after an African safari: Report of Three Cases. Pediatr Dermatol. 2017;34:e179-e81. doi: 10.1111/pde.13163.
Nilsson K, Wallménius K, Rundlöf-Nygren P, Strömdahl S, Påhlson C. African tick bite fever in returning Swedish travellers. Report of two cases and aspects of diagnostics. Infect Ecol Epidemiol. 2017;7:1343081. doi: 10.1080/20008686.2017.1343081.
Halajian A, Palomar AM, Portillo A, Heyne H, Romero L, Oteo JA. Detection of zoonotic agents and a new Rickettsia strain in ticks from donkeys from South Africa: Implications for travel medicine. Travel Med Infect Dis. 2018;26:43-50. doi: 10.1016/j.tmaid.2018.10.007.
Hauser N, Arzomand Z, Fournier J, Breen C, Jamali L, Cossman J, et al. A case of African tick-bite fever in a returning traveler. IDCases. 2016;5:78-9. doi:
1016/j.idcr.2016.07.004.
Menzer C, Fink C, Enk A, Haenssle HA. African tick-bite fever – a tantalizing souvenir from South Africa. J Dtsch Dermatol Ges. 2017;15:1027-8. doi: 10.1111/ddg.13322.
Fischer M. Rickettsioses: Cutaneous findings frequently lead to diagnosis – a review. J Dtsch Dermatol Ges. 2018;16:1459-76. doi: 10.1111/ddg.13712.
Delord M, Socolovschi C, Parola P. Rickettsioses and Q fever in travelers (2004–2013). Travel Med Infect Dis. 2014;12:443-58. doi: 10.1016/j.tmaid.2014.08.006.
Eldin C, Parola P. Update on tick-borne bacterial diseases in travelers. Curr Infect Dis Rep. 2018;20:17. doi: 10.1007/s11908-018-0624-y.
Althaus F, Greub G, Raoult D, Genton B. African tick-bite fever: a new entity in the differential diagnosis of multiple eschars in travelers. Description of five cases imported from South Africa to Switzerland. Int J Infect Dis. 2010; 14:e274-e6. doi: 10.1016/j.ijid.2009.11.021.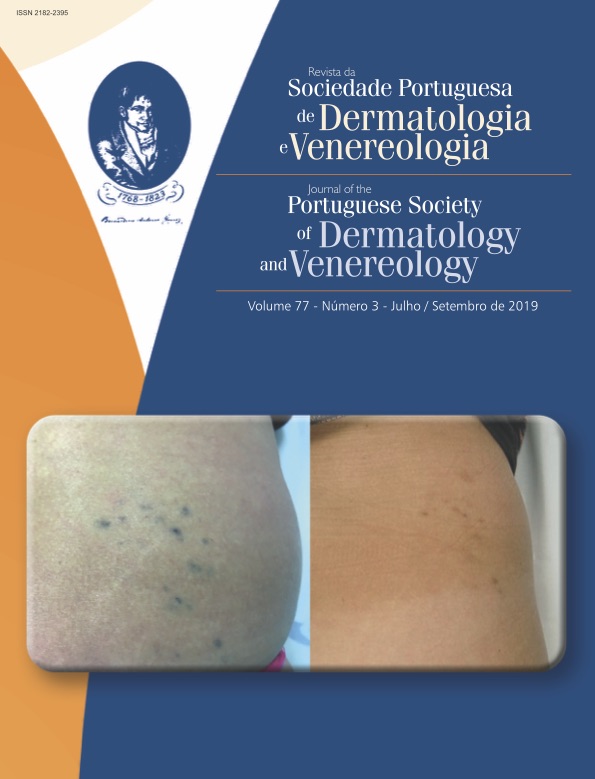 How to Cite
Bouceiro-Mendes, R., Mendonça-Sanches, M., Soares-de-Almeida, L., & Correia-Fonseca, I. (2019). Inoculation Eschars and Fever: A Case of African Tick Bite Fever. Journal of the Portuguese Society of Dermatology and Venereology, 77(3), 261-264. https://doi.org/10.29021/spdv.77.3.1103
All articles in this journal are Open Access under the Creative Commons Attribution-NonCommercial 4.0 International License (CC BY-NC 4.0).