Morphea and Hormonal Therapy: A Possible Association
Keywords:
Hormones/adverse effects, Hormones/therapeutic use, Infertility/therapy, Scleroderma, Localized/etiology, Scleroderma, Localized/drug therapy
Abstract
Morphea is a rare inflammatory disorder with an unknown etiology. We report the case of a 35-years-old woman presenting with an 18-month history of skin thickening on the extremities and trunk, and inflammatory arthralgia. Complaints started 2-weeks after a fertility treatment. The physical exam and workup confirmed the diagnosis of morphea, and the patient started treatment with deflazacort and methotrexate, with significant improvement. Six years later, the patient was submitted to another fertility treatment with exacerbation of the disease. The temporal association between the fertility treatments and the onset and further worsening of morphea suggest an influence of sex hormones on its pathophysiology.
Downloads
Download data is not yet available.
References
Mertens JS, Seyger MM, Thurlings RM, Radstake TR, de Jong EM. Morphea and Eosinophilic Fasciitis: An Update. Am J Clin Dermatol. 2017;18:491-512. doi: 10.1007/s40257-017-0269-x.
Badea I, Taylor M, Rosenberg A, Foldvari M. Pathogenesis and therapeutic approaches for improved topical treatment in localized scleroderma and systemic sclerosis. Rheumatology. 2009r;48:213-21. doi: 10.1093/rheumatology/ken405.
Sartori-Valinotti JC, Tollefson MM, Reed AM. Updates on morphea: role of vascular injury and advances in treatment. Autoimmune Disease. 2013; 467808. doi: 10.1155/2013/467808.
Selmi C, Feghali-Bostwick CA, Lleo A, Lombardi SA, De Santis M, et al. X chromosome gene methylation in peripheral lymphocytes from monozygotic twins discordant for scleroderma. Clin Exp Immunol. 2012;169:253-62. doi: 10.1111/j.1365-2249.2012.04621.x.
Benchat L, Mernissi FZ. Morphea on the breast and pregnancy. Pan Afr Med J. 2013; 16:22. doi:10.11604/pamj.18/09/2013 .16.22.3317.
Pham AK, Srivastava B, Deng A. Pregnancy-associated morphea: a case report and literature review. Pham AK, Srivastava B, Deng A. Pregnancy-associated morphea: a case report and literature review. Dermatol Online J. 2017;23. pii: 13030/qt5qv9f9h3.
Sehgal VN, Srivastava G, Aggarwal AK, Behl PN, Choudhary M, Bajaj P. Localized scleroderma/morphea. Int J Dermatol. 2002; 41:467. doi: 10.1046/j.1365-4362.2002.01469.x.
Morgado F, Batista M, Oliveira H, Gonçalo M. Extracutaneous manifestations of localized scleroderma: a review.
J Port Soc Dermatol Venereol. 2018; 76:127-36. doi:10.29021/spdv.76.2.881.
Pietkiewicz P, Gornowicz-Porowska J, Bowszyc-Dmochowska M, Dmochowski M. Pemphigoid gestationis in a female with progressive facial hemiatrophy: microchimerism as a speculative shared background is disputable. Pol J Pathol. 2012;63:71-4.
Soldano S, Montagna P, Brizzolara R, Sulli A, Parodi A, Seriolo B, et al. Effects of estrogens on extracellular matrix synthesis in cultures of human normal and scleroderma skin fibroblasts. Ann N Y Acad Sci. 2010;1193:25-9. doi: 10.1111/j.1749-6632.2009.05296.x.
Soldano S, Montagna P, Villaggio B, Parodi A, Gianotti G, Sulli A, et al. Endothelin and sex hormones modulate the fibronectin synthesis by cultured human skin scleroderma fibroblasts. Ann Rheum Dis. 2009;68:599-602. doi: 10.1136/ard.2008.097378.
Wong B, Piliouras P, Mortimore R, Zonta M, Tucker S. Lower limb linear morphoea in a pregnant woman with known Graves' disease and cytomegalovirus immunoglobulin M positivity. Aust J Dermatol. 2015; 56: e96-e98. doi: 10.1111/ajd.12173.
Noda S, Asano Y, Ashida R, Tomita M, Kawashima T, Sato S. Localized scleroderma en coup de sabre exacerbated during pregnancy followed by postpartum development of rheumatoid arthritis. Eur J Dermatol. 2011; 21: 441-2. doi: 10.1684/ejd.2011.1342.
Platsidaki E, Tzanetakou V, Kouris A, Stavropoulos PG. Methotrexate: an effective monotherapy for refractory generalized morphea. Clin Cosmet Investig Dermatol. 2017;10:165-9. doi: 10.2147/CCID.S134879.
Pope JE, Bellamy N, Seibold JR, Baron M, Ellman M, Carette S,et al. A randomized, controlled trial of methotrexate versus placebo in early diffuse scleroderma. Arthritis Rheum. 2001;44:1351-8.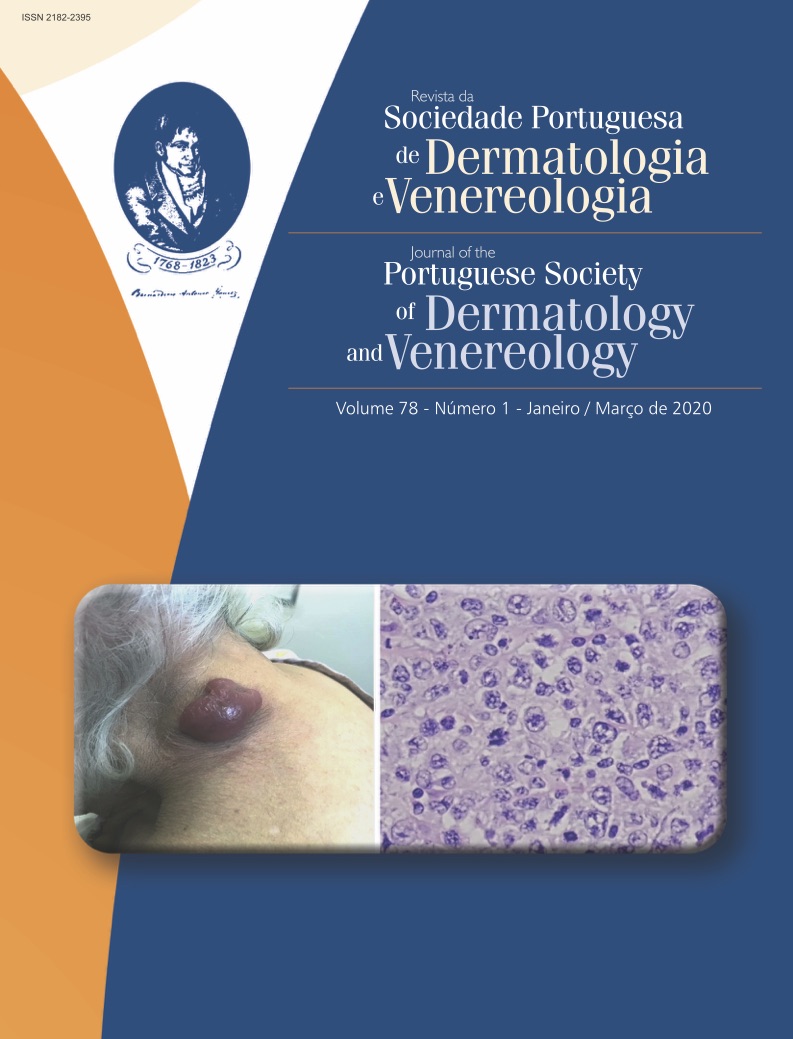 How to Cite
Saraiva, L., Eugénio, G., & Duarte, C. (2020). Morphea and Hormonal Therapy: A Possible Association. Journal of the Portuguese Society of Dermatology and Venereology, 78(1), 75-78. https://doi.org/10.29021/spdv.78.1.1145
All articles in this journal are Open Access under the Creative Commons Attribution-NonCommercial 4.0 International License (CC BY-NC 4.0).