The Importance of Patch Testing in Drug Reaction with Eosinophilia and Systemic Symptoms: 10 Years After
Francisca Jácome Morgado

Serviço de Dermatologia, Centro Hospitalar e Universitário de Coimbra, Coimbra, Portugal

https://orcid.org/0000-0001-5006-4334

Luís Santiago

Serviço de Dermatologia, Centro Hospitalar e Universitário de Coimbra, Coimbra, Portugal

https://orcid.org/0000-0003-2587-5535

Margarida Gonçalo

Serviço de Dermatologia, Centro Hospitalar e Universitário de Coimbra, Coimbra, Portugal; Faculdade de Medicina, Universidade de Coimbra, Coimbra, Portugal

https://orcid.org/0000-0001-6842-1360
Keywords:
Drug Hypersensitivity/diagnosis, Eosinophilia/diagnosis, Exanthema/diagnosis, Patch Tests
Abstract
Introduction: Drug reaction with eosinophilia and systemic symptoms (DRESS) is a severe cutaneous adverse drug reaction. According on the culprit drug(s), imputability can be confirmed by patch test (PT). Our objective was to evaluate the value of PT in DRESS in the last 10 years, in comparison with our study in the preceding 10 years.
Material & Methods: From 2009 to 2018, patients with DRESS performed PT at the Dermatology Department of Coimbra University Hospital, with the main culprit drug(s) and all drugs administered concomitantly or suspected of inducing DRESS flares. Drugs at 1% - 10% pet (Chemotechnique diagnostics®) or from a commercial preparation diluted at 10% pet were patch tested. Results: We studied 41 patients (20 male/ 21 female, mean age 53 years). The main culprits were allopurinol (n=15), antiepileptics (n=14), trimethoprim/ sulfamethoxazole (n=4), salazopyrine (n=3), diclofenac (n=2), antiretrovirals, ezetimibe/simvastatin and strontium ranelate (1 each). In 15 patients other drugs (n=18) were suspected of worsening DRESS, amoxicillin (n=8), ciprofloxacin (n=2), cefoxitin (n=2), levofloxacin, ceftriaxone, ceftazidime, vancomycin, acyclovir and metamizole (1 each). A positive PT to the culprit drug was observed in 10 patients (24.3%), all to antiepileptics. All patients tested for alopurinol had negative results. Positive reactions were observed to drugs related with flares in 12/18 suspected drugs (67%), but not to quinolones.
Conclusion: Results were similar to the study conducted 10 years before when 18/56 (32.1%) patients had positive PT, mostly to carbamazepine and other anticonvulsants. Distinct from our previous study, when no tests were performed with the antibiotic series or other drugs used after the initiation of DRESS, we showed that PT can be a valuable tool to diagnose co-sensitisation in DRESS and emphasise the importance of testing all medications taken during the whole episode, even when PT has no value for the main culprit, like allopurinol. Recognising a co-sensitisation can prevent a new DRESS induced by the second drug.
Downloads
Download data is not yet available.
References
Husain Z, Reddy BY, Schwartz RA. DRESS syndrome: Part I. Clinical perspectives. J Am Acad Dermatol. 2013 May;68(5):693.e1-14; quiz 706-8. doi: 10.1016/j.jaad.2013.01.033.
Shiohara T, Mizukawa Y. Drug-induced hypersensitivity syndrome (DiHS)/drug reaction with eosinophilia and systemic symptoms (DRESS): An update in 2019. Allergol Int. 2019 Jul;68(3):301-308. doi: 10.1016/j.alit.2019.03.006.
Mardivirin L, Valeyrie-Allanore L, Branlant-Redon E, Beneton N, Jidar K, Barbaud A, et al. Amoxicillin-induced flare in patients with DRESS (Drug Reaction with Eosinophilia and Systemic Symptoms): report of seven cases and demonstration of a direct effect of amoxicillin on Human Herpesvirus 6 replication in vitro. Eur J Dermatol. 2010 Jan-Feb;20(1):68-73. doi: 10.1684/ejd.2010.0821.
Pichler WJ, Srinoulprasert Y, Yun J, Hausmann O. Multiple Drug Hypersensitivity. Int Arch Allergy Immunol. 2017;172(3):129-138. doi: 10.1159/000458725.
Barbaud A, Collet E, Milpied B, Assier H, Staumont D, Avenel-Audran M, et al. A multicentre study to determine the value and safety of drug patch tests for the three main classes of severe cutaneous adverse drug reactions. Br J Dermatol. 2013 Mar;168(3):555-62. doi: 10.1111/bjd.12125.
Pinho A, Coutinho I, Gameiro A, Gouveia M, Gonçalo M. Patch testing - a valuable tool for investigating non-immediate cutaneous adverse drug reactions to antibiotics. J Eur Acad Dermatol Venereol. 2017 Feb;31(2):280-287. doi: 10.1111/jdv.13796.
Soria A, Hamelin A, de Risi Pugliese T, Amsler E, Barbaud A. Are drug intradermal tests dangerous to explore cross-reactivity and co-sensitization in DRESS?. Br J Dermatol. 2019 Sep;181(3):611-612. doi: 10.1111/bjd.17835.
Santiago F, Gonçalo M, Vieira R, Coelho S, Figueiredo A. Epicutaneous patch testing in drug hypersensitivity syndrome (DRESS). Contact Dermatitis. 2010 Jan;62(1):47-53. doi: 10.1111/j.1600-0536.2009.01659.x.
Kardaun SH, Sidoroff A, Valeyrie-Allanore L, Halevy S, Davidovici BB, Mockenhaupt M, et al. Variability in the clinical pattern of cutaneous side-effects of drugs with systemic symptoms: does a DRESS syndrome really exist?. Br J Dermatol. 2007 Mar;156(3):609-11. doi: 10.1111/j.1365-2133.2006.07704.x.
Johansen JD, Aalto-Korte K, Agner T, Andersen KE, Bircher A, Bruze M, et al. European Society of Contact Dermatitis guideline for diagnostic patch testing - recommendations on best practice. Contact Dermatitis. 2015 Oct;73(4):195-221. doi: 10.1111/cod.12432.
Błaszczyk B, Lasoń W, Czuczwar SJ. Antiepileptic drugs and adverse skin reactions: An update. Pharmacol Rep. 2015 Jun;67(3):426-34. doi: 10.1016/j.pharep.2014.11.009.
Vieira R, Gonçalo M, Figueiredo A. Testes epicutâneos ao alopurinol e oxipurinol em doentes com toxidermias ao alopurinol. Trab Soc Port Dermatol Venereol. 2004;62:247–53.
Özkaya E, Kılıç S. Severe adverse cutaneous drug reactions to antiepileptic drugs: 18 years of experience in a tertiary referral dermatology clinic in Turkey. J Eur Acad Dermatol Venereol. 2018 Jul;32(7):e268-e270. doi: 10.1111/jdv.14799.
Ben Mahmoud L, Bahloul N, Ghozzi H, Kammoun B, Hakim A, Sahnoun Z, et al. [Epicutaneous patch testing in delayed drug hypersensitivity reactions induced by antiepileptic drugs]. Therapie. 2017 Oct;72(5):539-545. doi: 10.1016/j.therap.2017.01.011.
Batista M, Cardoso JC, Oliveira P, Gonçalo M. Allopurinol-induced DRESS syndrome presented as a cholecystitis-like acute abdomen and aggravated by antibiotics. BMJ Case Rep. 2018 Jul 24;2018. doi: 10.1136/bcr-2018-226023.
Santiago LG, Morgado FJ, Baptista MS, Gonçalo M. Hypersensitivity to antibiotics in Drug Reaction with Eosinophilia and Systemic Symptoms (DRESS) from other culprits. Contact Dermatitis. 2020 Jan 3;. doi: 10.1111/cod.13462.
Pichler WJ, Daubner B, Kawabata T. Drug hypersensitivity: flare-up reactions, cross-reactivity and multiple drug hypersensitivity. J Dermatol. 2011 Mar;38(3):216-21. doi: 10.1111/j.1346-8138.2010.01142.x.
Pinho A, Marta A, Coutinho I, Gonçalo M. Long-term reproducibility of positive patch test reactions in patients with non-immediate cutaneous adverse drug reactions to antibiotics. Contact Dermatitis. 2017 Apr;76(4):204-209. doi: 10.1111/cod.12720.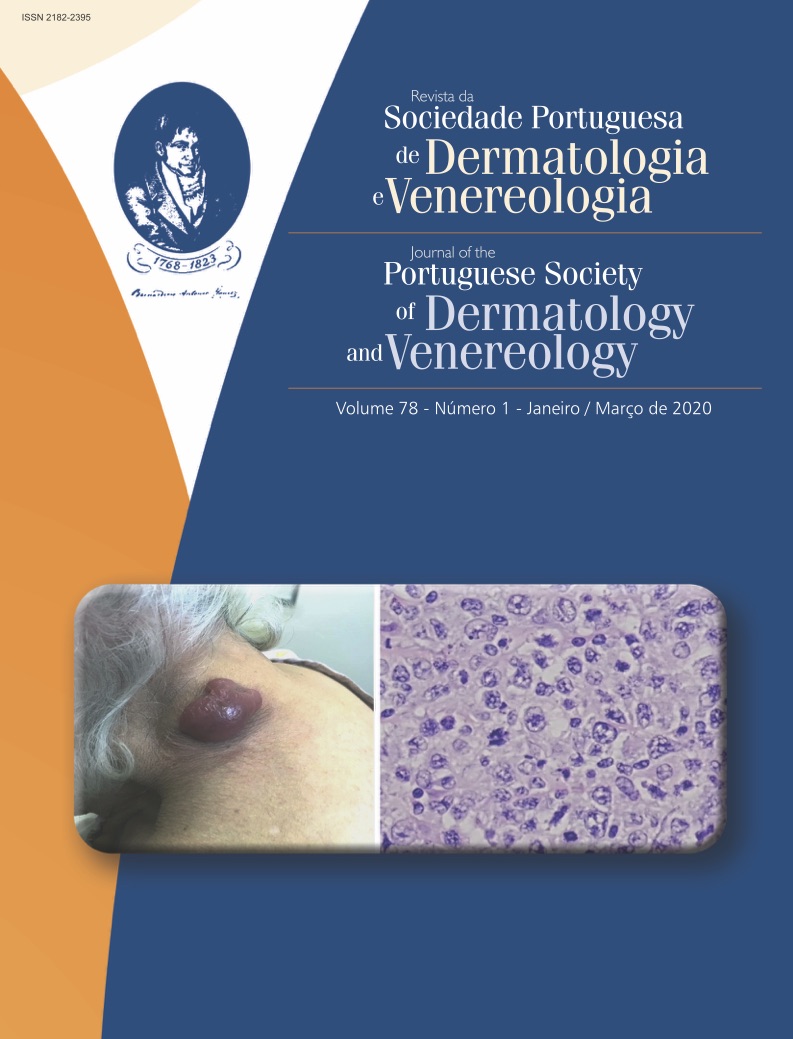 How to Cite
Morgado, F. J., Santiago, L., & Gonçalo, M. (2020). The Importance of Patch Testing in Drug Reaction with Eosinophilia and Systemic Symptoms: 10 Years After. Journal of the Portuguese Society of Dermatology and Venereology, 78(1), 25-29. https://doi.org/10.29021/spdv.78.1.1161
Section
Original Articles
All articles in this journal are Open Access under the Creative Commons Attribution-NonCommercial 4.0 International License (CC BY-NC 4.0).