Patient and Family Doctor Satisfaction with Teledermatology Consultations in CHVNG/E
Diogo Teixeira

Serviço de Dermatologia do Centro Hospitalar Vila Nova de Gaia/Espinho, Portugal

https://orcid.org/0000-0002-5222-8192

Jorge Lopes

Serviço de Dermatologia do Centro Hospitalar Vila Nova de Gaia/Espinho, Portugal

Ana Cristina Sousa

Serviço de Dermatologia do Centro Hospitalar Vila Nova de Gaia/Espinho, Portugal

Miguel Costa

Serviço de Dermatologia do Centro Hospitalar Vila Nova de Gaia/Espinho, Portugal

Eduardo O. Ferreira

Serviço de Dermatologia do Centro Hospitalar Vila Nova de Gaia/Espinho, Portugal

Armando Baptista

Serviço de Dermatologia do Centro Hospitalar Vila Nova de Gaia/Espinho, Portugal

Paulo Varela

Serviço de Dermatologia do Centro Hospitalar Vila Nova de Gaia/Espinho, Portugal
Keywords:
Dermatology, Physicians, Family, Remote Consultation, Telemedicine
Abstract
Introduction: Teledermatology (store and forward) has been used to improve priority screening for hospital consultations and to respond, in a minority of cases, to simple situations. The Dermatology consultation request via Consulta Tempo e Horas must now be accompanied by clinical photo(s), according to Despacho 6280/2018 of 28 June 2018. We intend to evaluate the satisfaction of patients and family doctors regarding teledermatology consultation.
Material and Methods: A survey was carried out on patients subjected to teledermatology consultation during the 1st quarter of 2018, with a retrospective analysis of the clinical record. An online survey was also carried out on family doctors belonging to the Agrupamentos de Centros de SaúdeACeS of the Centro Hospitalar Vila Nova de Gaia/Espinho reference area.
Results: Of the 153 patients surveyed, response was obtained in 27.5% (n = 42). Pigmented lesions corresponded to 54.8% (n=23) of the total consultations. Treatment was proposed in 42.9% (n=18). Patients would prefer in-person consultation in 90.2% (n=38) of cases. Eighty-two responses were obtained from family doctors. Half of the responders agree with the mandatory attachment of clinical photos to the consultation request, even if this leads to an increase of 11.21 ± 8.84 minutes to the request time. When a teledermatology consultation is made, 47.6% (n=39) of family doctors report that the patient's problem is only partially treated.
Conclusion: Teledermatology consultation (store and forward) only solves a minority of clinical situations. Furthermore, it is not considered a satisfactory solution for patients.
Downloads
Download data is not yet available.
References
Coates SJ, Kvedar J, Granstein RD. Teledermatology: from historical perspective to emerging techniques of the modern era: part I: History, rationale, and current practice. J Am Acad Dermatol. 2015;72:563-74; quiz 75-6.
Eedy D. Dermatology: a specialty in crisis. Clin Med. 2015;15:509-10.
Livingstone J, Solomon J. An assessment of the cost-effectiveness, safety of referral and patient satisfaction of a general practice teledermatology service. London J Prim Care . 2015;7:31-5. doi: 10.1080/17571472.2015.11493433.
Kimball AB, Resneck JS, Jr. The US dermatology workforce: a specialty remains in shortage. J Am Acad Dermatol. 2008;59:741-5. doi: 10.1016/j.jaad.2008.06.037.
Hue L, Makhloufi S, Sall N'Diaye P, Blanchet-Bardon C, Sulimovic L, Pomykala F, et al. Real-time mobile teledermoscopy for skin cancer screening targeting an agricultural population: an experiment on 289 patients in France. J Eur Acad Dermatol Venereol. 2016;30:20-4. doi: 10.1111/jdv.13404.
Tandjung R, Badertscher N, Kleiner N, Wensing M, Rosemann T, Braun RP, et al. Feasibility and diagnostic accuracy of teledermatology in Swiss primary care: process analysis of a randomized controlled trial. J Eval Clin Pract. 2015;21:326-31. doi: 10.1111/jep.12323.
Romero G, de Argila D, Ferrandiz L, Sánchez MP, Vañó S, Taberner R, et al. Practice Models in Teledermatology in Spain: Longitudinal Study, 2009-2014. Actas Dermosifiliogr. 2018;109:624-30. English, Spanish. doi: 10.1016/j.ad.2018.03.015.
Tensen E, van der Heijden JP, Jaspers MW, Witkamp L. Two Decades of Teledermatology: Current Status and Integration in National Healthcare Systems. Curr Dermatol Rep. 2016;5:96-104. doi: 10.1007/s13671-016-0136-7.
Mehrtens SH, Shall L, Halpern SM. A 14-year review of a UK teledermatology service: experience of over 40 000 teleconsultations. Clin Exp Dermatol. 2019;44:874-81. doi: 10.1111/ced.13928.
ACSS.Unidade de Gestão de Acesso, ACSS, 1º semestre 2018. Lisboa: ACSS; 2018.
Whited JD. Teledermatology. Med Clin North Am. 2015;99:1365-79, xiv. doi: 10.1016/j.mcna.2015.07.005.
Mounessa JS, Chapman S, Braunberger T, Qin R, Lipoff JB, Dellavalle RP, et al. A systematic review of satisfaction with teledermatology. J Telemed Telecare. 2018;24:263-70. doi: 10.1177/1357633X17696587.
Hsueh MT, Eastman K, McFarland LV, Raugi GJ, Reiber GE. Teledermatology patient satisfaction in the Pacific Northwest. Telemed J E Health. 2012;18:377-81. doi: 10.1089/tmj.2011.0181.
Qureshi AA, Brandling-Bennett HA, Wittenberg E, Chen SC, Sober AJ, Kvedar JC. Willingness-to-pay stated preferences for telemedicine versus in-person visits in patients with a history of psoriasis or melanoma. Telemed J E Health. 2006;12:639-43. doi: 10.1089/tmj.2006.12.639.
Marchell R, Locatis C, Burgess G, Maisiak R, Liu WL, Ackerman M. Patient and Provider Satisfaction with Teledermatology. Telemed J E Health. 2017;23:684-90. doi: 10.1089/tmj.2016.0192.
Barcaui CB, Lima PM. Application of Teledermoscopy in the Diagnosis of Pigmented Lesions. Int J Telemed Appl . 2018;2018:1624073. doi: 10.1155/2018/1624073.
van der Heijden JP, de Keizer NF, Bos JD, Spuls PI, Witkamp L. Teledermatology applied following patient selection by general practitioners in daily practice improves efficiency and quality of care at lower cost. Br J Dermatol. 2011;165:1058-65. doi: 10.1111/j.1365--2133.2011.10509.x.
Rajda J, Seraly MP, Fernandes J, Niejadlik K, Wei H, Fox K, et al. Impact of Direct to Consumer Store-and-Forward Teledermatology on Access to Care, Satisfaction, Utilization, and Costs in a Commercial Health Plan Population. Telemed J E Health. 2018;24:166-9. doi:10.1089/tmj.2017.0078.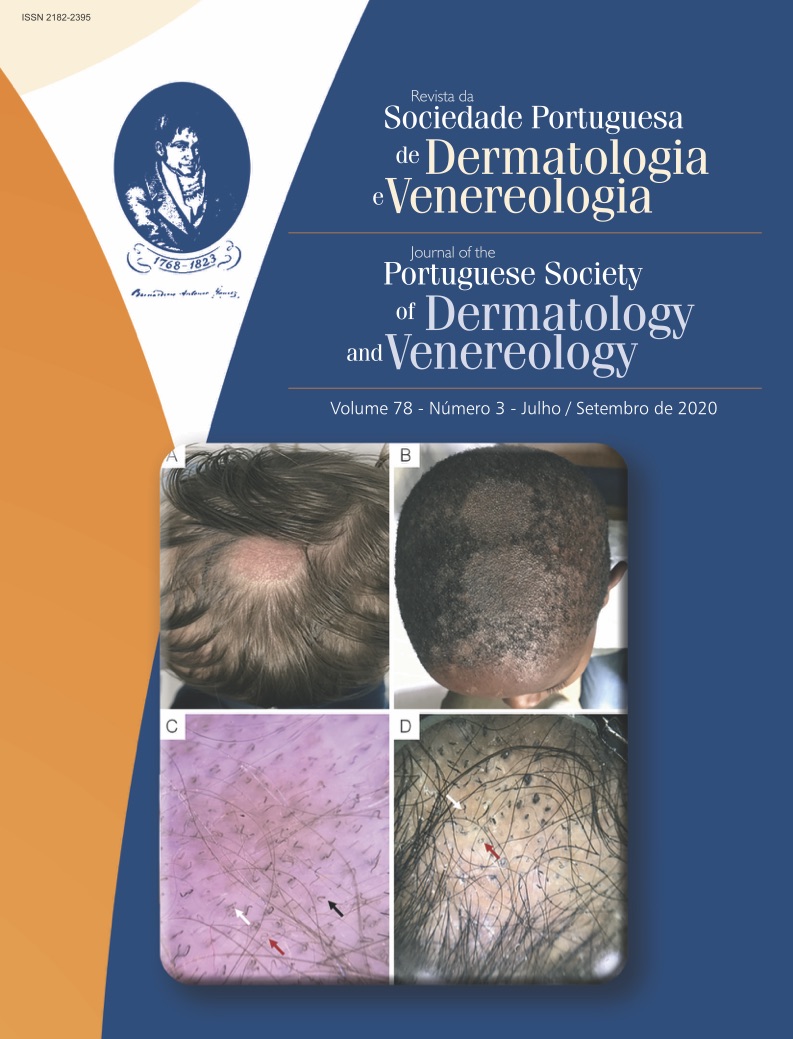 How to Cite
Teixeira, D., Lopes, J., Sousa, A. C., Costa, M., O. Ferreira, E., Baptista, A., & Varela, P. (2020). Patient and Family Doctor Satisfaction with Teledermatology Consultations in CHVNG/E. Journal of the Portuguese Society of Dermatology and Venereology, 78(3), 221-227. https://doi.org/10.29021/spdv.78.3.1190
Section
Original Articles
Copyright (c) 2020 Journal of the Portuguese Society of Dermatology and Venereology
This work is licensed under a Creative Commons Attribution-NonCommercial 4.0 International License.
All articles in this journal are Open Access under the Creative Commons Attribution-NonCommercial 4.0 International License (CC BY-NC 4.0).