6 Years' Experience of Mohs Micrographic Surgery in a Portuguese Hospital
L. Silva

Dermatology Department, Egas Moniz Hospital, Lisbon, Portugal

https://orcid.org/0000-0001-7804-3092

A. Miroux-Catarino

Dermatology Department, Egas Moniz Hospital, Lisbon, Portugal

https://orcid.org/0000-0001-8243-8724

B. Pimentel

Dermatology Department, Egas Moniz Hospital, Lisbon, Portugal

G. Catorze

Dermatology Department, Egas Moniz Hospital, Lisbon, Portugal

J. Labareda

Dermatology Department, Egas Moniz Hospital, Lisbon, Portugal

I. Viana

Dermatology Department, Egas Moniz Hospital, Lisbon, Portugal
Keywords:
Mohs Surgery, Portugal, Skin Neoplasms / surgery
Abstract
Introduction: Mohs micrographic surgery (MMS) is a surgical method of treating skin tumors that consists of histological control of the tumor margins using horizontal slices in thin, freshly frozen layers. This technique is a preferred indication for cutaneous facial tumors (basal and squamous cell carcinoma, among others) associated with higher risk of recurrence, recurrent tumors, tumors with undefined clinical margins, when there is perivascular and perineural involvement or with aggressive histological subtypes.
Methods: The authors carried out a retrospective study of a 6-year period (from July 2012 until June 2018) at a Portuguese hospital – Egas Moniz hospital, to define the characteristics of patients undergoing Mohs micrographic surgery and to evaluate the advantages of this technique. The following factors were analyzed: age, gender, provenience, diagnosis, tumor location, number of stages of MMS, type of reconstruction of the surgical defect, follow-up and recurrences. Results: A total of 835 tumors were excised, 459 in male patients and 376 in female patients. The mean age at surgery was 71 years old (range 23- 95 years). Most of the lesions submitted to MMS were basal cell carcinomas (87%) and the most common location was the nasal pyramid (43%). In 44% of the cases, it was necessary to perform more than one micrographic stage. Half of the surgical defect closures were performed by graft or skin flap. Considering patients with a follow up equal or superior to 3 years, the recurrence rate was 4.9%.
Discussion: The most frequent diagnosis was basal cell carcinoma, reflecting the importance of MMS in this type of skin malignancy, in both primary and persistent/recurrent lesions. Compared to other European surgery reviews, our recurrence rate is within normal range. This fact is particularly relevant, if we consider that our institution receives patients sent from hospitals and dermatologists from all over the country, specially selected for tumor aggressiveness or previous relapse. More than half of these patients were referred from other centers and consisted of persistent/recurrent basal cell carcinomas. The follow-up at recurrence for MMS was 27.9 months, supporting that a long follow-up of these patients is necessary.
Conclusion: MMS allows lower rates of recurrence compared to simple surgical excision, so its practice should be encouraged in selected tumors. The surgical control of the margins instead of the "blind margins" is an advantage in saving healthy tissue and allows the complete excision of the tumor in the same surgical time.
Downloads
Download data is not yet available.
References
Van der Eerden PA, Prins ME, Lohuis PJ, Balm FA, Vuyk HD. et al. Eighteen years of experience in Mohs Micrographic Surgery and conventional excision for nonmelanoma skin cancer treated by a single facial plastic surgeon and pathologist. Laryngoscope. 2010; 120:2378-84. doi: 10.1002/lary.21139.
Chen E, Srivastava D, Nijhawan R. Mohs Micrographic Surgery: Development technique and applications in cutaneous malignancies. Semin Plast Surg. 2018; 32:60-8. doi: 10.1055/s-0038-1642057.
Higgins H, Capobianco S, Lee K. Recurrent tumors referred for Mohs Micrographic Surgery: a 12-year experience at a single academic center.
Dermatol Surg. 2017;43:1418-22. doi: 10.1097/DSS.0000000000001220.
Tolkachjov SN, Brodland DG, Coldiron BM, Fazio MJ, Hruza GJ, Roenigk RK, et al. Understanding Mohs micrographic surgery: a review and practical guide for the nondermatologist. Mayo Clin Proc. 2017; 92:1261-71. doi: 10.1016/j.mayocp.2017.04.009.
Dim-Jamora KC, Perone JB. Management of cutaneous tumors with Mohs micrographic surgery. Semin Plast Surg. 2008;22: 247-56
Benedetto PX, Poblete-Lopez C. Mohs micrographic surgery technique. Dermatol Clin. 2011; 29:141-51, vii.
Swanson NA. Mohs surgery. Technique, indications, applications, and the future. Arch Dermatol. 1983; 119:761-73.
MacFarlane L, Waters A, Evans A, Affleck A, Fleming C. Seven years' experience of Mohs micrographic surgery in a UK centre, and development of a UK minimum dataset and audit standards. Clin Exp Dermatol. 2013; 38: 262-9. doi: 10.1111/ced.12108.
Paoli J, Daryoni S, Wennberg AM, Mölne L, Gillstedt M, Miocic M, et al. 5-year Recurrence Rates of Mohs micrographic surgery for aggressive and recurrent facial basal cell carcinoma. Acta Derm Venereol. 2011; 91: 689-93. doi: 10.2340/00015555-1134.
Zabielinski M, Leithauser L, Godsey T, Gloster H. Laboratory errors leading to non-melanoma skin cancer recurrence following Mohs micrographic surgery. Dermatol Surg. 2015; 41:913-6. doi: 10.1097/DSS.0000000000000428.
Evan L, Mosterd K, Roozeboom MH. Surgical excision versus Mohs' micrographic surgery for basal cell carcinoma of the face: a randomised clinical trial with 10 year follow-up. Eur J Cancer. 2014; 50:3011-20. doi: 10.1016/j.ejca.2014.08.018.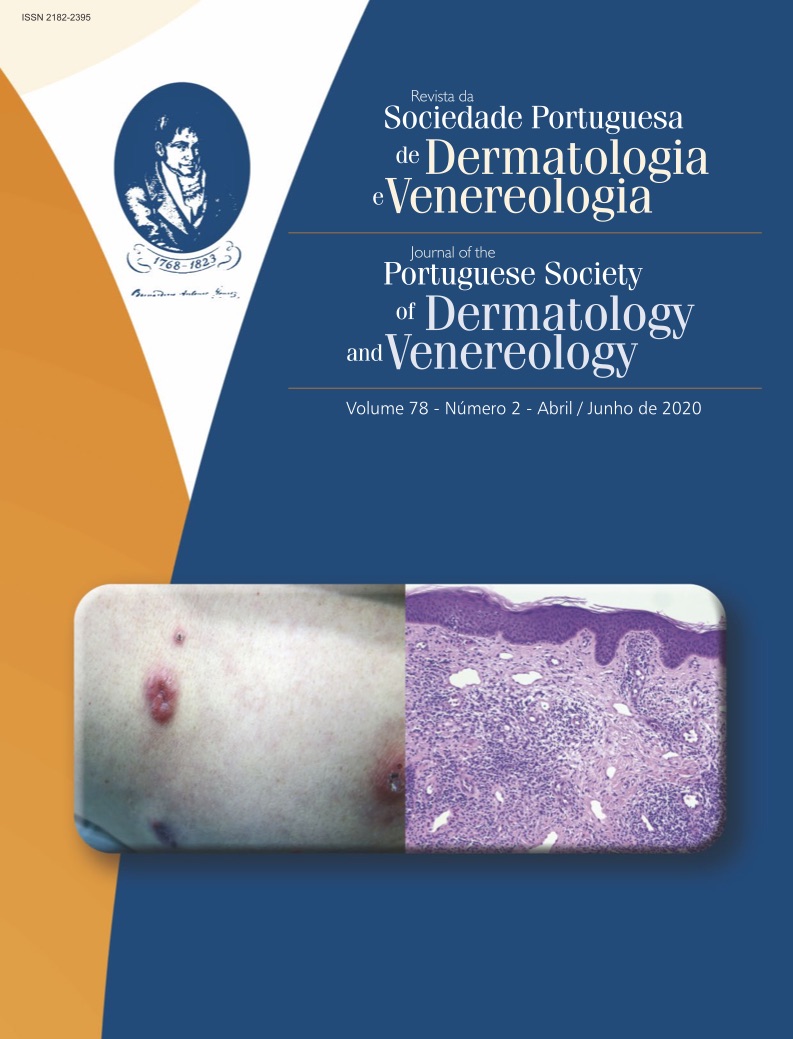 How to Cite
Silva, L., Miroux-Catarino, A., Pimentel, B., Catorze, G., Labareda, J., & Viana, I. (2020). 6 Years' Experience of Mohs Micrographic Surgery in a Portuguese Hospital. Journal of the Portuguese Society of Dermatology and Venereology, 78(2), 129-134. https://doi.org/10.29021/spdv.78.2.1202
Section
Original Articles
Copyright (c) 2020 Journal of the Portuguese Society of Dermatology and Venereology
This work is licensed under a Creative Commons Attribution-NonCommercial 4.0 International License.
All articles in this journal are Open Access under the Creative Commons Attribution-NonCommercial 4.0 International License (CC BY-NC 4.0).