NECROBIOTIC XANTHOGRANULOMA ASSOCIATED WITH GIANT CELL HEPATITIS
Olga Ferreira

Interna do Internato Complementar de Dermatologia e Venereologia/Resident, Dermatology and Venereology; Serviço de Dermatologia e Venereologia, Centro Hospitalar de São João EPE, Porto

Alberto Mota

Assistente Hospitalar Graduado de Dermatologia e Venereologia/Graduated Consultant, Dermatology and Venereology; Serviço de Dermatologia e Venereologia, Centro Hospitalar de São João EPE, Porto

Teresa Baudrier

Assistente Hospitalar Graduado de Dermatologia e Venereologia/Graduated Consultant, Dermatology and Venereology; Serviço de Dermatologia e Venereologia, Centro Hospitalar de São João EPE, Porto

Susana Rodrigues

Serviço de Gastroenterologia / Gastroenterology Department, Centro Hospitalar de São João EPE, Porto

José Alexandre Sarmento

Serviço de Gastroenterologia / Gastroenterology Department, Centro Hospitalar de São João EPE, Porto

José Pestana

Serviço de Medicina Interna/Internal Medicine Department, Centro Hospitalar de São João EPE, Porto

Herberto Bettencourt

Serviço de Anatomia Patológica/Pathology Department, Hospital de São João EPE, Porto, Portugal

Filomena Azevedo

Chefe de Serviço/Directora de Serviço de Dermatologia e Venereologia/Consultant Chief, Head of Dermatology and Venereology Department, Centro Hospitalar de São João EPE, Porto, Portugal
Abstract
We describe a 44-year-old woman with recurrent episodes of red eye, myalgias, hypercholesterolemia, hypocomplementemia, monoclonal gammopathy and giant cell hepatitis that was observed due to erythematoviola- ceous plaque on the right arm. Skin biopsy revealed necrobiotic xanthogranuloma. This case illustrates the importance of accurate characterization of skin lesions in the setting of a systemic disease with difficult approach and highlights the second reported case of necrobiotic xanthogranuloma associated with giant cell hepatitis.
KEYWORDS – Necrobiotic xanthogranuloma; Giant cells; Hepatitis; Paraproteinemias.

Downloads
Download data is not yet available.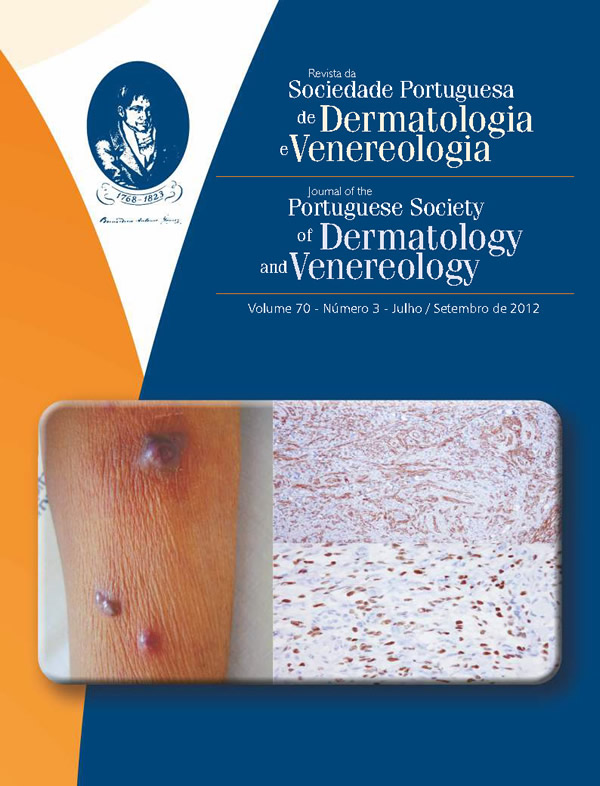 How to Cite
Ferreira, O., Mota, A., Baudrier, T., Rodrigues, S., Sarmento, J. A., Pestana, J., Bettencourt, H., & Azevedo, F. (2013). NECROBIOTIC XANTHOGRANULOMA ASSOCIATED WITH GIANT CELL HEPATITIS. Journal of the Portuguese Society of Dermatology and Venereology, 70(3), 353. https://doi.org/10.29021/spdv.70.3.13
All articles in this journal are Open Access under the Creative Commons Attribution-NonCommercial 4.0 International License (CC BY-NC 4.0).