Bullous Factitious Disorder Simulating Bullous Pemphigoid: Case Report and Literature Review
Keywords:
Factitious Disorders, Munchausen Syndrome, Pemphigoid, Bullous, Skin Diseases, Vesiculobullous
Abstract
Factitious disorder in dermatology is a dermatosis occuring with increasing frequency all over the world. Prevalence is reported around 2% in dermatology clinics but it is probably underdiagnosed, since the patient is not usually aware of its self-inflicted nature. When manifested by bullous lesions, it can be confused with autoimmune bullae. We report the case of a 59-year-old patient accompanied by psychiatry for severe depression with psychotic symptoms, dissociative amnesia, Munchausen syndrome and fibromyalgia who developed tense blisters on the dorsum of her left foot. The findings of the first histopathological examination suggested bullous pemphigoid and treatment with prednisone was performed. Due to the persistence and fixed location of the lesions, psychiatric history and negative direct immunofluorescence, a new histopathological examination was performed and interpreted as a case of bullous factitious disorder.
Downloads
Download data is not yet available.
References
Bhalla M, Thami GP. Bullous dermatitis artefacta induced with a hot spoon. J Dermatol Case Rep. 2014;8: 81-3. doi:10.3315/jdcr.2014.1181
Jacobi A, Bender A, Hertl M, König A. Bullous cryothermic dermatitis artefacta induced by deodorant spray abuse. J Eur Acad Dermatol Venereol. 2011;25: 978–82. doi:10.1111/j.1468-3083.2010.03861.x
Gupta MA, Gupta AK. Self-induced dermatoses: a great imitator. Clin Dermatol. 2019; 37: 268-77. doi:10.1016/j.clindermatol.2019.01.006
Lavery MJ, Stull C, McCaw I, Anolik RB. Dermatitis artefacta. Clin Dermatol. 2018; 36: 719-22. doi:10.1016/j.clindermatol.2018.08.003
Gieler U, Consolp SG, Tomas-Aragones L, Linder DM, Jemec GB, Poot F, et al. Self-inflicted Lesions in Dermatology: Terminology and Classification - A Position Paper from the European Society for Dermatology and Psychiatry (ESDaP). Acta Derm Venerol. 2013; 93: 4-12. doi: 10.2340/00015555-1506
Tittlebach J, Peckruhn M, Elsner P. Histopathological patterns in dermatitis artefacta. J Dtsch Dermatol Ges. 2018; 16: 559-64. doi:10.1111/ddg.13504
Silva NMR, Petrucci GW, Palitot EB, Azzouz MA, Azzouz SF. Dermatite factícia desencadeada pela síndrome de Munchausen. An Bras Dermatol. 2010;85: 77-9.
Persad L, Salim S, Motaparthi K. Factitious Dermatitis Due to Thermal Burn With Histologic Features Simulating Fixed Drug Eruption. Am J Dermatopathol. 2017; 39:622-4. doi:10.1097/DAD.0000000000000840
Mahon C, Webber L, Bisson N, Droop E, Angus J, Shaw L, et al. Aerosolised deodorant induced bullous dermatitis artefacta: a clinicopathological correlation. Australas J Dermatol. 2019; 60:331-3. doi:10.1111/ajd.13083
Azurdia RM, Guerin DM, Sharpe GR. Recurrent bullous dermatitis artefacta mimicking immunobullous disease. Br J Dermatol. 2000; 143: 229-30. doi:10.1046/j.1365-2133.2000.03642.x
Ikenaga S, Nakano H, Umegaki N, Moritsugu R, Aizu T, Kuribayashi M, Hanada K. A case of bullous dermatitis artefacta possibly induced by a deodorant spray. J Dermatol. 2006; 33: 40–2. doi:10.1111/j.1346-8138.2006.00007.x.
Pandhi D, Singal A. Bullous Dermatitis Artefacta. Indian Pediatr. 2013;50: 897-8.
Dufton P, Griffiths A. Suction blisters mimicking pemphigoid: an unusual case of dermatitis artefacta. Clin Exp Dermatol. 1981;6: 163-6. doi:10.1111/j.1365-2230.1981.tb02285.x
Sokumbi O, Comfere NI, McEvoy MT, Peters MS. Bullous Dermatitis Artefacta. Am J Dermatopathol. 2013;35: 110-2. doi:10.1097/DAD.0b013e31825dd246
Kudo K, Masuda A, Mizobe T, Kihara J, Onoyama S, Furuno K, et al. Bullous artificial dermatitis due to aerosol sprays masquerading as fixed drug eruption. J Dermatol. 2019; 46: 222-4. doi:10.1111/1346-8138.14729
Zarei M, Kamali M, Bidaki R. Bullous Dermatitis Artefacta in a 17 Year-old Girl Induced by a Native Herb. Iran Red Crescent Med J. 2013;15: 862-4. doi:10.5812/ircmj.8886
Reschke R, Dumann K, Ziemer M. Recurrent Bullous Eruption in a Young Woman. JAMA Dermatol. 2019; 155: 373-4. doi:10.1001/jamadermatol.2018.4006
Ziemer M, Kunz M, Schuurmann M, Wagenknecht D, Dumann K, Reschke R. Fallstrick kryothermische Dermatitis artefacta. Hautarzt. 2019;70: 883–7. doi:10.1007/s00105-019-4443-3
Van Rijssen A, Molier R, Vrijlandt AJW, Jonkman MF. Bullous Dermatitis Self-Induced. Ned Tijdschr Geneeskd. 2000;144: 1465-9.
O'Callaghan DO, Markiewicz D, Shinhmar S, Bewley A. The evolution of histopathological changes in dermatitis artefacta. Eur J Pediat Dermatol. 2017;27: 207-11. doi:10.26326/2281-9649.27.4.1485
Tarazona MJM, Unterstell N, Mota ANCM, Bressan AL, Gripp AC. Penfigoide bolhoso e doença neurológica: casuística de um serviço de dermatologia. An Bras Dermatol. 2015; 90: 282-4.
Wolff K, Johnson RA, Saavedra AP. Dermatologia de Fitzpatrick: atlas e texto. 7th ed. AMGH Editora; 2015.
Leiferman KM, Peters MS. Eosinophil-related disease and the skin. J Allergy Clin Immunolpract. 2018;6: 1462-82. doi:10.1016/j.jaip.2018.06.002
Weller PF, Klion AD. Approach to the patient with unexplained eosinophilia. In: Mahoney DH, ed. UpToDate. Waltham: UpToDate Inc. [Accessed on May 10, 2020]. Available from: https://www.uptodate.com
Klion AD. Eosinophilia: a pragmatic approach to diagnosis and treatment. Hematol Am Soc Hematol Educ Program. 2015; 2015:92-7. doi:10.1182/asheducation-2015.1.92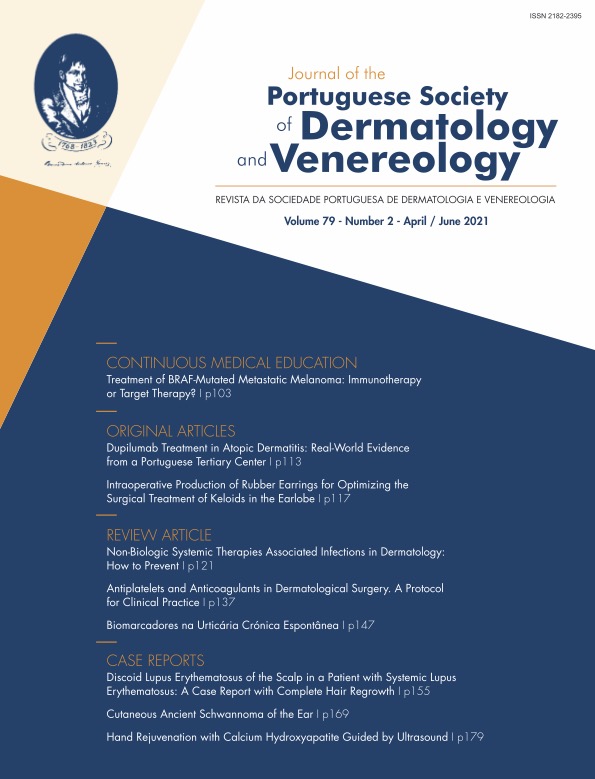 How to Cite
Ferraz Santino, M. F., Conceição Fernandes, N., Carvalho Quintella, D., & Cuzzi, T. (2021). Bullous Factitious Disorder Simulating Bullous Pemphigoid: Case Report and Literature Review. Journal of the Portuguese Society of Dermatology and Venereology, 79(2), 163-167. https://doi.org/10.29021/spdv.79.2.1315
Copyright (c) 2021 Journal of the Portuguese Society of Dermatology and Venereology
This work is licensed under a Creative Commons Attribution-NonCommercial 4.0 International License.
All articles in this journal are Open Access under the Creative Commons Attribution-NonCommercial 4.0 International License (CC BY-NC 4.0).