SQUAMOUS CELL CARCINOMA (MARJOLIN'S ULCER) SECONDARY TO HANSEN DISEASE
Andrés Maurício López Muñoz

Pós-graduando do 2o ano /Medical Graduated, Instituto de Dermatologia Professor Rubem David Azulay da Santa Casa de Misericórdia do Rio de Janeiro, Brasil

Mariana Gardone Guimarães

Académica de Medicina / Medical Academic, UNIG - Universidade Iguaçu, Campus V-Itaperuna, Brasil

José Augusto da Costa Nery

Prescritor / Prescriber, Instituto de Dermatologia Professor Rubem David Azulay da Santa Casa de Misericórdia do Rio de Janeiro, Brasil Institudo de Dermatologia Professor Rubem David Azulay da Santa Casa de Misericórdia-RJ, Brasil
Abstract
Marjolin ́s ulcer has been described as a malignant transformation arising on chronic lesions or old scars. Some authors have considered inappropriate the use of the term Marjolin's ulcer because the French physician descri- bed the sources of ulcers, rather than tumor.
Patients with Hansen disease often have neurological sequelaes, which may predispose to the development of chronic cutaneous wounds. In strange cases, these lesions could progress to squamous cell carcinoma, sometimes of the verru- cous type, having more aggressive evolution.
We report a case of patient with Hansen disease, having neurological sequelae and chronic ulcer in right calcaneus region that after many years it presented malignant transformation with rapid evolution, defining a clinical picture as a Marjolin's ulcer, having been treating with amputation of rigth inferior member.
KEYWORDS – Carcinoma, squamous cell; Leprosy; Skin neoplasms. 
Downloads
Download data is not yet available.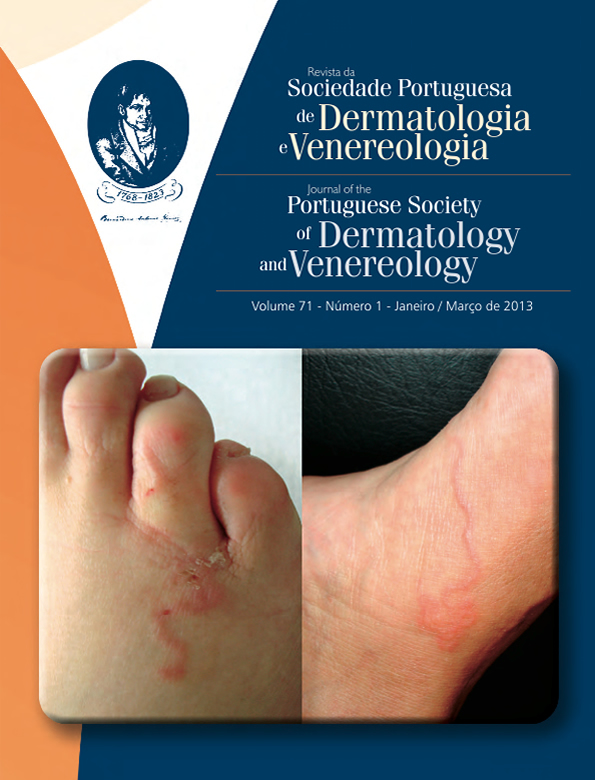 How to Cite
Muñoz, A. M. L., Guimarães, M. G., & Nery, J. A. da C. (1). SQUAMOUS CELL CARCINOMA (MARJOLIN'S ULCER) SECONDARY TO HANSEN DISEASE. Journal of the Portuguese Society of Dermatology and Venereology, 71(1), 119-122. https://doi.org/10.29021/spdv.71.1.135
All articles in this journal are Open Access and meet the requirements of funding bodies or academic institutions. Each article published in the Journal is published under the Creative Commons Attribution-NonCommercial-NoDerivatives 4.0 International License (CC BY-NC-ND 4.0). Articles can be read, downloaded, printed, and shared.
Submission of an article for publication implies the authors' consent to publication under the applicable Creative Commons license and the terms and conditions of the Publisher's Licensing Agreement.
It is the author's responsibility to obtain permission to reproduce illustrations, tables, etc. from other publications.
Upon acceptance of an article, authors will be asked to complete a 'Journal Publishing Agreement'. An e-mail will be sent to the corresponding author confirming receipt of the manuscript together with a 'Journal Publishing Agreement' form or a link to the online version of this agreement.
Author rights: As an author you (or your employer or institution) have certain rights to reuse your work.
The Journal reserves the right to use plagiarism detection software on any submitted material.