Vulvar Diseases that Required a Biopsy: A Retrospective Study
Keywords:
Biopsy, Vulvar Diseases, Vulvar Lichen Sclerosus, Vulvar Neoplasms
Abstract
Introduction: The vulvar area may be affected by many noninfectious conditions with similar clinical appearance, requiring a cutaneous biopsy. Our goal was to characterize the noninfectious vulvar diseases that required a biopsy in a southwestern Europe Central Hospital during a 10-year period.
Methods: A retrospective study of all the noninfectious vulvar diseases with histological confirmation diagnosed in our institution was conducted between January 1, 2008 and December 31, 2017.
Results: The sample included a total of 323 biopsies from 317 patients, aged between 11 and 98 years (mean age of 54.2 years). A total of 36 vulvar diseases was identified. Neoplastic conditions were the most frequently found, particularly melanotic macules (22.3%). The most frequent malignant tumor was vulvar intraepithelial neoplasia (6.2%) and squamous cell carcinoma (5.6%). The most common dermatosis was lichen sclerosus (12.7%).
Conclusion: Neoplasms were the most frequently diagnosed conditions affecting the vulvar area that required a biopsy. Ruling out malignancy was also the main reason to perform a biopsy. This study highlights the variety of noninfectious diseases that may affect the vulva and require a biopsy. Since vulvar diseases may be serious and carry high levels of patient distress a correct understanding of these conditions is crucial.
Downloads
Download data is not yet available.
References
Singh G, Rathore BS, Bhardwaj A, Sharma C. Non venereal dermatoses of vulva in sexually active women: a clinical study. Int J Res Dermatol. 2016;2(2):25-9.
Andreassi L, Bilenchi R. Non-infectious inflammatory genital lesions. Clin Dermatol. 2014;32(2):307-14.
Nyati A, Agarwal P. Pattern of non-venereal dermatoses of female external genitalia in Rajasthan. Asian Pac J Health Sci. 2016;3(3):249-65.
Yura E, Flury S. Cutaneous Lesions of the External Genitalia. Med Clin North Am. 2018;102(2):279-300.
Barchino-Ortiz L, Suárez-Fernández R, Lázaro-Ochaita P. Vulvar Inflammatory Dermatoses. Actas Dermo-Sifiliogr (English Edition). 2012;103(4):260-75.
Stockdale CK, Boardman L. Diagnosis and Treatment of Vulvar Dermatoses. Obstet Gynecol. 2018;131(2):371-86.
Chan MP, Zimarowski MJ. Vulvar dermatoses: a histopathologic review and classification of 183 cases. J Cutan Pathol. 2015;42(8):510-8.
O'keefe RJ, Scurry JP, Dennersten G, Sfameni S, Brenan J. Audit of 114 non-neoplastic vulvar biopsies. BJOG. 1995;102(10):780-6.
Weinberg D, Gomez-Martinez RA. Vulvar Cancer. Obstet Gynecol Clin North Am. 2019;46(1):125-35.
Chokoeva AA, Tchernev G, Castelli E, et al. Vulvar cancer: a review for dermatologists. Wien Med Wochenschr. 2015;165(7):164-77.
Matthews N, Wong V, Brooks J, Kroumpouzos G. Genital diseases in the mature woman. Clin Dermatol. 2018;36(2):208-21.
Allbritton JI. Vulvar Neoplasms, Benign and Malignant. Obstet Gynecol Clin North Am. 2017;44(3):339-52.
Murzaku EC, Penn LA, Hale CS, et al. Vulvar nevi, melanosis, and melanoma: An epidemiologic, clinical, and histopathologic review. J Am Acad Dermatol. 2014;71(6):1241-9.
Hoang LN, Park KJ, Soslow RA, Murali R. Squamous precursor lesions of the vulva: current classification and diagnostic challenges. Pathology. 2016;48(4):291-302.
Selim MA, Hoang MP. A Histologic Review of Vulvar Inflammatory Dermatoses and Intraepithelial Neoplasm. Dermatol Clin. 2010;28(4):649-67.
Singh N, Gilks CB. Vulval squamous cell carcinoma and its precursors. Histopathology. 2020;76(1):128-38.
Satmary W, Holschneider CH, Brunette LL, Natarajan S. Vulvar intraepithelial neoplasia: Risk factors for recurrence. Gynecol Oncol. 2018;148(1):126-31.
Bouceiro-Mendes R, Mendonça-Sanches M, Soares-de-Almeida L, Correia-Fonseca I. A Case of Chronic and Relapsing Paget Disease of the Vulva. Rev Bras Ginecol Obstet. 2019;41(06):412-6.
Guerrero A, Venkatesan A. Inflammatory Vulvar Dermatoses. Clin Obstet Gynecol. 2015;58(3):464-75.
Lee A, Fischer G. Diagnosis and Treatment of Vulvar Lichen Sclerosus: An Update for Dermatologists. Am J Clin Dermatol. 2018;19(5):695-706.
Pérez-López FR, Vieira-Baptista P. Lichen sclerosus in women: a review. Climacteric. 2017;20(4):339-47.
Sand FL, Thomsen SF. Skin diseases of the vulva: eczematous diseases and contact urticaria. J Obstet Gynaecol. 2018;38(3):295-300.
Simonetta C, Burns EK, Guo MA. Vulvar Dermatoses: A Review and Update. Mo Med. 2015;112(4):301-7.
Mauskar MM, Marathe K, Venkatesan A, Schlosser BJ, Edwards L. Vulvar diseases: Conditions in adults and children. J Am Acad Dermatol. 2020;82(6):1287-98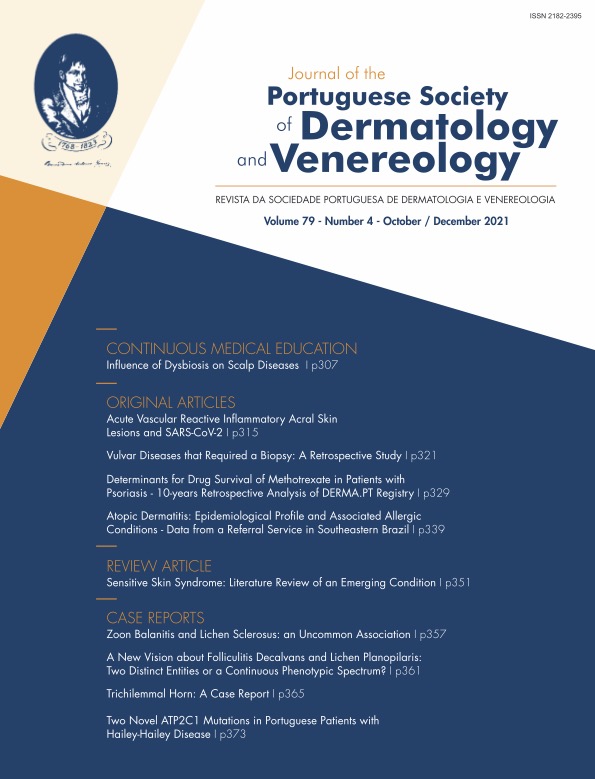 How to Cite
Bouceiro-Mendes, R., Mendonça-Sanches, M., Soares-de-Almeida, L., Correia-Fonseca, I., & Borges-da-Costa, J. (2021). Vulvar Diseases that Required a Biopsy: A Retrospective Study. Journal of the Portuguese Society of Dermatology and Venereology, 79(4), 321-328. https://doi.org/10.29021/spdv.79.4.1411
Section
Original Articles
Copyright (c) 2021 Journal of the Portuguese Society of Dermatology and Venereology
This work is licensed under a Creative Commons Attribution-NonCommercial 4.0 International License.
All articles in this journal are Open Access under the Creative Commons Attribution-NonCommercial 4.0 International License (CC BY-NC 4.0).