MERKEL CELL CARCINOMA – REPORT OF 7 CASES
Rita Cabral

Interna do Internato Complementar de Dermatologia e Venereologia / Resident, Dermatology and Venereology - Serviço de Dermatologia e Venereologia, Centro Hospitalar Universitário de Coimbra, Portugal

Ana Brinca

Assistente Hospitalar de Dermatologia e Venereologia/Consultant, Dermatology and Venereology - Serviço de Dermatologia e Venereologia, Centro Hospitalar Universitário de Coimbra, Portugal

Ricardo Vieira

Assistente Hospitalar de Dermatologia e Venereologia/Consultant, Dermatology and Venereology - Serviço de Dermatologia e Venereologia, Centro Hospitalar Universitário de Coimbra, Portugal

Angelina Mariano

Assistente Hospitalar Graduada de Dermatologia e Venereologia / Graduated Consultant Dermatology and Venereology - Serviço de Dermatologia e Venereologia, Centro Hospitalar Universitário de Coimbra, Portugal

Óscar Tellechea

Chefe de Serviço e Professor de Dermatologia e Venereologia / Consultant Chief and Professor, Dermatology and Venereology - Serviço de Dermatologia e Venereologia, Centro Hospitalar Universitário de Coimbra, Portugal

Américo Figueiredo

Chefe de Serviço, Director do Serviço de Dermatologia e Venereologia / Consultant Chief, Head of Department of Dermatology and Venereology Serviço de Dermatologia e Venereologia, Centro Hospitalar Universitário de Coimbra, Portugal
Keywords:
Carcinoma, Merkel cell, Skin neoplasms, neuroendocrine
Abstract
Introduction: Merkel cell carcinoma is a rare, aggressive cutaneous neuroendocrine carcinoma that affects primarily elderly people. Patients present with a rapidly growing nodule, preferably located at the head, neck and limbs. Merkel cell carcinoma as a propensity for local recurrence and regional lymph node metastases and wide local excision is the initial consensual approach. The role of lymph node dissection, radiation therapy and chemotherapy is not yet clearly established. 
Material and Methods: The aim of this retrospective study was to evaluate Merkel cell carcinoma patients followed in our department between the years 2000 and 2009, regarding sex, age, race, clinical features, location, stage, associated malignancies, treatment and evolution.  Results: Our data are consistent with the literature, namely regarding age, associated lymphoproliferative disease and high local recurrence and mortality rates.
Downloads
Download data is not yet available.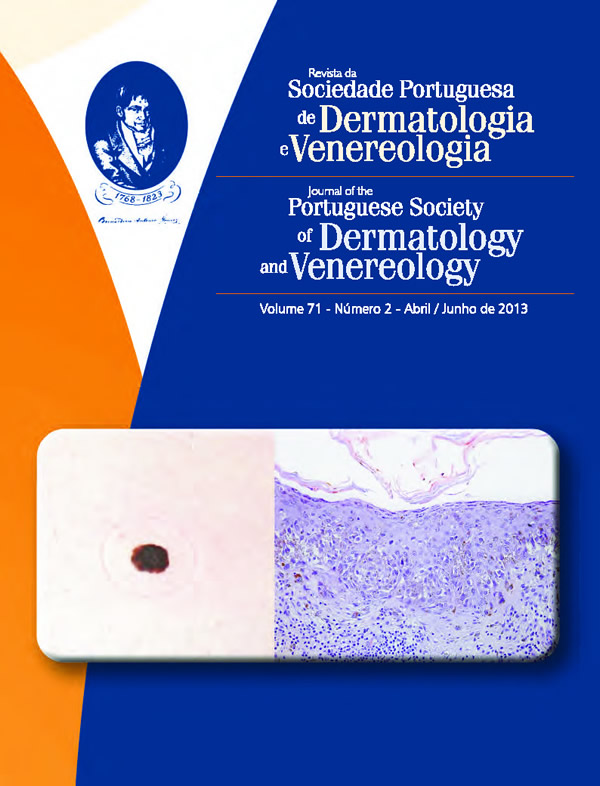 How to Cite
Cabral, R., Brinca, A., Vieira, R., Mariano, A., Tellechea, Óscar, & Figueiredo, A. (1). MERKEL CELL CARCINOMA – REPORT OF 7 CASES. Journal of the Portuguese Society of Dermatology and Venereology, 71(2), 171-176. https://doi.org/10.29021/spdv.71.2.166
Section
Original Articles
All articles in this journal are Open Access and meet the requirements of funding bodies or academic institutions. Each article published in the Journal is published under the Creative Commons Attribution-NonCommercial-NoDerivatives 4.0 International License (CC BY-NC-ND 4.0). Articles can be read, downloaded, printed, and shared.
Submission of an article for publication implies the authors' consent to publication under the applicable Creative Commons license and the terms and conditions of the Publisher's Licensing Agreement.
It is the author's responsibility to obtain permission to reproduce illustrations, tables, etc. from other publications.
Upon acceptance of an article, authors will be asked to complete a 'Journal Publishing Agreement'. An e-mail will be sent to the corresponding author confirming receipt of the manuscript together with a 'Journal Publishing Agreement' form or a link to the online version of this agreement.
Author rights: As an author you (or your employer or institution) have certain rights to reuse your work.
The Journal reserves the right to use plagiarism detection software on any submitted material.