ACTINIC CHEILITIS: CO2 LASER ABLATION VERSUS VERMILIONECTOMY – ELEVEN YEAR ANALYSIS
Rita Cabral

Interna do Internato Complementar de Dermatologia e Venereologia / Resident, Dermatology and Venereology - Serviço de Dermatologia e Venereologia, Centro Hospitalar Universitário de Coimbra, Portugal

Vera Teixeira

Interna do Internato Complementar de Dermatologia e Venereologia / Resident, Dermatology and Venereology - Serviço de Dermatologia e Venereologia, Centro Hospitalar Universitário de Coimbra, Portugal

Ricardo Vieira

Assistente Hospitalar de Dermatologia e Venereologia / Consultant, Dermatology and Venereology - Serviço de Dermatologia e Venereologia, Centro Hospitalar Universitário de Coimbra, Portugal

Américo Figueiredo

Chefe de Serviço, Director do Serviço de Dermatologia e Venereologia / Consultant Chief, Head of Department of Dermatology and Venereology - Serviço de Dermatologia e Venereologia, Centro Hospitalar Universitário de Coimbra, Portugal
Keywords:
Cheilitis, Laser therapy, Precancerous conditions, Reconstructive surgical procedures
Abstract
Background: Actinic cheilitis is a pre-malignant lesion affecting predominantly the vermilion of the inferior lip of male patients. 
Objectives: Our aim was compare two treatment options for Actinic cheilitis: ablation with CO2 laser and vermilionectomy.  Methods: Retrospective study of patients with Actinic cheilitis treated with CO2 laser ablation or vermilionectomy, in an 11 year period.
Results: 51 caucasian patients were included, 43 (84%) of which were submitted to CO2 laser ablation and the 8 (16%) remainder to vermilionectomy. Mean follow-up time was 30,8 months (3 to 84 months). No recurrences were found in the patients submitted to vermilionectomy and in 72,5% of the patients treated with CO2 laser ablation, with no statistical significance (p>0,05). There was evolution to squamous cell carcinoma in one patient treated by CO2 laser ablation, after 50 months (surgically removed, no recurrence to date).
Conclusion: Despite this reduced series, our results are similar to those available in the literature, concerning the recurrence rate after laser CO2 ablation.
Downloads
Download data is not yet available.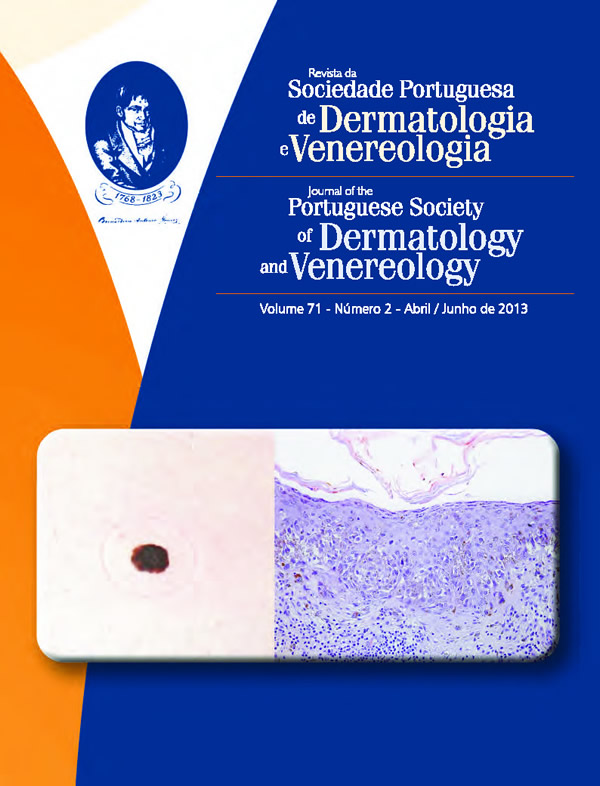 How to Cite
Cabral, R., Teixeira, V., Vieira, R., & Figueiredo, A. (1). ACTINIC CHEILITIS: CO2 LASER ABLATION VERSUS VERMILIONECTOMY – ELEVEN YEAR ANALYSIS. Journal of the Portuguese Society of Dermatology and Venereology, 71(2), 177-183. https://doi.org/10.29021/spdv.71.2.167
Section
Original Articles
All articles in this journal are Open Access and meet the requirements of funding bodies or academic institutions. Each article published in the Journal is published under the Creative Commons Attribution-NonCommercial-NoDerivatives 4.0 International License (CC BY-NC-ND 4.0). Articles can be read, downloaded, printed, and shared.
Submission of an article for publication implies the authors' consent to publication under the applicable Creative Commons license and the terms and conditions of the Publisher's Licensing Agreement.
It is the author's responsibility to obtain permission to reproduce illustrations, tables, etc. from other publications.
Upon acceptance of an article, authors will be asked to complete a 'Journal Publishing Agreement'. An e-mail will be sent to the corresponding author confirming receipt of the manuscript together with a 'Journal Publishing Agreement' form or a link to the online version of this agreement.
Author rights: As an author you (or your employer or institution) have certain rights to reuse your work.
The Journal reserves the right to use plagiarism detection software on any submitted material.