A NONHEALING ULCER ON THE NOSE - A CASE REPORT
Guida Santos

Interna do Internato Complementar de Dermatologia e Venereologia/ Resident of Dermatology and Venereology, Serviço de Dermatologia e Venereologia/Dermatology Department, Hospital Santo António dos Capuchos - Centro Hospitalar de Lisboa Central, Lisboa, Portugal

Alexandre João

Assistente Hospitalar de Dermatologia e Venereologia/Consultant of Dermatology and Venereology, Serviço de Dermatologia e Venereologia/Dermatology Department, Hospital Santo António dos Capuchos - Centro Hospitalar de Lisboa Central, Lisboa, Portugal
Keywords:
Dermatitis, Ulcer, Nose diseases, Depression
Abstract
Dermatitis artefacta is a disease characterized by self-inflicted skin lesions as the result or manifestation of psychiatric disorders or specific stress situations.
Clinical manifestations range from superficial erosions to deep wounds. Because of its rarity and the polymorphism of the lesions, dermatitis artefacta is often a challenge for the clinicians. This report presents the case of a 62-year-old woman who had an ulcer of the nose lasting for three years caused by digital manipulation. Early recognition of dermatitis artefacta is difficult but avoids unnecessary treatments. A multidisciplinary approach to this entity is necessary to obtain the best results.
Downloads
Download data is not yet available.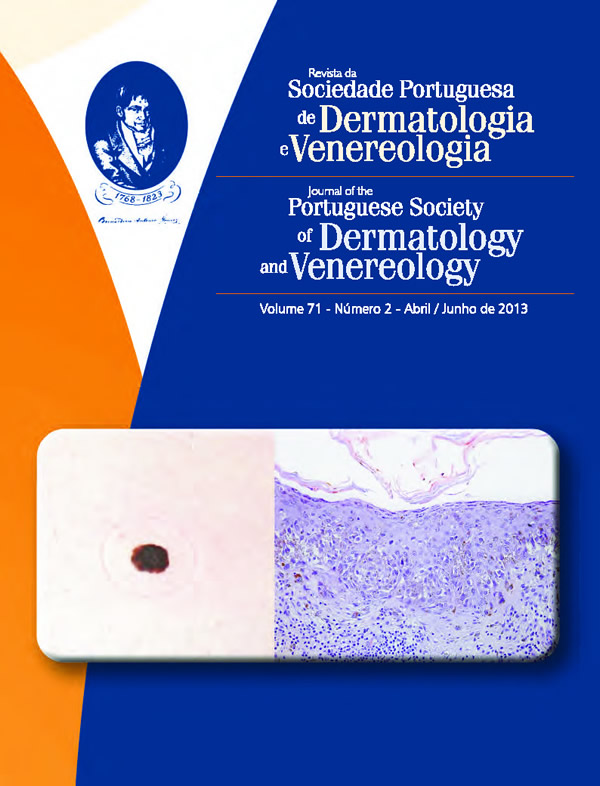 How to Cite
Santos, G., & João, A. (1). A NONHEALING ULCER ON THE NOSE - A CASE REPORT. Journal of the Portuguese Society of Dermatology and Venereology, 71(2), 257-260. https://doi.org/10.29021/spdv.71.2.182
All articles in this journal are Open Access and meet the requirements of funding bodies or academic institutions. Each article published in the Journal is published under the Creative Commons Attribution-NonCommercial-NoDerivatives 4.0 International License (CC BY-NC-ND 4.0). Articles can be read, downloaded, printed, and shared.
Submission of an article for publication implies the authors' consent to publication under the applicable Creative Commons license and the terms and conditions of the Publisher's Licensing Agreement.
It is the author's responsibility to obtain permission to reproduce illustrations, tables, etc. from other publications.
Upon acceptance of an article, authors will be asked to complete a 'Journal Publishing Agreement'. An e-mail will be sent to the corresponding author confirming receipt of the manuscript together with a 'Journal Publishing Agreement' form or a link to the online version of this agreement.
Author rights: As an author you (or your employer or institution) have certain rights to reuse your work.
The Journal reserves the right to use plagiarism detection software on any submitted material.