METASTATIC CUTANEOUS PLASMOCYTOMA IN A PATIENT WITH MULTIPLE MYELOMA
Neide Pereira

Interna do Internato Complementar de Dermatologia e Venereologia/Resident, Dermatology and Venereology

Ana Brinca

Interna do Internato Complementar de Dermatologia e Venereologia/Resident, Dermatology and Venereology

Óscar Tellechea

Chefe de Serviço e Professor de Dermatologia e Venereologia/Consultant Chief and Professor, Dermatology and Venereology

Margarida Gonçalo

Chefe de Serviço de Dermatologia e Venereologia /Consultant Chief, Dermatology and Venereology Serviço de Dermatologia e Venereologia, Hospitais da Universidade de Coimbra, Centro Hospitalar e Universitário de Coimbra, Portugal
Abstract
Introduction: In multiple myeloma, the cutaneous lesions are rare and usually occur in late stages of MM as a reflection of increased tumour cell burden. Case report: The authors present the case of a 66 year-old woman with IgG lambda multiple myeloma that, after 16 months and apparently under control haematological, developed a tender and firm erythemato-violaceous plaque, on the back of the right thigh. A diagnosis of cutaneous plasmocytoma was confirmed by skin biopsy. Local radiotherapy induced a complete regression of skin lesion, but the patient died 4 months later, duo to uncontrolled multiple myeloma. Discussion: Secondary cutaneous plasmocytoma usually arise from direct spread from underlying bone, manifest as erythematous to violaceous infiltrated nodules or plaques, are extremely rare and indicate a poor prognosis, as in our case. The presentation as an erysipela-like lesion with no underlying bone disease is even rarer.
KEYWORDS – Multiple myeloma; Plasmacytoma; Skin neoplasms/secondary.

Downloads
Download data is not yet available.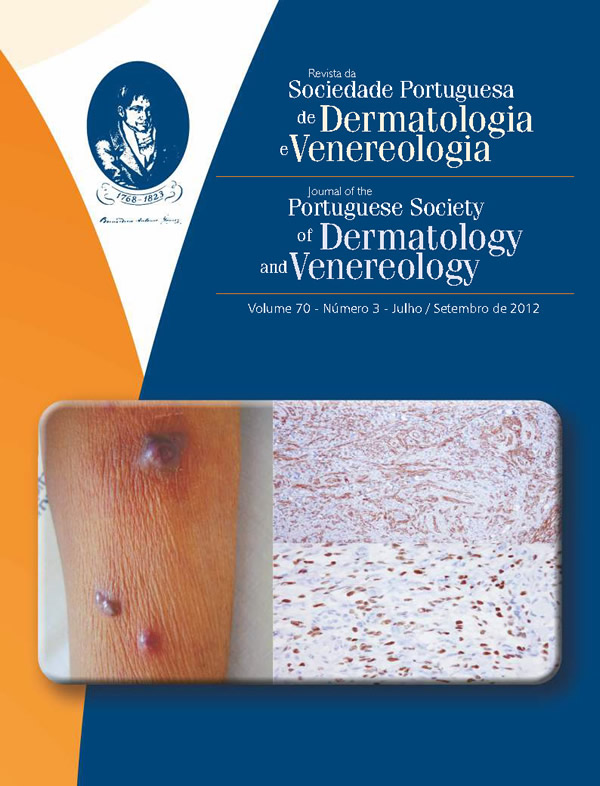 How to Cite
Pereira, N., Brinca, A., Tellechea, Óscar, & Gonçalo, M. (2013). METASTATIC CUTANEOUS PLASMOCYTOMA IN A PATIENT WITH MULTIPLE MYELOMA. Journal of the Portuguese Society of Dermatology and Venereology, 70(3), 387. https://doi.org/10.29021/spdv.70.3.19
All articles in this journal are Open Access under the Creative Commons Attribution-NonCommercial 4.0 International License (CC BY-NC 4.0).