INTRAVENOUS IMMUNOGLOBULIN IN DERMATOLOGY – CLINICAL EXPERIENCE IN HOSPITAL DE BRAGA
Catarina Araújo

Interna do Internato Complementar de Dermatologia e Venereologia/Resident, Dermatology and Venereology, Hospital de Braga, Braga, Portugal

José Carlos Fernandes

Assistente Hospitalar Graduado(a) de Dermatologia e Venereologia/Graduated Consultant, Dermatology and Venereology, Hospital de Braga, Braga, Portugal

Maria da Luz Duarte

Chefe de Serviço, Serviço de Dermatologia e Venereologia/ Consultant Chief, Department of Dermatology and Venereology, Hospital de Braga, Braga, Portugal

Teresa Pereira

Assistente Hospitalar de Dermatologia e Venereologia/Consultant, Dermatology and Venereology, Hospital de Braga, Braga, Portugal

Ana Paula Vieira

Assistente Hospitalar Graduado(a) de Dermatologia e Venereologia/Graduated Consultant, Dermatology and Venereology, Hospital de Braga, Braga, Portugal

Celeste Brito

Chefe de Serviço, Directora do Serviço de Dermatologia e Venereologia/ Consultant Chief, Head of Department of Dermatology and Venereology Serviço de Dermatologia e Venereologia, Hospital de Braga, Braga, Portugal
Keywords:
Immunoglobulins, intravenous, Skind diseases, Dermatitis, atopic, Epidermal necrolysis, toxic, Pemphigoid, bullous, Urticaria
Abstract
Introduction: In recent years, the clinical experience with the use of intravenous immunoglobulin (IvIg) in Dermatology has increased. Despite limited information in literature, off-label use of IvIg has shown efficacy in the treatment of several refractary dermatosis to conventional treatments.
Material and methods: We conducted a retrospective study of patients with dermatological pathology treated with IvIg between January 2004 and October 2011 in the Department of Dermatology, Hospital de Braga. We analyzed the demographic and clinical characteristics, therapies performed, clinical response and safety profile.
Results: 21 patients were treated with IvIg in 10 different dermatological conditions: four patients with pemphigus vulgaris [2 with complete response (CR), one with partial response (PR) and another who interrupted treatment due to severe side effects]; two patients with bullous pemphigoid (one with CR and one with PR); three patients with Toxic Epidermal Necrolysis (TEN) with CR; two patients with dermatomyositis (both PR); four patients with Chronic Urticaria (one with CR, one with PR, one who did not respond and another who discontinued treatment for side effects); two patients with livedoid vasculopathy with PR, a patient with CREST syndrome that has not improved; a patient with Scleromyxedema with PR; a patient with Gangrenous Pyoderma with CR and one patient with Atopic dermatitis who discontinued treatment due to pregnancy. With the exception of three patients with TEN, all other patients had refractory disease to conventional systemic treatments. Conclusions: Although our experience is limited, treatment with IvIg may be beneficial in certain pathologies that do not improve with conventional treatment. Given its high cost and variable therapeutic effect, their use should be cautious until more studies define the risk-benefit ratio.
Downloads
Download data is not yet available.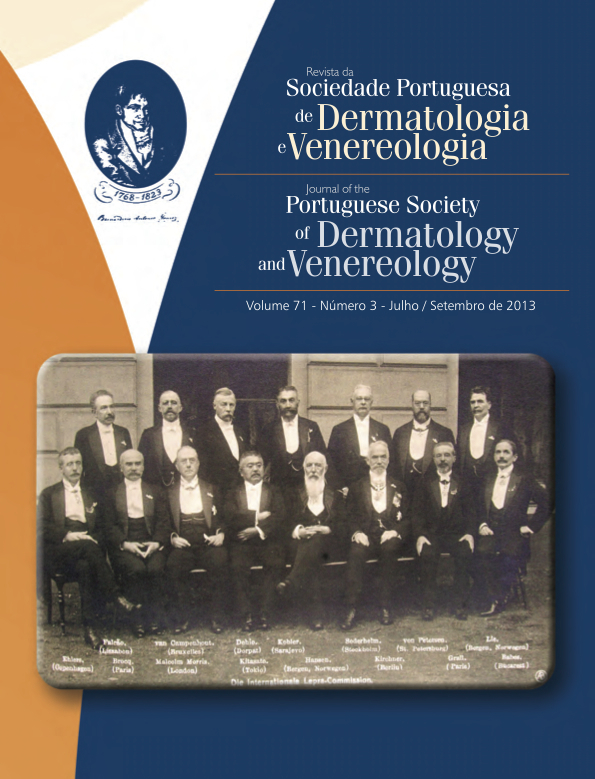 How to Cite
Araújo, C., Fernandes, J. C., Duarte, M. da L., Pereira, T., Vieira, A. P., & Brito, C. (2014). INTRAVENOUS IMMUNOGLOBULIN IN DERMATOLOGY – CLINICAL EXPERIENCE IN HOSPITAL DE BRAGA. Journal of the Portuguese Society of Dermatology and Venereology, 71(3), 345-359. https://doi.org/10.29021/spdv.71.3.192
Section
Original Articles
All articles in this journal are Open Access under the Creative Commons Attribution-NonCommercial 4.0 International License (CC BY-NC 4.0).