DISSEMINATED INTERSTITIAL GRANULOMA ANNULARE
Eduarda Faísca Barbará

Graduanda em Medicina/Medical Graduated, Universidade Estácio de Sá, Rio de Janeiro (RJ),Brasil

Maria Luiza Barros de Paiva

Médica formada/Medical Graduated, Faculdade de Medicina de Petrópolis, Petrópolis (RJ), Brasil

Ricardo Luis Passos Coelho Filho

Médico formado/Medical Graduated, Faculdade de Medicina de Petrópolis, Petrópolis (RJ), Brasil

Fred Bernardes Filho

Pós Graduando de Dermatologia/Graduated in Dermatology, no Instituto de Dermatologia Professor Rubem David Azulay da Santa Casa da Misericórdia do Rio de Janeiro (IDPRDA - SCMRJ) - Rio de Janeiro (RJ), Brasil

Carlos Gustavo Carneiro de Castro

Especialista/Specialist in Dermatology, pela Sociedade Brasileira de Dermatologia e Associação Médica Brasileira, Brasil
Keywords:
Burns, Medication adherence, Pyoderma gangrenosum, Skin diseases
Abstract
We report a clinicopathological case of a 62-year-old patient with a diagnosis of interstitial granuloma annulare, characterized by grouped papules without central atrophy, distributed in the lower limbs, buttocks and back. Histopathology was essential for diagnostic conclusion, since the initial assessment, the disease was not among the clinical hypotheses.
Downloads
Download data is not yet available.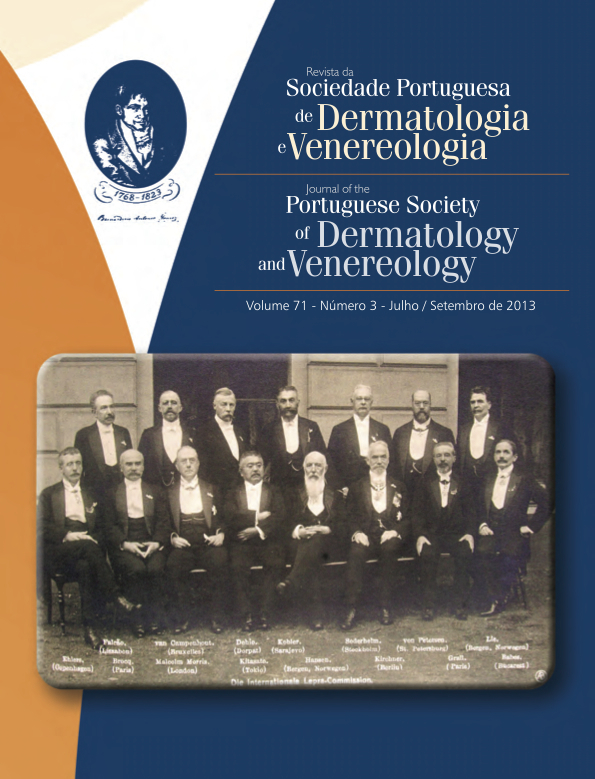 How to Cite
Barbará, E. F., de Paiva, M. L. B., Filho, R. L. P. C., Filho, F. B., & de Castro, C. G. C. (2014). DISSEMINATED INTERSTITIAL GRANULOMA ANNULARE. Journal of the Portuguese Society of Dermatology and Venereology, 71(3), 399-402. https://doi.org/10.29021/spdv.71.3.200
All articles in this journal are Open Access under the Creative Commons Attribution-NonCommercial 4.0 International License (CC BY-NC 4.0).