ERUPTIVE SYRINGOMA IN A FORTUITOUS ASSOCIATION WITH LEPROSY - THE IMPORTANCE OF ACTIVE SEARCH
Fred Bernardes Filho

Pós Graduando de Dermatologia/Graduated in Dermatology, no Instituto de Dermatologia Professor Rubem David Azulay da Santa Casa da Misericórdia do Rio de Janeiro (IDPRDA - SCMRJ) - Rio de Janeiro (RJ), Brasil

Maria Victória Quaresma

Pós-Graduanda de Dermatologia/Graduated in Dermatology do Instituto de Dermatologia Professor Rubem David Azulay da Santa Casa da Misericórdia do Rio de Janeiro (IDPRDA/SCMRJ), Brasil

Stephanie Bianco

Acadêmica deMedicina/Medical Academic e Estagiária do Instituto de Dermatologia Professor Rubem David Azulay da Santa Casa da Misericórdia do Rio de Janeiro (IDPRDA/SCMRJ), Brasil

Mariana de Campos Razé

Acadêmica deMedicina/Medical Academic e Estagiária do Instituto de Dermatologia Professor Rubem David Azulay da Santa Casa da Misericórdia do Rio de Janeiro (IDPRDA/SCMRJ), Brasil

Camila Sanches Bussad

Acadêmica deMedicina/Medical Academic e Estagiária do Instituto de Dermatologia Professor Rubem David Azulay da Santa Casa da Misericórdia do Rio de Janeiro (IDPRDA/SCMRJ), Brasil

Gisele Reis Cunha da Silva

Acadêmica deMedicina/Medical Academic e Estagiária do Instituto de Dermatologia Professor Rubem David Azulay da Santa Casa da Misericórdia do Rio de Janeiro (IDPRDA/SCMRJ), Brasil

Andreia Oliveira Alves

Acadêmica deMedicina/Medical Academic pela Universidade Metropolitana de Santos (UNIMES), Santos (SP), Brasil

José Augusto da Costa Nery

Chefe do Setor de Dermatologia Sanitária/Head of the Sanitary Dermatology Department, Instituto de Dermatologia Professor Rubem David Azulay, Santa Casa da Misericórdia do Rio de Janeiro (IDPRDA / SCMRJ); Pesquisador Associado/Associated Investigator, Laboratório de Hanseníase (LaHan) Fiocruz, Rio de Janeiro (RJ), Brasil
Keywords:
Syringoma, Leprosy, Skin, Sweat gland neoplasms
Abstract
The metropolitan area of Rio de Janeiro concentrates the most of new cases of leprosy, suggesting a relationship between high detection rates with higher population density and larger numbers of decentralized health units. For improved access to diagnosis and treatment is necessary training in disease. The authors present a case with casual link between leprosy and eruptive syringoma showing a representation of an endemic area.
Downloads
Download data is not yet available.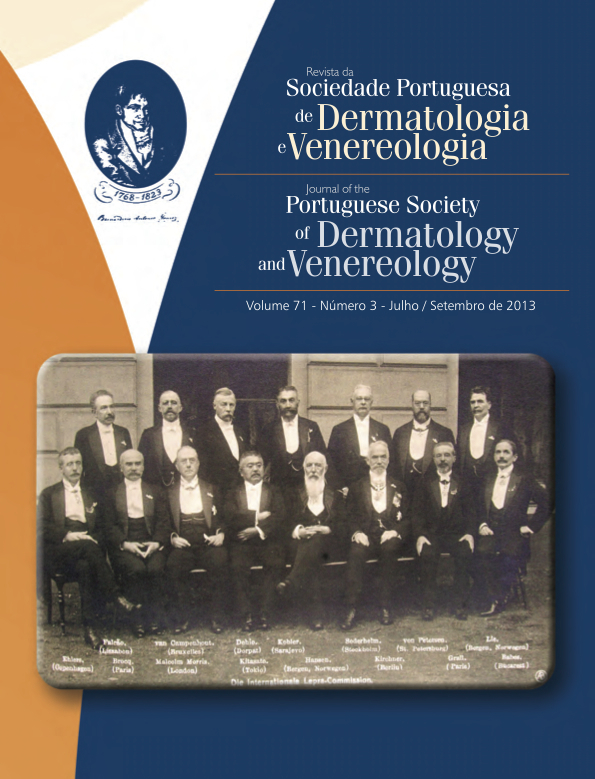 How to Cite
Filho, F. B., Quaresma, M. V., Bianco, S., Razé, M. de C., Bussad, C. S., da Silva, G. R. C., Alves, A. O., & Nery, J. A. da C. (2014). ERUPTIVE SYRINGOMA IN A FORTUITOUS ASSOCIATION WITH LEPROSY - THE IMPORTANCE OF ACTIVE SEARCH. Journal of the Portuguese Society of Dermatology and Venereology, 71(3), 409-413. https://doi.org/10.29021/spdv.71.3.202
All articles in this journal are Open Access under the Creative Commons Attribution-NonCommercial 4.0 International License (CC BY-NC 4.0).