SEGMENTAL OR MOSAIC NEUROFIBROMATOSIS TYPE 1: A REPORT OF 2 PATIENTS
Paulo Morais

Assistente Hospitalar de Dermatologia e Venereologia/Consultant of Dermatology, Serviço de Dermatologia e Venereologia, Centro Hospitalar Tondela-Viseu EPE, Viseu, Portugal

Fortunato Vieira

Assistente Hospitalar de Anatomia Patológica/Consultant of Pathology, Histocit - Laboratório de Anatomia Patológica, Trofa, Portugal
Keywords:
Genes, Neurofibromatosis 1, Mosaicism
Abstract
Segmental neurofibromatosis type 1 (NF1) is characterized by typical features of NF1 limited to one or more body segments, and usually located unilaterally. It is caused by a somatic (rarely gonadal) postzygotic mutation in the NF1 gene, explaining why it should be regarded as a genetic mosaicism instead of a distinct entity from neurofibromatosis. We herein report two patients with segmental NF1 and give an updated overview of the disease.
Downloads
Download data is not yet available.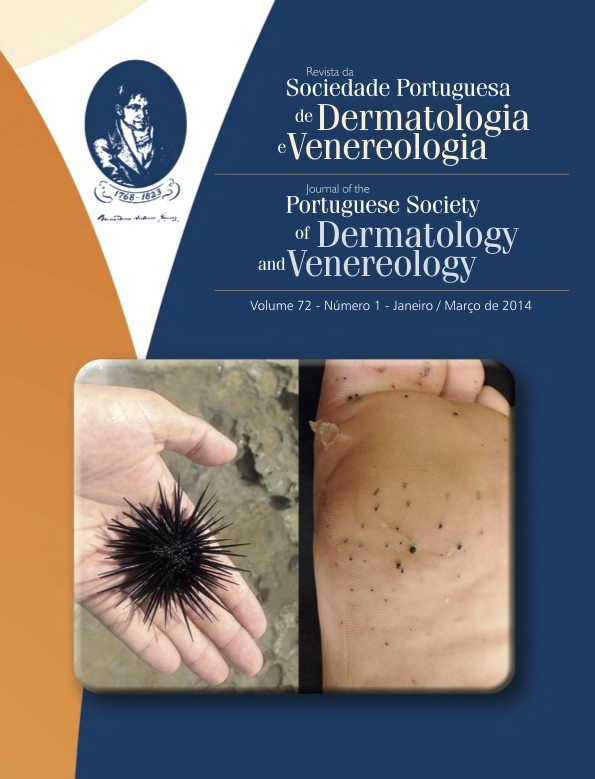 How to Cite
Morais, P., & Vieira, F. (1). SEGMENTAL OR MOSAIC NEUROFIBROMATOSIS TYPE 1: A REPORT OF 2 PATIENTS. Journal of the Portuguese Society of Dermatology and Venereology, 72(1), 125-129. https://doi.org/10.29021/spdv.72.1.234
All articles in this journal are Open Access under the Creative Commons Attribution-NonCommercial 4.0 International License (CC BY-NC 4.0).