SECONDARY SYPHILIS – CLINICOPATHOLOGICAL CORRELATION
Luís Uva

Interno de Dermatologia e Venereologia/Resident, Dermatology and Venereology, Serviço de Dermatologia/ Dermatology Department, Hospital de Santa Maria – Centro Hospitalar Lisboa Norte (CHLN), Portugal

João Borges-Costa

Assistente HospitalarGraduado de Dermatovenerologia, Serviço de Dermatologia, CHLN/Graduated Consultant of Dermatology, Dermatology Department, CHLN, Lisboa; Professor Auxiliar Convidado de Dermatologia da FML/ Professor of Dermatology and Venereology; Instituto de Higiene e Medicina Tropical, Lisboa, Portugal; Unidade de Investigação em Dermatologia, Instituto de Medicina Molecular, Lisboa, Portugal; Faculdade de Medicina, Universidade de Lisboa, Portugal

Luís Soares-de-Almeida

3Assistente Hospitalar Graduado de Dermatovenerologia, Serviço de Dermatologia, CHLN/Graduated Consultant of Dermatology, Dermatology Department, CHLN, Lisboa; Professor de Dermatologia da FML/Professor of Dermatology and Venereology; Unidade de Investigação em Dermatologia, Instituto de Medicina Molecular, Lisboa, Portugal; Faculdade de Medicina, Universidade de Lisboa, Portugal
Keywords:
Skin, pathology, Skin diseases, Syphilis, cutaneous, Syphilis serodiagnosis
Abstract
Introduction: In recent years there has been a resurgence of syphilis. Infection by Treponema pallidum is mainly associated with inconsistent condom use and high number of sexual partners in the months preceding the diagnosis. Following the increase number of diagnosed cases, it is important to have a greater awareness of the clinical and pathological features of the disease. This article describes and correlates the clinical and histopathological features of secondary syphilis in 7 patients seen at the Department of Dermatology, Hospital Santa Maria, Lisbon, Portugal.
Material and Methods: Nine biopsies of mucocutaneous lesions from seven patients with secondary syphilis, observed between 2009 and 2013. The histopathologic and clinical findings were correlated and studied.
Results: This study revealed a broad spectrum of histopathological changes ranging from an inflammatory infiltrate of the superficial dermis with location to an extent perivascular in the deep dermis. Although there is some correlation between different patterns of inflammation and type of skin lesions, the macular lesions were associated with a superficial inflammatory infiltrate as papular, maculopapular , and nodular lesions were associated with a profound inflammatory process. The predominant infiltrate was plasmacytic. Neutrophils were observed only in the case of condylomata lata.
Conclusions: The histopathological features of secondary syphilis appear to be as varied as the clinical ones. It is the responsibility of the professionals who deal with these patients being particularly alert to the wide range of manifestations in this disease, remember this clinical diagnosis and be aware of the need for close interaction with dermatopathologists. The collaboration between pathologists and clinicians allows a correct correlation between clinical, serology and histopathological findings in order to establish a more plausibly diagnosis of syphilis.
Downloads
Download data is not yet available.
References
Macaron NC, Cohen C, Chen SC, Arbiser JL. Cutaneous lesions of secondary syphilis are highly angiogenic. Journal of the American Academy of Dermatology. 2003;48(6):878-81.
Pandhi RK, Singh N, Ramam M. Secondary syphilis: a clinicopathologic study. Int J Dermatol. 1995;34(4):240-3.
Alessi E, Innocenti M, Ragusa G. Secondary syphilis. Clinical morphology and histopathology. Am J Dermatopathol. 1983;5(1):11-7.
Hoang MP, High WA, Molberg KH. Secondary syphilis: a histologic and immunohistochemical evaluation. J Cutan Pathol. 2004;31(9):595-9.
Vanconcelos P, Fraga A, Costa JB, Soares de Almeida L, Marques MS. Fenómeno prozona em sífilis secundária. A importância da comunicação entre o clínico e o laboratório. Trab Soc Port Dermatol
Venereol. 2012;70(1):113.
Hernández C, Fúnez R, Repiso B, Frieyro M. Utilidad de la inmunohistoquímica con anticuerpos antitreponema en el diagnóstico de la sífilis. Actas Dermosifiliogr. 2013;104:926-8.
McMillan A, McQueen A, McLaren C. A histopathological
study of secondary syphilis. J Eur Acad Dermatol Venereol. 1996;7(3):235-9.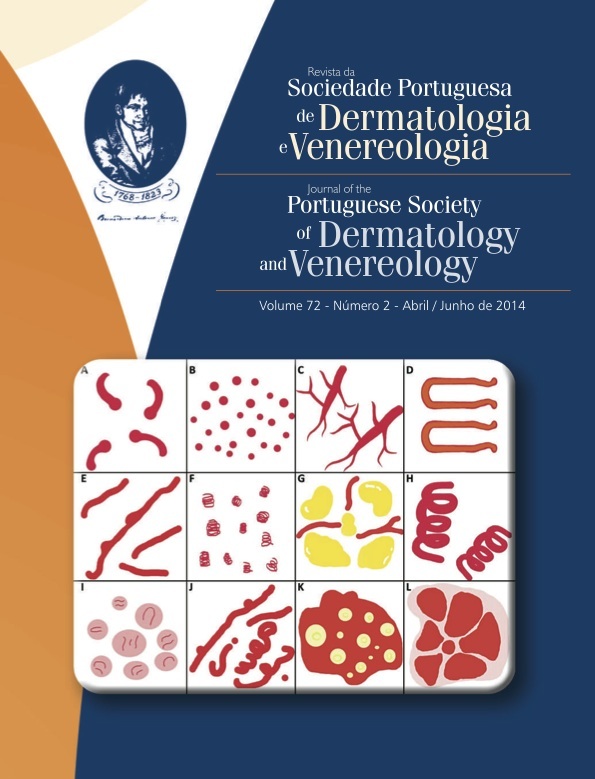 How to Cite
Uva, L., Borges-Costa, J., & Soares-de-Almeida, L. (2014). SECONDARY SYPHILIS – CLINICOPATHOLOGICAL CORRELATION. Journal of the Portuguese Society of Dermatology and Venereology, 72(2), 211-217. https://doi.org/10.29021/spdv.72.2.257
Section
Grupo para o Estudo e Investigação das Doenças Sexualmente Transmissíveis (GEIDS
All articles in this journal are Open Access under the Creative Commons Attribution-NonCommercial 4.0 International License (CC BY-NC 4.0).