DISABILITY IN LEPROSY – A RETROSPECTIVE, DESCRIPTIVE AND ANALYTIC STUDY OF 243 PATIENTS TREATED BEFORE AND AFTER THE INTRODUCTION OF MULTIDRUG THERAPY BY THE WHO
André Laureano

Interno do Internato Complementar de Dermatologia e Venereologia/Resident, Dermatology and Venereology; Master of Science (MSc) in Dermoscopy and Preventive Dermato-Oncology, Medical University of Graz, Austria

Raquel Vieira

Assistente Hospitalar Graduada de Dermatologia e Venereologia/Graduated Consultant, Dermatology and Venereology

Sandra Medeiros

Assistente Hospitalar de Dermatologia e Venereologia/Consultant, Dermatology and Venereology, Serviço de Dermatologia, Hospital Divino Espírito Santo, Ponta Delgada, Portugal

Fernando Assis Pacheco

Chefe de Serviço de Dermatologia e Venereologia/Chief of Dermatology Department

Jorge Cardoso

Chefe de Serviço de Dermatologia e Venereologia, Director do Serviço/Chief and Head of Dermatology Department, Serviço de Dermatologia, Hospital de Curry Cabral – Centro Hospitalar de Lisboa Central, Portugal
Keywords:
Disability evaluation, Leprosy, Motor activity, World Health Organization
Abstract
Introduction: Disability in leprosy may result from peripheral nerve injury. Prevention of disabilities represents one of the major goals of treatment programs.
Objectives: Description and comparison of two groups of leprosy patients treated before ("old" patients) and after ("new" patients) multidrug treatment implementation by the World Health Organization, analyzing its potential impact in disability reduction.
Materials and methods: Retrospective, descriptive and analytic study of 243 patients distributed in two groups: 164 "old" patient" and 79 "new" patients. Sex, age at diagnosis, time between the onset of symptoms and diagnosis, clinical forms, bacilloscopy, early neurological symptoms, lenght of treatment and occurrence of reaction phenomena were studied. Disabilities were assessed using the World Health Organization disability grading system at least five years after stopping antileprosy treatment. Statistical analysis was performed using software SPSS.18. Chi-square, Mann-Whitney and Kruskal-Wallis tests were used.
Results: Disability was more frequent in "old" patients with statistically significant difference in males, BL clinical form, positive basillocopy and neurological symptoms at the onset, and in patients with reaction phenomena. Severe disabilty grades were also superior in "old" patients. There was no relation between the lenght of treatment and disability.
Conclusion: Prevention of disabilities is possible by an early diagnosis and proper treatment with multidrug treatment proposed by the World Health Organization.
Downloads
Download data is not yet available.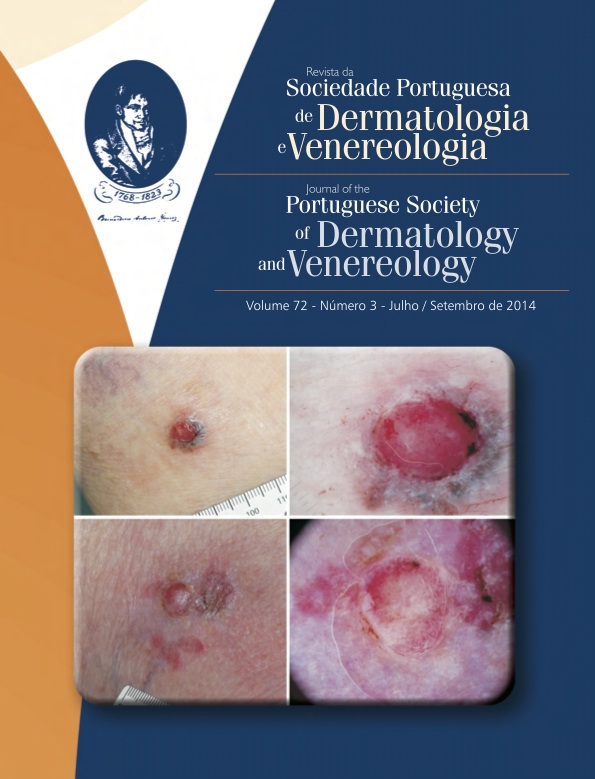 How to Cite
Laureano, A., Vieira, R., Medeiros, S., Pacheco, F. A., & Cardoso, J. (1). DISABILITY IN LEPROSY – A RETROSPECTIVE, DESCRIPTIVE AND ANALYTIC STUDY OF 243 PATIENTS TREATED BEFORE AND AFTER THE INTRODUCTION OF MULTIDRUG THERAPY BY THE WHO. Journal of the Portuguese Society of Dermatology and Venereology, 72(3), 325-331. https://doi.org/10.29021/spdv.72.3.274
Section
Original Articles
All articles in this journal are Open Access under the Creative Commons Attribution-NonCommercial 4.0 International License (CC BY-NC 4.0).