TINEA CAPITIS – RETROSPECTIVE STUDY OF FIVE YEARS (2008- 2012) AT HOSPITAL SANTO ANTÓNIO DOS CAPUCHOS
Sara Campos

Interna do Internato Complementar de Dermatologia e Venereologia/Resident, Dermatology and Venereology

Sara Lestre

Assistente Hospitalar de Dermatologia e Venereologia/ Consultant, Dermatology and Venereology

Célia Galhardas

Técnica de Diagnóstico e Terapêutica/ Medical Diagnostic and Therapeutic Technologist

Margarida Apetato

Chefe de Serviço de Dermatologia e Venereologia, Director do Serviço/Chief and Head of Dermatology Department, Serviço de Dermatologia, Centro Hospitalar Lisboa Central – Hospital Santo António dos Capuchos, Lisboa, Portugal
Keywords:
Tinea capitis, Retrospective study, Portugal
Abstract
Introduction: Tinea capitis is the most common fungal infection in children. Recent studies have shown important epidemiological differences in Portugal, particularly with respect to the dermatophytes responsible for tinea capitis.
Methods: Our study aimed to characterize the epidemiology of tinea capitis diagnosed at the Dermatology department of Hospital dos Capuchos between 2008 and 2012, through a retrospective analysis of the results of cultures performed in patients with suspected tinea capitis during this period.
Results: We studied 935 samples with 556 (59.3%) positive cultures. The study population had an average age of 5.4 years and was predominantly male (63.7%) and black (81.3%). We isolated eight species of dermatophytes, and M. audouinii was the dominant specie (57.7%), followed by T. soudanense (28.8%). Infections by M. audouinii and T. soudanense occurred mostly in black patients (80.1% and 53.8%, respectively). In turn, infection by M. canis was more common in caucasians (76.9%).
Conclusion: This study showed a clear predominance of anthropophilic species, with M. audouinii and T.soudanense being responsible for about 87% of tinea capitis. The fact that our patients are mostly of the black race may explain these results, as well as the differences when compared our study to other studies carried out in Portugal.
Downloads
Download data is not yet available.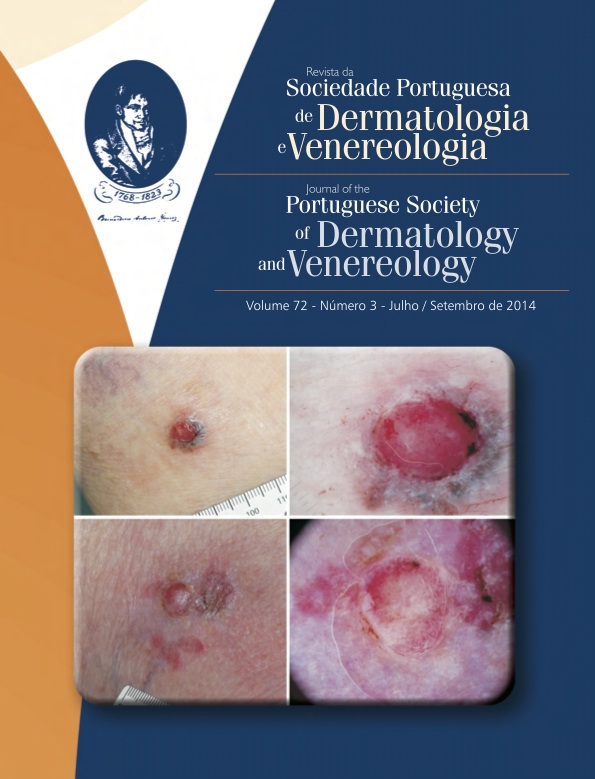 How to Cite
Campos, S., Lestre, S., Galhardas, C., & Apetato, M. (1). TINEA CAPITIS – RETROSPECTIVE STUDY OF FIVE YEARS (2008- 2012) AT HOSPITAL SANTO ANTÓNIO DOS CAPUCHOS. Journal of the Portuguese Society of Dermatology and Venereology, 72(3), 333-340. https://doi.org/10.29021/spdv.72.3.275
Section
Original Articles
All articles in this journal are Open Access under the Creative Commons Attribution-NonCommercial 4.0 International License (CC BY-NC 4.0).