PEDICULE(S) IDENTIFICATION FOR THE TREATMENT OF DIGITAL MUCOUS CYST
João Alves

Interno do 4.º ano da Formação Específica em Dermatovenereologia/Resident, Dermatology and Venereology

Hugo Barreiros

Assistente Hospitalar de Dermatovenereologia/Consultant of Dermatology and Venereology Serviço de Dermatovenereologia, Hospital Garcia de Orta, Almada, Portugal Centro de Dermatologia Epidermis, Instituto CUF, Porto, Portugal
Keywords:
Methylene blue, Cysts, Fingers, Mucus
Abstract
Introduction: Digital mucous cyst is a relatively common lesion with controversial etiopathogenesis. Earlier it was considered a primary cutaneous mucinosis, as a result of a degenerative process, unrelated to the adjacent joint. Currently, it is believed that digital mucous cyst arise as a result of a communication with the distal interphalangeal joint. There are reported several treatments such as puncture, aspiration, drainage, cryotherapy, laser and excision with variable results and potential complications. The objective of this study was to evaluate the efficacy and safety of surgery that includes the identification and suture of the pedicle(s) that connects the digital mucous cyst to the distal interphalangeal joint.
Material and Methods: A 1-year retrospective study (August 2012 - August 2013), including patients with digital mucous cyst treated with identification and suture of the pedicle(s) at the Department of Dermatology and Venereology of Hospital Garcia de Orta was performed.
Results: During this period, 11 patients were submitted to surgery. The mean age was 62 years. The cysts were more often located on the right hand (7). In 2 cases, 2 pedicles were identified simultaneously. In a median follow-up of 16 months, there weren't complications neither relapses.
Conclusions: The results are similar to the reported in the literature, revealing superior cure rates with fewer complications. As disadvantages of this technique, it is pointed the duration of the procedure and the necessary practical experience.
Downloads
Download data is not yet available.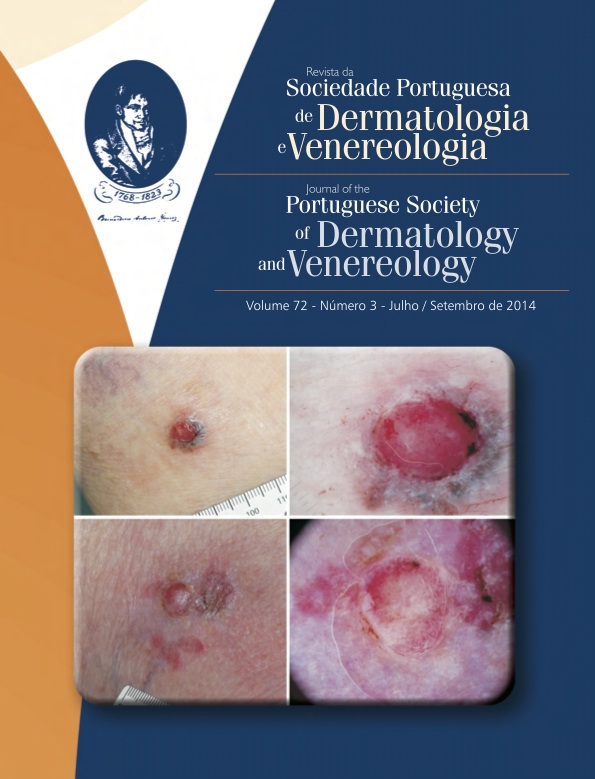 How to Cite
Alves, J., & Barreiros, H. (1). PEDICULE(S) IDENTIFICATION FOR THE TREATMENT OF DIGITAL MUCOUS CYST. Journal of the Portuguese Society of Dermatology and Venereology, 72(3), 365-369. https://doi.org/10.29021/spdv.72.3.280
Section
Surgical Dermatology
All articles in this journal are Open Access under the Creative Commons Attribution-NonCommercial 4.0 International License (CC BY-NC 4.0).