DERMATITIS HERPETIFORMIS IN CHILDREN – A DIAGNOSIS TO KEEP IN MIND
Inês Coutinho

Interna do Internato Complementar de Dermatologia e Venereologia/Resident, Dermatology and Venereology

Mónica Jerónimo

Interna do Internato Complementar de Pediatria do Hospital Pediátrico de Coimbra/Resident, Pediatrics, Hospital Pediátrico de Coimbra

Ana Brinca

Assistente Hospitalar de Dermatologia e Venereologia/Consultant, Dermatology and Venereology

Óscar Tellechea

Professor Doutor em Dermatologia e Venereologia/Professor of Dermatology and Venereology

Ana Moreno

Assistente Hospitalar Graduada de Dermatologia e Venereologia/Consultant, Dermatology and Venereology

Américo Figueiredo

Professor Doutor em Dermatologia e Venereologia/Professor of Dermatology and Venereology; Director do Serviço de Dermatologia e Venereologia do Centro Hospitalar Universitário de Coimbra/Professor of Dermatology and Venereology and Head of the Dermatology Department Centro Hospitalar Universitário de Coimbra, Coimbra, Portugal
Keywords:
Child, Dermatitis herpetiformis, Diet, gluten-free, Celiac disease
Abstract
Introduction: Dermatitis herpetiformis is a chronic, pruritic, polymorphous dermatosis, considered the cutaneous equivalent of coeliac disease. In pediatric patients, differential diagnosis with other more common dermatosis makes this a challenging diagnosis.
Case Report: We present the case of an 8-year old male patient, with polymorphous, pruritic lesions on the extensor surfaces of limbs, evolving for 2 years. Lesional skin biopsy showed neutrophils on the tips of the dermal papillae, and direct immunofluorescence of perilesional skin demonstrated granular deposits of IgA also on the tips of the dermal papillae, establishing the diagnosis of dermatitis herpetiformis. Subsequent studies confirmed the association to celiac disease and the adoption of a gluten-free diet led to the clinical resolution of both cutaneous lesions and enteropathy.
Downloads
Download data is not yet available.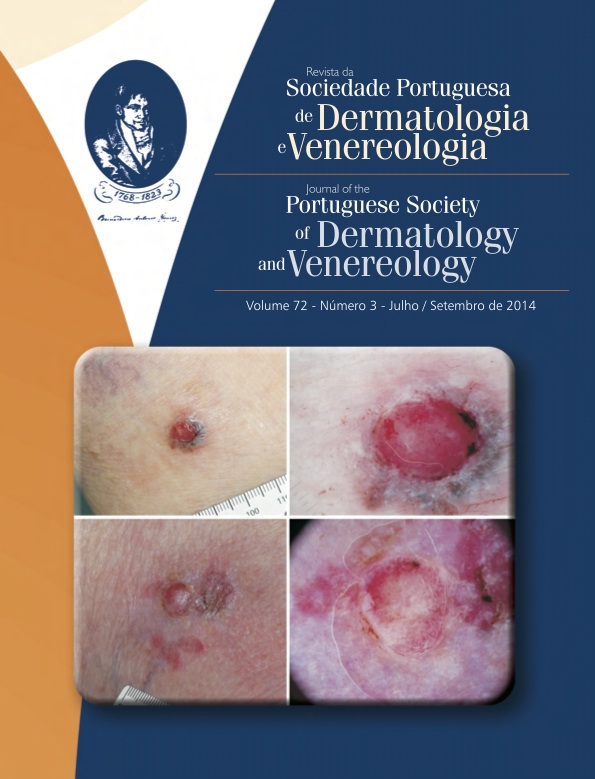 How to Cite
Coutinho, I., Jerónimo, M., Brinca, A., Tellechea, Óscar, Moreno, A., & Figueiredo, A. (1). DERMATITIS HERPETIFORMIS IN CHILDREN – A DIAGNOSIS TO KEEP IN MIND. Journal of the Portuguese Society of Dermatology and Venereology, 72(3), 371-375. https://doi.org/10.29021/spdv.72.3.281
All articles in this journal are Open Access under the Creative Commons Attribution-NonCommercial 4.0 International License (CC BY-NC 4.0).