SQUAMOUS CELL CARCINOMA OF THE SCROTUM
Vera Teixeira

Interna do Internato Complementar de Dermatologia e Venereologia/Resident, Dermatology and Venereology

Inês Coutinho

Interna do Internato Complementar de Dermatologia e Venereologia/Resident, Dermatology and Venereology

Maria Manuel Brites

Assistente Hospitalar de Dermatologia e Venereologia/Consultant, Dermatology and Venereology

Ricardo Vieira

Assistente Hospitalar de Dermatologia e Venereologia/Consultant, Dermatology and Venereology

Óscar Tellechea

Professor Doutor e Director do Serviço de Dermatologia e Venereologia do Centro Hospitalar Universitário de Coimbra/Professor of Dermatology and Venereology and Head of the Dermatology Department

Américo Figueiredo

Professor Doutor e Director do Serviço de Dermatologia e Venereologia do Centro Hospitalar Universitário de Coimbra/Professor of Dermatology and Venereology and Head of the Dermatology Department Director do Serviço de Dermatologia e Venereologia do Centro Hospitalar Universitário de Coimbra/Professor of Dermatology and Venereology and Head of the Dermatology Department
Keywords:
Carcinoma, squamous cell, Genital neoplasms, male, Scrotum
Abstract
Introduction: Squamous cell carcinoma of the scrotum is a rare tumour. It was the first cancer directly linked to occupational exposure to carcinogens (polycyclic aromatic hydrocarbons).
Clinical Case: A 59-year old man was referred with a one year history of a painful scrotal ulcer, 8 cm in diameter, associated with genital lymphedema. Histological examination confirmed the diagnosis of squamous cell carcinoma. The extent of the tumor and the patient's general condition did not allow any therapeutic approach, and death occurred 18 months after the first symptoms.
Downloads
Download data is not yet available.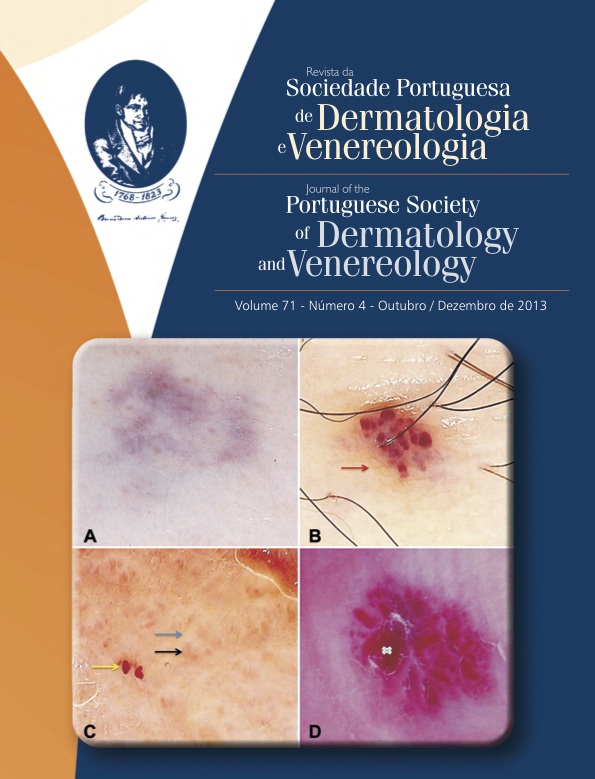 How to Cite
Teixeira, V., Coutinho, I., Brites, M. M., Vieira, R., Tellechea, Óscar, & Figueiredo, A. (1). SQUAMOUS CELL CARCINOMA OF THE SCROTUM. Journal of the Portuguese Society of Dermatology and Venereology, 71(4), 547-549. https://doi.org/10.29021/spdv.71.4.219
All articles in this journal are Open Access under the Creative Commons Attribution-NonCommercial 4.0 International License (CC BY-NC 4.0).