DERMATOFIBROSARCOMA PROTUBERANS IN PEDIATRIC AGE
Victoria Guiote

Assistente Hospitalar de Dermatologia e Venereologia/Consultant, Dermatology and Venereology, Serviço de Dermatologia do Centro Hospitalar Leiria, Portugal

Ricardo Vieira

Assistente Hospitalar de Dermatologia/Consultant, Dermatology and Venereology, Centro Hospitalar e Universitário de Coimbra, Portugal

Fernanda Cunha

Assistente Graduada de Anatomia Patológica/Graduated Consultant, Pathology, Centro Hospitalar Leiria, Portugal
Keywords:
Dermatofibrosarcoma, Skin neoplasms, child, Imatinib, mesylate
Abstract
Dermatofibrosarcoma protuberans is a rare fibrohistiocytic tumor with frequent locoregional recurrences and a low metastatic ability. Only 6% of dermatofibrosarcoma protuberans are diagnosed in children. The gold standard treatment is the surgical excision and the lower recurrence rates are observed with wide surgical margins (2,5cm) or with margin control by Mohs micrographic surgery. The authors report the case of a female 8-year-old child with a dermatofibrosarcoma protuberans of the abdominal wall. The tumor was excised with wide margins with a good outcome after a 12-month follow-up. The typical features of this tumor in children and the main differential diagnoses were pointed out.
Downloads
Download data is not yet available.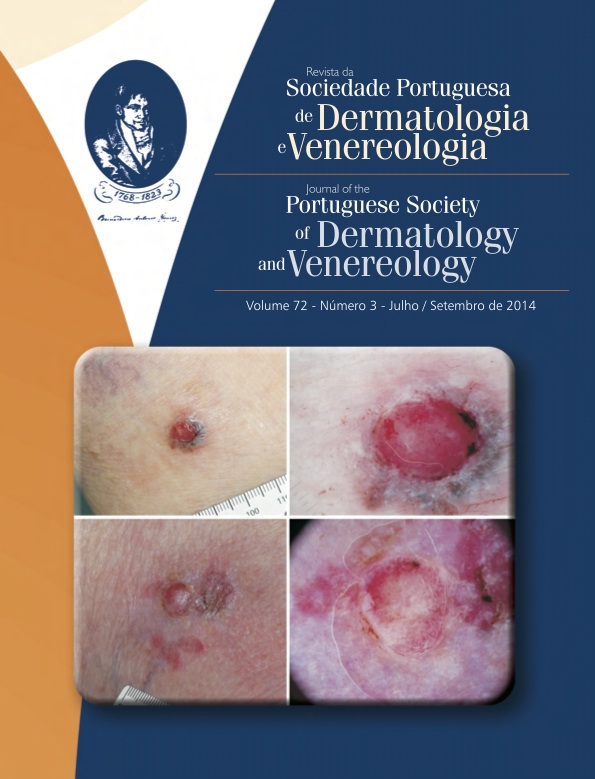 How to Cite
Guiote, V., Vieira, R., & Cunha, F. (1). DERMATOFIBROSARCOMA PROTUBERANS IN PEDIATRIC AGE. Journal of the Portuguese Society of Dermatology and Venereology, 72(3), 377-381. https://doi.org/10.29021/spdv.72.3.282
All articles in this journal are Open Access under the Creative Commons Attribution-NonCommercial 4.0 International License (CC BY-NC 4.0).