ECCRINE ANGIOMATOUS HAMARTOMA
António Fernandes Massa

Interno do Internato de Dermatovenereologia/Resident, Dermatology and Venereology

Manuel Campos

Interno do Internato de Dermatovenereologia/Resident, Dermatology and Venereology

Armando Baptista

Director de Serviço, Serviço de Dermatologia/Chief of Dermatology and Head of the Dermatology Department

David Tente

Assistente Hospitalar, Serviço de Anatomia-Patológica/Consultant of Pathology

Eduarda Osório Ferreira

Assistente Hospitalar Graduado, Serviço de Dermatologia/Graduated Consultant of Dermatology and Venereology Centro Hospitalar V.N.Gaia/Espinho, EPE, Vila Nova de Gaia, Portugal
Keywords:
Hamartoma, Sweat gland diseases
Abstract
Eccrine angiomatous hamartoma is a rare, benign malformation, of unknown aetiology, histologically characterized by capillary and eccrine glandular proliferation. It begins more frequently at birth or during childhood, presenting with a patch, plaque or nodule growing proportionally to the child's growth. It can present with hyperhidrosis, hypertrichosis and pain. We report the case of a 3-year-old boy who was referred by 3 lightly brownish hyperpigmented patches, with more than 20cm long each, irregular borders, hypertrichosis, at the left thoracolumbar region. At friction, lesions became more vivid, with an evolution from 6 month-old with hyperhidrosis. The biopsy confirmed eccrine angiomatous hamartoma diagnosis. Due to the lesion's benign nature and subtle symptomatology it was decided not to perform any treatment. Eccrine angiomatous hamartoma is a rare entity and this case, to the best of our knowledge, is the biggest one described until now.
Downloads
Download data is not yet available.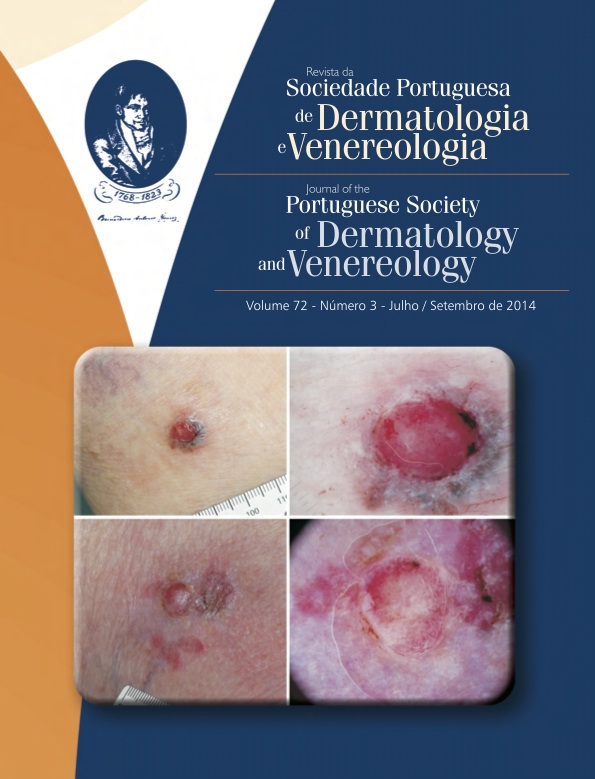 How to Cite
Massa, A. F., Campos, M., Baptista, A., Tente, D., & Ferreira, E. O. (1). ECCRINE ANGIOMATOUS HAMARTOMA. Journal of the Portuguese Society of Dermatology and Venereology, 72(3), 383-386. https://doi.org/10.29021/spdv.72.3.283
All articles in this journal are Open Access under the Creative Commons Attribution-NonCommercial 4.0 International License (CC BY-NC 4.0).