PYODERMA GANGRENOSUM ASSOCIATED WITH CHRONIC HEPATITIS C SUCCESSFULLY TREATED WITH ETANERCEPT
Ermelindo Tavares

Interno do Internato Complementar de Dermatologia e Venereologia/Resident, Dermatology and Venereology

José Alberto Dores

Assistente Graduado de Dermatologia e Venereologia/ Graduated Consultant, Dermatology and Venereology Serviço de Dermatologia e Venereologia/Department of Dermatology and Venereology, Hospital Distrital de Santarém, Portugal

João Aranha

Assistente Graduado de Dermatologia e Venereologia/ Graduated Consultant, Dermatology and Venereology Serviço de Dermatologia e Venereologia/Department of Dermatology and Venereology, Hospital Distrital de Santarém, Portugal
Abstract
Introduction: Pyoderma gangrenosum (PG) is an idiopathic, recurrent, neutrophilic and ulcerative skin disease.
Case report: A 43-year-old man with chronic hepatitis C and drugs addiction in the past presented with a 6-months history of painful, violaceus, suppurative and necrotic ulcers on his lower extremities and any skin area inju- red by needle stick. PG was the main diagnosis proposed. Histological examination of the lesion edge demonstrated microscopic changes compatible with PG. Laboratory and radiological evaluation findings were compatible with his chronic liver disease. The patient was treated, in different moments, with systemic steroids, cyclosporine, dapsone, and thalidomide, with no satisfactory response. A complete remission was achieved with etanercept. Twelve months later, there were no signals of skin lesions, relevant hepatic damages or increase in viral load.
Conclusion: Etanercept was a safe and effective therapeutic option.
KEYWORDS – Pyoderma Gangrenosum; Hepatitis C, Chronic; Thalidomide; Glucocorticoids; Receptors, Tumor Necro- sis Factor; Immunoglobulin G.
Downloads
Download data is not yet available.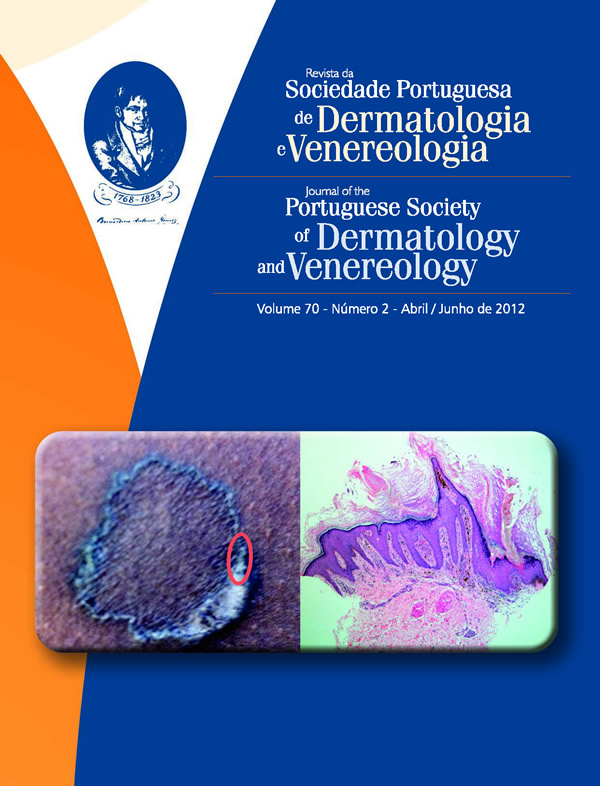 How to Cite
Tavares, E., Dores, J. A., & Aranha, J. (2013). PYODERMA GANGRENOSUM ASSOCIATED WITH CHRONIC HEPATITIS C SUCCESSFULLY TREATED WITH ETANERCEPT. Journal of the Portuguese Society of Dermatology and Venereology, 70(2), 215. https://doi.org/10.29021/spdv.70.2.29
All articles in this journal are Open Access under the Creative Commons Attribution-NonCommercial 4.0 International License (CC BY-NC 4.0).