SCROTAL GIANT POLYPOID BASAL CELL CARCINOMA
Joana Parente

Interna do Internato Complementar de Dermatologia e Venereologia/Resident, Dermatology and Venereology

Ermelindo Tavares

Interno do Internato Complementar de Dermatologia e Venereologia/Resident, Dermatology and Venereology

José Alberto Dores

Assistente Hospitalar Graduado de Dermatologia e Venereologia/Graduated Consultant, Dermatology and Venereology

João Aranha

Assistente Hospitalar Graduado de Dermatologia e Venereologia/Graduated Consultant, Dermatology and Venereology

Maria de São José Marques

Director de Serviço de Dermatologia e Venereologia/Head of Dermatology Department

Helena Gomes

Assistente Hospitalar Graduada de Urologia/ Graduated Consultant, Urology Department Serviços de Dermatologia e Venereologia e Urologia, Hospital Distrital de Santarém EPE, Portugal
Abstract
Basal cell carcinomas arising on the genitalia and over 5 cm in size are exceedingly rare.
We report a case of a 60-year-old man with a lesion on the scrotum which had been slowly enlarging over the previous year. On examination he had an erythematous plaque 6.0x5.0cm in size with a pedunculated nodule. We performed an incisional biopsy. The histopathological diagnosis was basal cell carcinoma. The tumor was surgically removed.
This is the second reported polypoid basal cell carcinoma occurring on the scrotum but the first scrotal giant polypoid basal cell carcinoma.
KEYWORDS – Carcinoma, Basal Cell; Genital Neoplasms, Male; Scrotum; Skin Neoplasms.

Downloads
Download data is not yet available.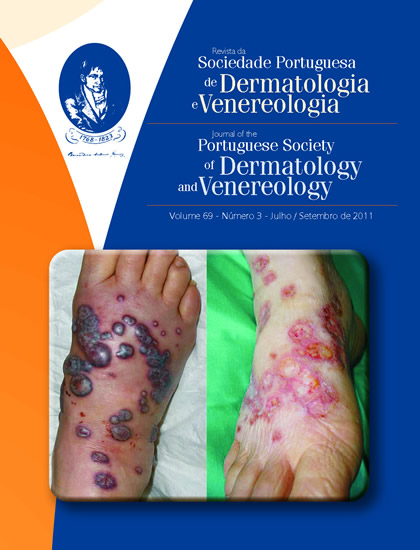 How to Cite
Parente, J., Tavares, E., Dores, J. A., Aranha, J., Marques, M. de S. J., & Gomes, H. (2011). SCROTAL GIANT POLYPOID BASAL CELL CARCINOMA. Journal of the Portuguese Society of Dermatology and Venereology, 69(3), 475. https://doi.org/10.29021/spdv.69.3.87
All articles in this journal are Open Access and meet the requirements of funding bodies or academic institutions. Each article published in the Journal is published under the Creative Commons Attribution-NonCommercial-NoDerivatives 4.0 International License (CC BY-NC-ND 4.0). Articles can be read, downloaded, printed, and shared.
Submission of an article for publication implies the authors' consent to publication under the applicable Creative Commons license and the terms and conditions of the Publisher's Licensing Agreement.
It is the author's responsibility to obtain permission to reproduce illustrations, tables, etc. from other publications.
Upon acceptance of an article, authors will be asked to complete a 'Journal Publishing Agreement'. An e-mail will be sent to the corresponding author confirming receipt of the manuscript together with a 'Journal Publishing Agreement' form or a link to the online version of this agreement.
Author rights: As an author you (or your employer or institution) have certain rights to reuse your work.
The Journal reserves the right to use plagiarism detection software on any submitted material.