DRUG ALLERGY WITH CUTANEOUS MANIFESTATIONS - DIAGNOSTIC APPROACH
João Antunes

Serviço de Imunoalergologia, Hospital de Dona Estefânia - Centro Hospitalar de Lisboa Central

Susana Brás

Serviço de Dermatologia e Venereologia - Hospital de Curry Cabral - Centro Hospitalar de Lisboa Central

Sara Prates

Serviço de Imunoalergologia - Hospital de Dona Estefânia - Centro Hospitalar de Lisboa Central

Cristina Amaro

Serviço de Dermatologia e Venereologia, Hospital de Curry Cabral - Centro Hospitalar de Lisboa Central

Paula Leiria-Pinto

Serviço de Imunoalergologia, Hospital de Dona Estefânia - Centro Hospitalar de Lisboa Central
Abstract
Adverse drug reactions constitute a major health problem in clinical practice. Drug allergy is defined as an immunologically mediated hypersensitivity reaction and represents 6-10% of all adverse drug reactions. Cli- nically, drug-induced allergic reactions can be classified as immediate (type I) and non-immediate (heterogeneous clinical manifestations, mostly related to type IV reactions). Several issues are considered in this revision, particularly immunopathologic mechanisms, cross-reactivity and the most relevant cutaneous reactions (maculopapular exanthe- ma, fixed drug eruption, acute generalized exanthematic pustulosis, drug hypersensitivity syndrome, also referred as drug rash with eosinophilia and systemic symptoms – DRESS, Stevens-Johnson syndrome and toxic epidermal necrolysis). The role of skin tests (epicutaneous or intradermal with late reading) in the diagnostic approach of non- -immediate reactions is also analysed. The most important causes of hypersensitivity reactions are antibiotics, parti- cularly beta-lactams. This group poses significant diagnostic and management difficulties and deserves, therefore, a more thorough attention, with particular attention to cross-reactivity patterns. Induction of drug tolerance should be considered in selected cases, especially when no safe or effective drug alternatives are available.
KEYWORDS – Drug hypersensitivity; Beta-Lactams; Cross reactions; Skin Tests.
Downloads
Download data is not yet available.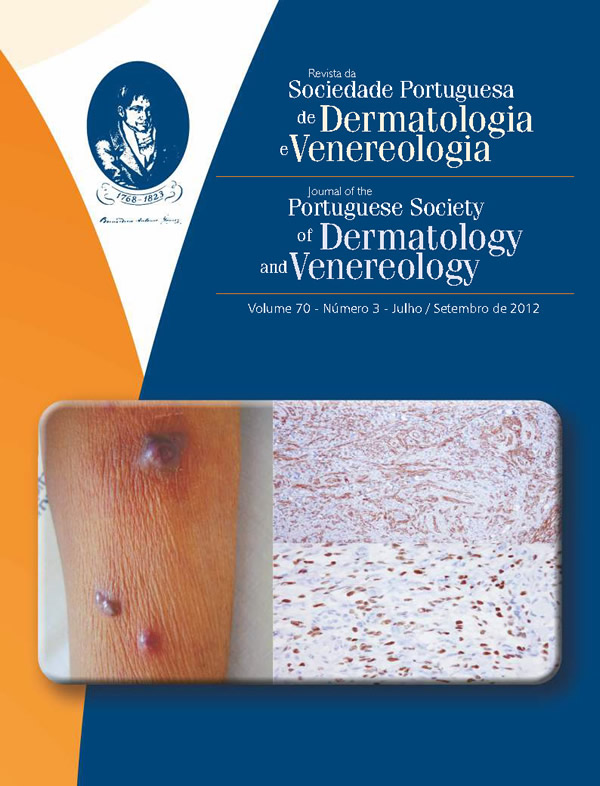 How to Cite
Antunes, J., Brás, S., Prates, S., Amaro, C., & Leiria-Pinto, P. (2013). DRUG ALLERGY WITH CUTANEOUS MANIFESTATIONS - DIAGNOSTIC APPROACH. Journal of the Portuguese Society of Dermatology and Venereology, 70(3), 277. https://doi.org/10.29021/spdv.70.3.3
Section
Continuous Medical Education
All articles in this journal are Open Access under the Creative Commons Attribution-NonCommercial 4.0 International License (CC BY-NC 4.0).