NON-HERLITZ JUNCTIONAL EPIDERMOLYSIS BULLOSA - THE IMPORTANCE OF PRENATAL DIAGNOSIS
Leonor Lopes

Interna do Internato Complementar de Dermatologia/Resident, Dermatology and Venereology, Serviço de Dermatologia e Venereologia, Centro Hospitalar Lisboa Norte, Portugal; Professor Doutor do Serviço de Dermatologia e Venereologia/Professor of Dermatology and Venereology, Serviço de Dermatologia e Venereologia do Centro Hospitalar Lisboa Norte/Dermatology and Venereology Department of Centro Hospitalar Lisboa Norte, Portugal

Paulo Leal Filipe

Professor Doutor do Serviço de Dermatologia e Venereologia/Professor of Dermatology and Venereology, Serviço de Dermatologia e Venereologia do Centro Hospitalar Lisboa Norte/Dermatology and Venereology Department of Centro Hospitalar Lisboa Norte, Portugal

Ana Berta Sousa

Serviço de Genética do Centro Hospitalar Lisboa Norte/Genetics Department of Centro Hospitalar Lisboa Norte, Portugal

Maria João Lages

Serviço de Neonatologia do Hospital Dona Estefânia/Neonatology Department of Dona Estefânia Hospital, Lisboa, Portugal

Fernanda Dinis

Serviço de Pediatria do Centro Hospitalar do Divino Espírito Santo/Pediatric Department of Hospital do Espírito Santo, Évora, Portugal

Carolina Gouveia

Professor Doutor do Serviço de Dermatologia e Venereologia/Professor of Dermatology and Venereology, Serviço de Dermatologia e Venereologia do Centro Hospitalar Lisboa Norte/Dermatology and Venereology Department of Centro Hospitalar Lisboa Norte, Portugal
Keywords:
Epidermolysis bullosa, junctional, Infant, Prenatal diagnosis
Abstract
Junctional epidermolysis bullosa is a group of inherited blistering diseases characterized by increased skin fragility, blisters and erosions after minor trauma, due to tissue cleavage at the dermal-epidermal junction. We report the case of a male Caucasian infant, born with erosions and tense blisters on the hands, abdomen and scalp. Immunoflurescence antigen mapping revealed paucity of collagen XVII immunolabelling, compatible with the diagnosis of non-Herlitz junctional epidermolysis bullosa. Molecular analysis of the COL17A1 gene revealed compound heterozygosity for two frameshift mutations. Family history was positive for a brother with a bullous dermatosis, who died from sepsis on the 3rd week of life without a definitive diagnosis that could enable precise risk estimation and prenatal diagnosis. We emphasize the importance of rapid referral to specialized centers, to provide early accurate diagnosis, adequate clinical management and prenatal diagnosis in subsequent pregnancies.
Downloads
Download data is not yet available.
References
Murrell DF. Dermatologic Clinics: Epidermolysis Bullosa: Part I – Pathogenesis and clinical features. Dermatol Clin. 2010; 28(2):1-190.
Fine JD, Bruckner-Tuderman L, Eady RA, Bauer EA, Bauer JW, Has C, et al. Inherited epidermolysis bullosa: updated recommendations on diagnosis and classification. J Am Acad Dermatol. 2014;70(6):1103-26.
Christiano AM, LaForgia S, Paller AS, McGuire J, Shimizu H, Uitto J. Prenatal diagnosis for recessive dystrophic epidermolysis bullosa in 10 families by mutation and haplotype analysis I type VII collagen gene (COL7A1). Mol Med. 1996; 2(1):59-76.
Christiano AM, Pulkkinen L, Mcgrath JA, Uitto J. Mutation-based prenatal diagnosis of herlitz junctional epidermolysis bullosa. Prenat Diagn. 1997;17(4):343-54.
Ruzzi L, Pas H, Posteraro P, Mazzanti C, Didona B, Owaribe K. A homozygous nonsense mutation in type XVII collagen gene (COL17A1) uncovers na alternatively spliced mRNA accounting for na unusually mild form of non-herlitz junctional epidermolysis bullosa. J Invest Dermatol. 2001;116:182-7.
Fine JD. Inherited epidermolysis bullosa. Orphanet J Rare Dis. 2010, 5:12.
Nessa L, Azam U, Mazumder PS, Akhter S. Junctional Epidermolysis Bullosa: A Case Report. Bangladesh J Child Health. 2013; 37(3): 175-9.
Pasmooij A, Nijenhuis M, Brander R, Jonkman M. Natural Gene Therapy May Occur in All Patients with Generalized Non-Herlitz Junctional Epidermolysis Bullosa with COL17A1 Mutations. Invest Dermatol. 2012; 132:1374-83.
Darling T, Yee C, Bauer J, Hintner H. Revertant mosaicism: partial correction of a germ-line mutation in COL17A1 by a frame-restoring mutation. J Clin Invest. 1999; 103:1371-7.
Murrell DF. Dermatologic Clinics. Epidermolysis bullosa: Part II – Diagnosis and management; Dermatol Clin. 2010r; 28(2):319-24.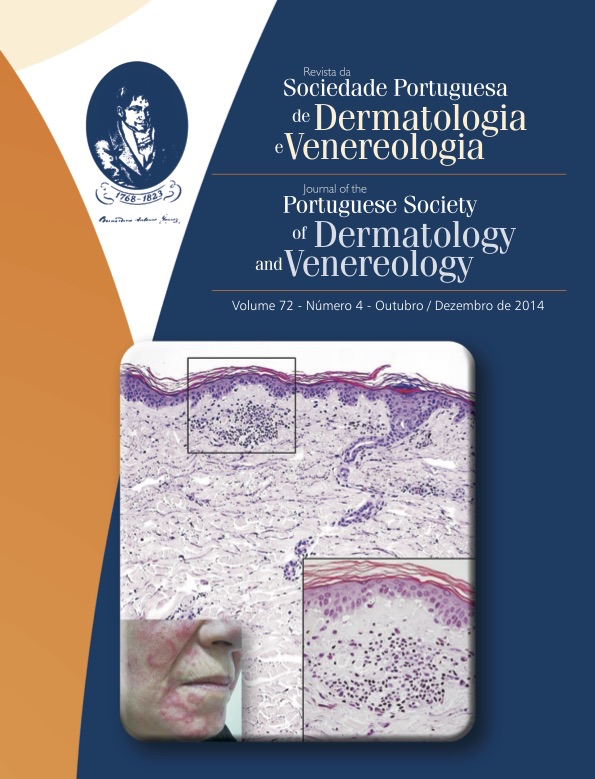 How to Cite
Lopes, L., Leal Filipe, P., Sousa, A. B., Lages, M. J., Dinis, F., & Gouveia, C. (1). NON-HERLITZ JUNCTIONAL EPIDERMOLYSIS BULLOSA - THE IMPORTANCE OF PRENATAL DIAGNOSIS. Journal of the Portuguese Society of Dermatology and Venereology, 72(4), 553-557. https://doi.org/10.29021/spdv.72.4.327
All articles in this journal are Open Access under the Creative Commons Attribution-NonCommercial 4.0 International License (CC BY-NC 4.0).