UREMIC CALCIPHYLAXIS UNDER THE CALCIMIMETIC CINACALCET
Leonor Ramos

Interna do Internato Complementar de Dermatologia/Resident, Dermatology and Venereology, Serviço de Dermatologia e Venereologia, Centro Hospitalar e Universitário de Coimbra – HUC, Portugal

I. Coutinho

Interna do Internato Complementar de Dermatologia/Resident, Dermatology and Venereology, Serviço de Dermatologia e Venereologia, Centro Hospitalar e Universitário de Coimbra – HUC, Portugal

L. Linhares

Interno de Medicina Interna/Resident, Internal Medicine, Serviço de Medicina Interna, Centro Hospitalar e Universitário de Coimbra – HG, Portugal

M. M. Brites

Assistente Hospitalar de Dermatologia e Venereologia/Consultant of Dermatology and Venereology, Serviço de Dermatologia e Venereologia, Centro Hospitalar e Universitário de Coimbra – HUC, Portugal

José Carlos Cardoso

Assistente Hospitalar de Dermatologia e Venereologia/Consultant of Dermatology and Venereology, Serviço de Dermatologia e Venereologia, Centro Hospitalar e Universitário de Coimbra – HUC, Portugal

Óscar Tellechea

Chefe de Serviço, Professor Auxiliar da FMUC/Consultant Chief, Professor of Dermatology and Venereology, Serviço de Dermatologia e Venereologia, Centro Hospitalar e Universitário de Coimbra – HUC, Faculdade de Medicina, Universidade de Coimbra Portugal

Margarida Gonçalo

Chefe de Serviço; Assistente Convidada/Consultant Chief, Invited Professor of Dermatology and Venereology, Serviço de Dermatologia e Venereologia, Centro Hospitalar e Universitário de Coimbra – HUC, Faculdade de Medicina, Universidade de Coimbra Portugal
Keywords:
Calciphylaxis, Cinacalcet, Hyperparathyroidism
Abstract
Uremic calciphylaxis is a rare but serious complication of dialysis patients. Its pathogenesis is not completely understood, although many risk factors have been identified, such as hyperparathyroidism. Cinacalcet (a calcimimetic agent) is used to keep calcium, phosphorus and PTH within the normal range. A 72-year old female patient, under hemodialysis for 15 years with hyperphosphatemia, normocalcemia and hyperparathyroidism despite therapy with cinacalcet and sevelamer, presented with several painful ulcerated lesions of the right leg, with a geographical configuration, central necrotic surface and hemorrhagic borders that progressed for 6 weeks. Cutaneous biopsy revealed vascular deposits of calcium in deep dermal and hypodermal vessels, confirming the clinical diagnosis of calciphylaxis. The necrotic borders of the ulcer improved when cinacalcet and sevelamer were administered in maximum doses. However, the patient passed away in consequence of comorbidities. We report a case in which cinacalcet was ineffective in controlling the phosphate and calcium abnormalities in an hemodialysis patient and, consequently, his cutaneous lesions.
Downloads
Download data is not yet available.
References
Fairley JA. Calcifying and ossifying disorders of the skin. In: Bolognia JL, Jorizzo JL, Rapini RP, editors. Dermatology 2nd ed. Philadelphia: Mosby Elsevier;2008.p. 653-9.
Pallure V, Comte C, Leray-Mouragues H, Dereure O. Cinacalcet as first-line treatment for calciphylaxis. Acta DermVenereol. 2008; 88:62-3.
Nunley J, Khjan S, Vinson R, Meffert J , Gelfand J, Elston D Calcyphylaxis. Medscape. 2013. [consultado em 16 Julho 2014]. Disponível em http://emedicine.medscape.com/article/1095481-overview.
Mohammed I, Sekar V, Bubtana A, Mitra S, Hutchison A. Proximal calciphylaxis treated with calcimimetic "cinacalcet". Nephrol Dial Transplant. 2008;(23):387-9.
Velasco N, MacGregor M, Innes A, MacKay I. Successful treatment of calciphylaxis with cinacalcet – an alternative to parathyroidectomy? Nephrol Dial Transplant. 2006; 21:1994-2004.
Robinson M, Augustine J, Korman N. Cinacalcet for the treatment of calciphylaxis. Arch Dermatol. 2007; 143(2):152-4.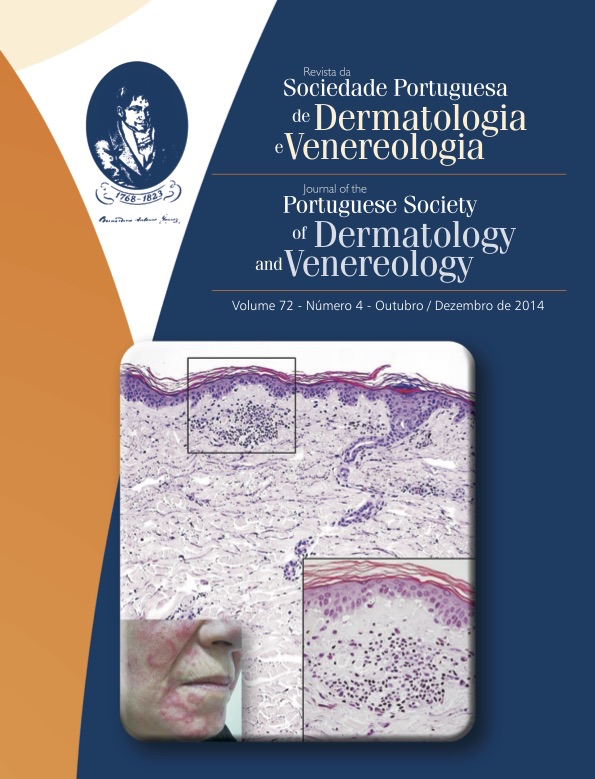 How to Cite
Ramos, L., Coutinho, I., Linhares, L., Brites, M. M., Cardoso, J. C., Tellechea, Óscar, & Gonçalo, M. (1). UREMIC CALCIPHYLAXIS UNDER THE CALCIMIMETIC CINACALCET. Journal of the Portuguese Society of Dermatology and Venereology, 72(4), 559-563. https://doi.org/10.29021/spdv.72.4.328
All articles in this journal are Open Access and meet the requirements of funding bodies or academic institutions. Each article published in the Journal is published under the Creative Commons Attribution-NonCommercial-NoDerivatives 4.0 International License (CC BY-NC-ND 4.0). Articles can be read, downloaded, printed, and shared.
Submission of an article for publication implies the authors' consent to publication under the applicable Creative Commons license and the terms and conditions of the Publisher's Licensing Agreement.
It is the author's responsibility to obtain permission to reproduce illustrations, tables, etc. from other publications.
Upon acceptance of an article, authors will be asked to complete a 'Journal Publishing Agreement'. An e-mail will be sent to the corresponding author confirming receipt of the manuscript together with a 'Journal Publishing Agreement' form or a link to the online version of this agreement.
Author rights: As an author you (or your employer or institution) have certain rights to reuse your work.
The Journal reserves the right to use plagiarism detection software on any submitted material.