PRIMARY CUTANEOUS INFECTION WITH SCEDOSPORIUM APIOSPERMUM IN AN IMMUNOCOMPROMISED PATIENT SUCCESSFULLY TREATED WITH VORICONAZOLE
Ana Isabel Gouveia

Interna da Formação Específica em Dermatovenereologia/Resident, Dermatology and Venereology Clínica Universitária de Dermatologia, Hospital de Santa Maria, Lisboa

Leonor Lopes

Interna da Formação Específica em Dermatovenereologia/Resident, Dermatology and Venereology Clínica Universitária de Dermatologia, Hospital de Santa Maria, Lisboa

M. Gomes

Serviço de Medicina I B, Hospital de Santa Maria, Lisboa

Luís Soares de Almeida

Professor Doutor do Serviço de Dermatologia e Venereologia/Professor of Dermatology and Venereology, Clínica Universitária de Dermatologia, Hospital de Santa Maria, Lisboa; Instituto de Medicina Molecular, Faculdade de Medicina da Universidade de Lisboa Serviço de Dermatovenereologia, Centro Hospitalar de Lisboa Norte – Hospital de Santa Maria, Lisboa, Portugal

Paulo Filipe

Professor Doutor do Serviço de Dermatologia e Venereologia/Professor of Dermatology and Venereology, Clínica Universitária de Dermatologia, Hospital de Santa Maria, Lisboa; Instituto de Medicina Molecular, Faculdade de Medicina da Universidade de Lisboa Serviço de Dermatovenereologia, Centro Hospitalar de Lisboa Norte – Hospital de Santa Maria, Lisboa, Portugal
Keywords:
Antifungal agents, Opportunistic infections, Scedosporium skin diseases, Infectious
Abstract
During the last decades, the incidence of opportunistic fungal infections has been increasing, namely in the context of immunosuppression. The Scedosporium apiospermum is a ubiquitous filamentous fungus in soil, decaying vegetation, sewers and polluted waters. Can cause infections in immunocompetent patients after trauma and severe and potentially fatal infections in immunocompromised patients. The authors describe a case of an infection by S. apiospermum on the dorsum of the left foot of a patient under prolonged systemic corticosteroid therapy combined with methotrexate due to the diagnosis of giant cell arteritis. Treatment of these infections can be a challenge due to the inherent resistance to many of the available systemic antifungal agents, including amphotericin B. In the case described, therapy with voriconazole was performed, with complete resolution of the lesions.
Downloads
Download data is not yet available.
References
Cortez KJ, Roilides E, Quiroz-Telles F, Meletiadis J, Antachopoulos C, Knudsen T, et al. Infections caused by Scedosporium spp. Clin Microbiol Rev. 2008; 21(1):157-97.
Chaveiro MA, Vieira R, Cardoso J, Afonso A. Cutaneous infection due to Scedosporium apiospermum in an immunosuppressed patient. J Eur Acad Dermatol Venereol. 2003; 17(1):47-9.
Uenotsuchi T, Moroi Y, Urabe K, Tsuji G, Koga T, Matsuda T, et al. Cutaneous Scedosporium apiospermum infection in an immunocompromised patient and a review of the literature. Acta Derm Venereol. 2005; 85(2):156-9.
Shinohara MM, George E. Scedosporium apiospermum: an emerging opportunistic pathogen that must be distinguished from Aspergillus and other hyalohyphomycetes. J Cutan Pathol. 2009; 36 Suppl 1:39-41.
Troke P, Aguirrebengoa K, Arteaga C, Ellis D, Heath CH, Global Scedosporium Study Group, et al. Treatment of scedosporiosis with voriconazole: clinical experience with 107 patients. Antimicrob Agents Chemother. 2008; 52(5):1743-50.
Stur-Hofmann K, Stos S, Saxa-Enenkel M, Rappersberger K. Primary cutaneous infection with Scedosporium apiospermum successfully treated with voriconazole. Mycoses. 2011; 54(4):e201-4.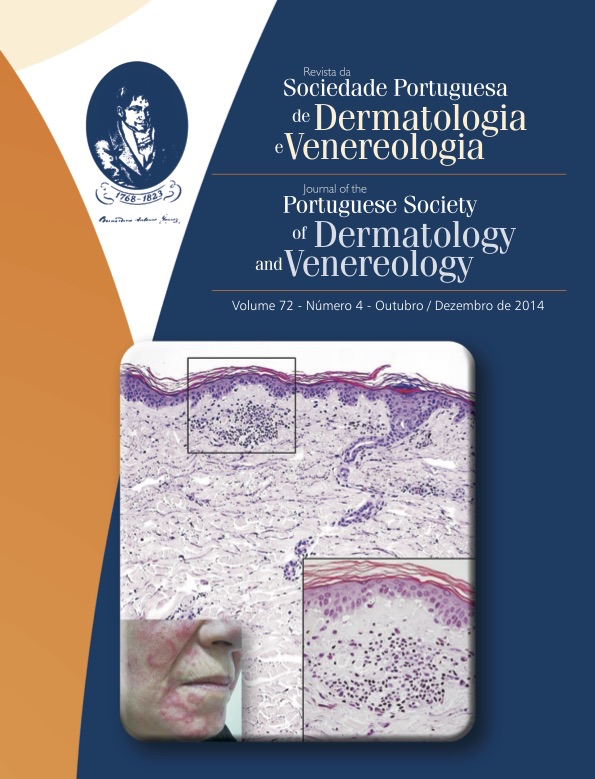 How to Cite
Gouveia, A. I., Lopes, L., Gomes, M., Soares de Almeida, L., & Filipe, P. (1). PRIMARY CUTANEOUS INFECTION WITH SCEDOSPORIUM APIOSPERMUM IN AN IMMUNOCOMPROMISED PATIENT SUCCESSFULLY TREATED WITH VORICONAZOLE. Journal of the Portuguese Society of Dermatology and Venereology, 72(4), 579-582. https://doi.org/10.29021/spdv.72.4.332
All articles in this journal are Open Access under the Creative Commons Attribution-NonCommercial 4.0 International License (CC BY-NC 4.0).