BREAST ANGIOSSARCOMA AFTER RADIOTHERAPY
Leonor Ramos

Interna da Formação Específica em Dermatovenereologia/Resident, Dermatology and Venereology, Serviço de Dermatologia e Venereologia do Centro Hospitalar e Universitário de Coimbra, Centro Hospitalar Universitário de Coimbra/Coimbra University, Portugal

Pedro Simões

Interno de Ortopedia e Traumatologia/Resident, Orthopaedics and Traumatology Department, Serviço de Ortopedia e Traumatologia do Centro Hospitalar e Universitário de Coimbra, Centro Hospitalar Universitário de Coimbra/Coimbra University, Portugal

Miguel Gouveia

Interno da Formação Específica em Dermatovenereologia/Resident, Dermatology and Venereology, Serviço de Dermatologia e Venereologia do Centro Hospitalar e Universitário de Coimbra, Centro Hospitalar Universitário de Coimbra/Coimbra University, Portugal

Neide Pereira

Assistente de Dermatovenereologia /Consultant of Dermatology and Venereology, Serviço de Dermatologia e Venereologia do Centro Hospitalar e Universitário de Coimbra, Centro Hospitalar Universitário de Coimbra/Coimbra University, Portugal

José Carlos Cardoso

Assistente de Dermatovenereologia /Consultant of Dermatology and Venereology, Serviço de Dermatologia e Venereologia do Centro Hospitalar e Universitário de Coimbra, Centro Hospitalar Universitário de Coimbra/Coimbra University, Portugal

Américo Figueiredo

Director do Serviço de Dermatologia e Venereologia do Centro Hospitalar Universitário de Coimbra/Professor of Dermatology and Venereology and Head of the Dermatology Department, Faculdade de Medicina da Universidade de Coimbra, Centro Hospitalar Universitário de Coimbra/Coimbra University, Portugal
Keywords:
Breast neoplasms, Hemangiosarcoma, Radiotherapy
Abstract
Breast angiosarcoma is a rare tumor that can be divided in 3 groups: primary, secondary to chronic lymphoedema and secondary to radiotherapy (RT). It has a poor prognosis and a bad response to surgery and chemotherapy (QT). A female patient was observed with a very indurated erythematous-violaceous plaque, with an ecchymotic halo that occupied the right breast, and was evolving for 8 months. The patient had history of breast cancer, treated with surgery (tumourectomy) and local RT 5 years before. The incisional biopsy showed a vascular proliferation, arranged in nodules but also with diffuse growing, with cytological atypia and strong expression of CD31, CD34 and factor VIII, consistent with post-RT angiosarcoma. The patient begun RT and QT, but had no significant clinical response. She is now waiting for approval to begin pazopanib.
Downloads
Download data is not yet available.
References
Tahir M, Hendry P, Baird L, Qureshi NA, Ritchie D, Whitford P. Radiation induced angiosarcoma a sequela of radiotherapy for breast cancer following conservative surgery. Int Semin Surg Oncol. 2006;3:26-9.
Moe M, Bertelli G. Breast angiosarcoma following lumpectomy and radiotherapy for breast cancer: a case with short latent period and false negative results on biopsies. Ann Oncol. 2007; 18:801.
Glazebrook K, Magut M, Reynolsd C. Angiosarcoma of the breast. AJR. 2008; 190;533-8.
Lucas DR. Angosarcoma, radiation-associated angiosarcoma, and atypical vascular lesion. Arch Patol Lab Med. 2009; 133:1804-9.
Fernandez AP, Sun Y, Tubbs RR, Goldblum JR, Billings SD. FISH for MYC amplification and anti-MYC immunohistochemistry: useful diagnostic tools in the assessment of secondary angiosarcoma and atypical vascular proliferations. J Cutan Pathol. 2012; 39:234-42.
Mentzel T, Schild Haus HU, Palmedo G, Kutzner H. Postradiation cutaneous angiosarcoma after treatment of breast carcinoma is characterized by MYC amplification in contrast to atypical Vascular Lesions after radiotherapy and control cases. [consultado em 26 Jun 2014]. Disponível em:
http:// www.medscape.com/viewarticle/757418_print.
Voutsadakis IA, Zalman LS. Breast sarcomas: Current and future perspectives. The Breast. 2011; 20:199-204.
Casali PG. Histology- and non-histology-driven therapy for treatment of soft tissue sarcomas. Ann Oncol. 2012; 23 (Suppl 10): 167-9.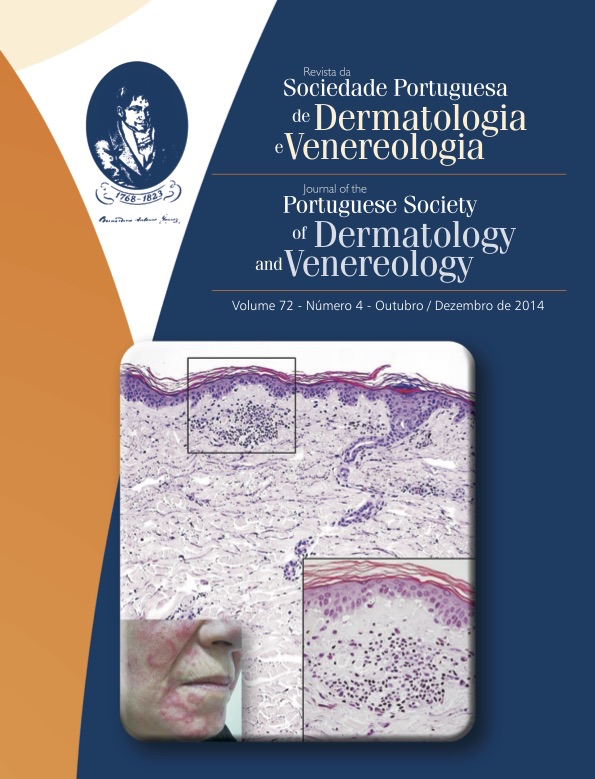 How to Cite
Ramos, L., Simões, P., Gouveia, M., Pereira, N., Cardoso, J. C., & Figueiredo, A. (1). BREAST ANGIOSSARCOMA AFTER RADIOTHERAPY. Journal of the Portuguese Society of Dermatology and Venereology, 72(4), 593-597. https://doi.org/10.29021/spdv.72.4.335
All articles in this journal are Open Access under the Creative Commons Attribution-NonCommercial 4.0 International License (CC BY-NC 4.0).