CLINICAL TRIALS IN DERMATOLOGY – PART I
Artur César

Serviço de Dermatologia e Venereologia/Department of Dermatology and Venereology, Centro Hospitalar São João EPE, Porto/Oporto, Portugal; Faculdade de Medicina, Universidade do Porto/Medical School, Oporto University, Portugal

Alberto Mota

Serviço de Dermatologia e Venereologia/Department of Dermatology and Venereology, Centro Hospitalar São João EPE, Porto/Oporto, Portugal; Faculdade de Medicina, Universidade do Porto/Medical School, Oporto University, Portugal

Filomena Azevedo

Serviço de Dermatologia e Venereologia/Department of Dermatology and Venereology, Centro Hospitalar São João EPE, Porto/Oporto, Portugal
Keywords:
Clinical trials, Data interpretation, statistical, Research design
Abstract
The increasing number of clinical trials in dermatology requires from the dermatologist the ability to evaluate the quality, understand, and synthesize information from multiple sources in order to make decisions regarding the therapeutic/diagnostic strategies. This medical education article explains basic principles, relevant and adapted to the dermatology area, fundamental to an appropriate interpretation of outcomes of clinical trials. Part I of this article looks at the different study designs and their impact on results.
Downloads
Download data is not yet available.
References
Alosh M, Fritsch K, Soukup M, Wilkin J. Clinical trials and statistical analyses: what should dermatologists
look for in a report? Dermatol Therap. 2009;22(3):199-203.
Clancy MJ. Overview of research designs. Emerg Med J. 2002;19(6):546-9.
Lachin JM. Introduction to sample size determination and power analysis for clinical trials. Control Clin Trials. 1981;2(2):93-113.
Schulz KF, Grimes DA. Sample size calculations in randomised trials: mandatory and mystical. Lancet. 2005;365(9467):1348-53.
Gottlieb AB, Ford RO, Spellman MC. The efficacy and tolerability of clobetasol propionate foam 0.05% in the treatment of mild to moderate plaque-type psoriasis of nonscalp regions. J Cutaneous Med Surg. 2003;7(3):185-92.
Armitage P. The role of randomization in clinical trials. Stat Med. 1982;1(4):345-52.
Chuang TY, Heinrich LA, Schultz MD, Reizner GT, Kumm RC, Cripps DJ. PUVA and skin cancer. A
historical cohort study on 492 patients. J Am Acad Dermatol. 1992;26(2 Pt 1):173-7.
Chia CY, Lane W, Chibnall J, Allen A, Siegfried E. Isotretinoin therapy and mood changes in adolescents with moderate to severe acne: a cohort study. Arch Dermatol. 2005;141(5):557-60.
Chen SL, Yan J, Wang FS. Two topical calcineurin inhibitors for the treatment of atopic dermatitis in
pediatric patients: a meta-analysis of randomized clinical trials. J Dermatol Treatt. 2010;21(3):144-56.
Remitz A, Reitamo S. Long-term safety of tacrolimus ointment in atopic dermatitis. Expert Opin Drug
Saf. 2009;8(4):501-6.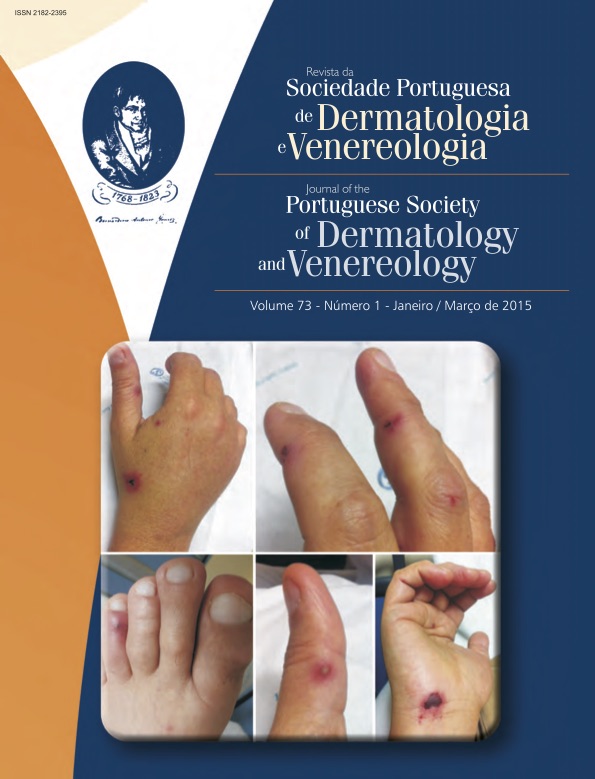 How to Cite
César, A., Mota, A., & Azevedo, F. (2015). CLINICAL TRIALS IN DERMATOLOGY – PART I. Journal of the Portuguese Society of Dermatology and Venereology, 73(1), 29-36. https://doi.org/10.29021/spdv.73.1.341
Section
Continuous Medica Education
All articles in this journal are Open Access under the Creative Commons Attribution-NonCommercial 4.0 International License (CC BY-NC 4.0).